Movie Review: Trust Me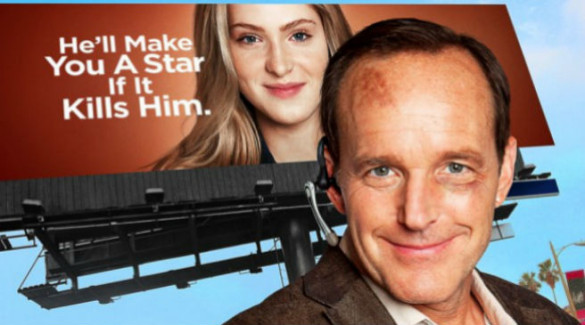 Director: Clark Gregg
Writers: Clark Gregg
Stars: Clark Gregg, Felicity Huffman, Allison Janney, Saxon Sharbino
Synopsis: In an attempt to sign a Hollywood starlet, struggling talent agent and former child star Howard Holloway must contend with her volatile father, a scheming long-time rival, and a producer and casting director who despise him.
DIRECTION
Clark Gregg's Trust Me, from the opening frame, sends us into the world of Hollywood chaos and the behind-the-scenes corruption and manipulation. The aesthetic Gregg creates feels a little bit amateur-ish and isn't always 100 percent believable, but once the film settles, it explores some interesting ideas. These ideas are compelling but the execution of them visually, once again fall under the category of amateur. Realistically, it's probably more budgetary issues though. Gregg's biggest achievement was getting great performances out of the actors he rounded up. The acting is really great and brings the film solidity in many places where it felt mostly flat.
Grade: C+
SCRIPT
The story centers around Howard, an rambunctious, talkative movie agent who's not quite on the level of his competitor's. He's a former child actor who just couldn't quite make it to the top, which parallel's his life as an adult, which has put him on the brink. He then runs into Lydia (Saxon Sharbino), a young teen actor looking to get into the business. Lydia has a connection to Howard, despite her dad being a little cautious, and she hires him as her agent. Soon after, Lydia gets a call to be the lead actress in a big teen novel adaptation, to be directed by Ang Lee, which suddenly changes all of their lives. The story takes a sentimental turn in the third act and leans heavily on twists that feel forced and stifled. The ending is flat and gives Howard a redemptive element that isn't justified and it's pretty cheesy. That being said, the story showcases moral dilemma's and how obscure it feels in a world of corruption and manipulation. Those elements are interesting and raise some fascinating questions, despite the execution being a bit muddled.
Grade: C
RELATED: The Angriest Man in Brooklyn Movie Review
PERFORMANCES
The performances are easily the brightest spot of the film. Clark Gregg is pretty good as Howard, a character who isn't completely likable, a little cocky and isn't fully aware of things happening around him. The big surprise here is Saxon Sharbino, a young actress forced into meta acting, acting that you're acting, which is not easy to do. However, you know when she's pretending and you know when she's genuine, which isn't easy to pull off. Allison Janney and Felicity Huffman don't have much screen time, but offer solid roles when they are there. Amanda Peet has a small role as the neighboring love interest. While as a plot device, it can be a little distracting, she's great when she's there. Sam Rockwell, channeling is inner Justin Hammer, is fantastic and steals the show when he's on screen. Gotta love him.
Grade: B+
SCORE
Mark Kilian gets the nod to score here and it's completely forgettable. There's not much to it and while it suffices, it certainly doesn't add any value.
Grade: C
FINAL THOUGHTS
Trust Me raises some interesting moral questions, especially within an industry that is selfish (at least that's how it's made to be) and all about the money. However it's diluted with unnecessary subplots, cheesy special effects and an ending that just doesn't feel earned. Clark Gregg is incredibly endearing and you gotta love him, but this isn't his best work.
Overall Grade: C