Movie Review: 'Tolkien' takes a long journey down the wrong path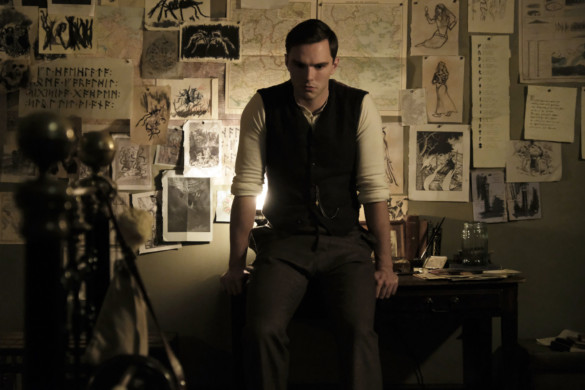 Director: Dome Karukoski
Writers: David Gleeson, Stephen Beresford
Stars: Nicholas Hoult, Lily Collins, Colm Meaney
Synopsis: The formative years of the orphaned author J.R.R. Tolkien as he finds friendship, love and artistic inspiration among a group of fellow outcasts at school.
Tolkien, Dome Karukoski's exploration into beloved author J.R.R. Tolkien's early years, often feels like reading the footnotes of a great biography, the important bits are missing and there is a haphazard attempt to connect the dots.  The talent and passion with which Tolkien writes are never truly highlighted or admired; his ability to write and create is always obscured from view, forcing the audience to make up their own connections to fill in the gaps. Few, if any, anecdotes work in Tolkien, and rarely does the viewer feel as if they are witnessing aspects of the author's life that could be construed as building blocks for his writing, as hard as the filmmakers try to paint an image of inspiration.
In Tolkien, the audience is introduced to John Ronald Reuel Tolkien (Nicholas Hoult) a brilliant orphan who struggles to find his place socially and academically in the years leading up to World War One.  Along his path, Tolkien loses his mother to illness, creates a fellowship with a group of like-minded artists in the form of boyhood friends, and meets his beloved Edith (Lily Collins). All of these moments culminate in WWI as Tolkien is in the trenches of war looking back on all the influences he has had in his life.
From the fellowship of friends to the stories of knights and dragons his mother used to tell, Tolkien wishes to inform the audience that the famed author's inspiration for world building and storytelling lie in these moments.  However, the connection between what we see on-screen and the massive work that J.R.R. Tolkien gifted to readers is minimal. It is almost as if we as the audience just have to accept that Tolkien was a famous writer and what we see in the film's story are just experiences that this future famous person happened to have.
Tolkien struggles in his life, as do we all, but when making a biopic, the audience should become aware of what instances of this figure's life translate into his or her works.  In Tolkien, there is none of that.  We see dragons on the battlefield, knights in fog, and other mythical imagery, but there is very little connecting what happens in Tolkien's life with what happens on the pages of his most famous books.  It actually becomes a bit frustrating: waiting, hoping for the filmmakers to tie something into his work. It is almost as if the people behind Tolkien just knew he was a famous writer and his books were turned into really popular movies.  There is no heart and soul. The film feels like it is reading the audience footnotes to a biography and not connecting them to the main work.
Overall, Tolkien purports to be a biopic on a famous writer.  The acting is superb; Hoult and Collins light up the screen.  However, one could easily mistake Tolkien for a war movie, or a romance movie, or a coming-of-age story.  The problem with that aspect is that this film is, for all intents and purposes, a biopic about J.R.R. Tolkien.  The tonal shifts between everything this film is trying to be loses the connection with its subject, and that is a real problem.
Overall Grade: C-