Movie Review: 'The Trip to Greece' is a taste of the familiar (and that's not a bad thing)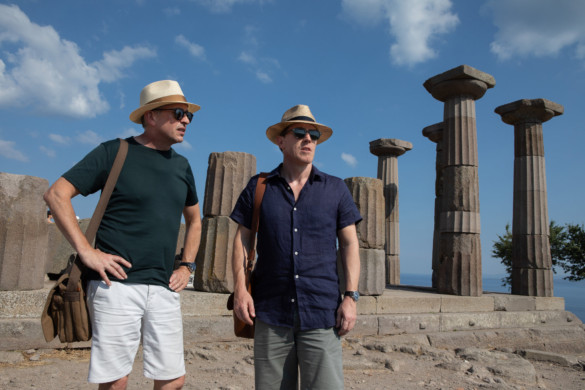 Director: Michael Winterbottom
Writer: Rob Brydon, Steve Coogan
Stars: Rob Brydon, Steve Coogan
Synopsis: Actors Rob Brydon and Steve Coogan travel from Troy to Ithaca following in the footsteps of the Odysseus.
Michael Winterbottom's fourth installment of The Trip series, The Trip to Greece, finds the semi-fictionalized versions of Rob Brydon and Steve Coogan retracing the steps of Odysseus from Troy to Ithaca.  The Trip to Greece adheres to the same formula of charming chemistry between its costars, beautiful locations, and delectable lunches while still managing to remain fresh and interesting.
If you are familiar with the series, The Trip to Greece will feel like a fulfilling final course to a meal which began some ten years ago.  For those unfamiliar, I highly encourage you to take the time to journey though the four installments.  The Trip series began in 2010 as a BBC series and since then each series has been edited into feature films to be enjoyed in one sitting.  If you would like to catch up on the travels of Rob and Steve before watching The Trip to Greece, make your way through The Trip (2010), The Trip to Italy (2014), and The Trip to Spain (2017).  Each will expand on certain themes that reach their apex in The Trip to Greece and act as appetizers to what might well be Rob and Steve's final holiday.
The Trip to Greece begins with Rob and Steve, semi-real versions of the actors themselves, embarking on their food journey through Greece under the guise of writing a magazine article.  Along the way, we are privy to the usual fare that has made The Trip series so popular: comedy bits at well-appointed restaurants, celebrity impressions, deep dives into literature, and a biting criticism of each actor's body of work.  Rob and Steve struggle with mid-life and how to handle the inevitable crisis that arises from such a milestone.  They each handle it in their own way, and seeing their progress though a journey that began ten years ago emphasizes the importance these trips have on them both as individuals and as a duo.
The typical off-the-cuff comedy, a mix of scripted and unscripted moments, gives the film an organic feeling that is refreshing and lively.  Although the same impressions and types of bits have been used throughout the series, in The Trip to Greece, Rob and Steve still find a way to make them seem new.  These include impressions of Michael Caine, Sean Connery, Roger Moore, and Tom Hardy, all of which are still enthralling even after a decade of hearing them.  It's fascinating to see the minds of these comedians work in real time to simultaneously riff off and dig at each other.  Just when you think they've taken it a bit too far and one of them seems frustrated, they crack on and deliver something truly comical.  It's that line that Rob and Steve find, as a pair, that intrigues.  Once that line is found the two attack it with surgical precision.  The Trip to Greece thrives in the moments when Rob and Steve are at a table for lunch, pushing each other's buttons.
Other moments that stand out are the requisite visit from Steve's assistant Emma (Claire Keelan) and photographer Yolanda (Marta Barrio), which take place in each of the previous series.  Here, Rob and Steve are allowed an audience to test their comedic chops.  These moments also act to break up the monotony of the two men's interactions and allow them to open up about each other as well.  Fictionalized drama always circles the pair as well.  Calls home to wives and children, personal lives kept on the periphery, always taking place electronically, disconnect them from the beautiful world of stunning locales and profound literature. These connections ground the duo in a world they can leave, but never really escape.  Reality always catches up to them, and in Steve's case, pulls them back harshly to it.
The Trip to Greece is a lighthearted and fun foray with two souls that feel like old friends both to each other and to their audience.  If The Trip to Greece happens to be their last escapade, then Rob and Steve are leaving on a high note.  If you enjoyed the first three films, then what are you waiting for?  However, if you are new to Rob and Steve's adventures, strap in and let the history, literature, and of course comedy take you away to exciting locales.
Overall Grade: B+