Movie Review (LFF) – 'The Reason I Jump' Shows Autism in an Empowering and Beautiful Light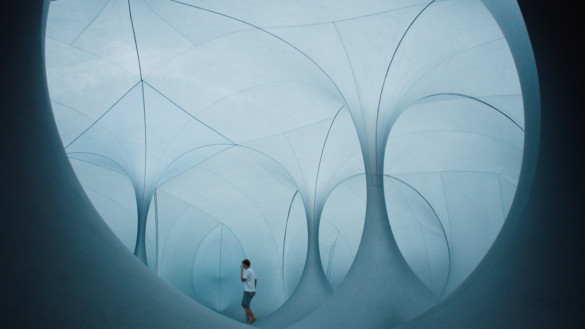 Director: Jerry Rothwell
Writer: Naoki Higashida
Stars: Jordan O'Donegan (Narrator)
Synopsis: Based on the book by Naoki Higashida, this immersive film explores the experiences of nonspeaking autistic people around the world.
Autism can be defined by many different aspects of life that become hindered and is quite common for young children to develop or to be born with. However, there is still a lot of misconceptions about the diagnosis and there is so much to still teach about the disability. This documentary gives a look into several families who have a loved one suffering from autism and shows them in a different light than is portrayed in the media.
Whilst being about the general disability of autism, this documentary focuses on those who are not able to physically speak. What is heart-warming about this narrative is that the film delves into ways of letting these people who are suffering speak, showing them typing and pointing out letters to help them communicate. It is empowering that work is being done to not only support these families but to find a way to let them have a say and to give them a voice.
The people shown in this documentary are being portrayed in a very positive manner, which is beautiful to see. The film feels raw, telling the story from the perspective of the families and being able to connect to each one as they do to each other. This is a story of empowerment, not one of pity or shame. Whilst we can recognize that living with autism of this type is not pleasant, that is not the focus of the film. Instead, the film focuses on the accomplishments, from their creative ability to the new technologies and tricks developed to let them speak. It is hard not to watch this and simply have a smile on my face.
This documentary is based on a book with the same title, written by Naoki Higashida. This was a personal book written about his own experiences living with autism at the age of 13, and I love that the documentary makes him a clear focus of this particular story. With all of the other stories that intertwine, there are sections that cut between them and David Mitchell, the novelist who found Higashida's book and translated it to English. What makes this section even more personal is the interviews with Mitchell, who is a parent of an autistic child himself. It makes those scenes even more impactful, as it becomes clear that the project is filled with passion.
For a documentary, this may just be the most visually stunning of the genre that I have ever seen. There are scenes specifically shot that are meant to reflect Higashida as a young child, alone and free to explore the outdoors. These shots are captivating and help bring the narration done by Jordan O'Donegan to life. It isn't even just these individual scenes though, but the entire film. For some people who suffer from autism, they are drawn to visually pleasing stuff like lights, so it makes sense that the camera focuses on making these items look appealing and is able to play with light and shots to create these gorgeous sequences.
This is quite a short documentary, only clocking in at 82 minutes. I did wish the film allowed itself to slow down, as it certainly could have allowed for more connections to be made personally with the families and the individuals. Instead, we get mere fleeting moments with them, as we have to follow numerous families all surrounded by the main focus, the reason the documentary was able to be made. Whilst these moments are great, I just wish we got more of them.
There is also still so much more to be taught about autism, and I feel like a documentary like this would have been a great place to perhaps highlight the tougher conversations surrounded by the diagnosis. Whilst I wouldn't want to drag the tone of the film down, there are still people out there who believe that vaccinations against deadly diseases such as Hepatitis C gives children autism. Not only is this completely false and misleading, as proven by scientists for numerous years now, but presents a negative look at autism. This is not helpful for anyone, and I hope people take some of the messages from this film and go on to do further research on autism.
There needs to be more awareness, and I hope that this documentary becomes the start of a conversation that can develop and mature for several more. We cannot simply hide away from these topics, and we cannot discriminate and shame those who have to go through this. Instead, we should cheer them on and hope that more technological discoveries are made soon so that their voices can be heard louder and they can live their lives to the fullest.
Grade: B+