Movie Review: The Monuments Men Is An Artsy Mess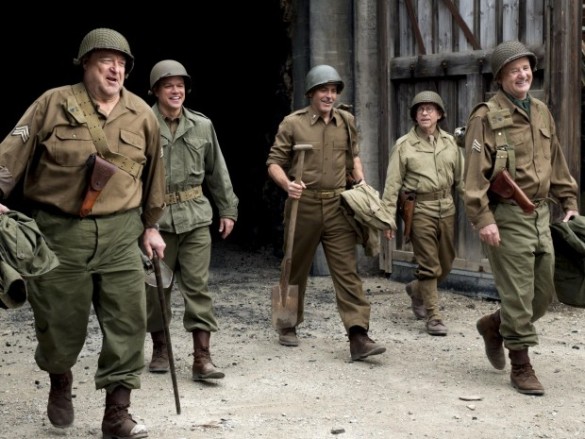 Director: George Clooney
Writers: George Clooney (screenplay), Grant Heslov (screenplay)
Stars: George Clooney, Matt Damon, Bill Murray, John Goodman
Synopsis: An unlikely World War II platoon are tasked to rescue art masterpieces from Nazi thieves and return them to their owners.
DIRECTION
When you put George Clooney, Matt Damon, Bill Murray and John Goodman in the same movie, it can't be bad right? Well, Clooney's The Monuments Men is unfortunately in that boat and it's sad for me to say that. Clooney is trying to play off of the art theme and plays the film artsy, but also tries to keep it dramatic at the same time. Some parts are artsy, while the next scene is dramatic, which is followed by scenes that are cartoonish and comedic. The movie has no idea what it wants to be and what kind of tone it wants to deliver. Clooney tries to hit on all those beats but mostly it just falls flat and is too messy for any sort of cohesiveness it needed to solidify it's foundation. The third act of the film was much stronger when there was a clearer sense of direction and more focus. Overall though, Clooney had the right heart, but just didn't know what to do with the story and actors he got to be involved.
Grade: D+
SCRIPT
The script, like the direction, is just all over the place. The story itself is a pretty interesting one and a story that most of us probably had never known before. And to credit the story a little bit, the editing for this film is awful and probably chopped up the original scrip quite a bit. However, either way, you had the opportunity to do something really special with a relatively unknown story about saving culture and art and how that matters. And while the story does touch on that a little, it's mostly fickle and frail. Each of the characters are not explored well and you're never engaged with what's going on. It almost feels like a few short stories trying to work together but there's not much that ties them up. There are elements that are interesting but the pacing isn't great and nothing to solidify it.
Grade: C-
MOVIE REVIEW: About Last Night
PERFORMANCES
This is actually a hard topic to breakdown because the story and the characters aren't really delivered very well so the acting isn't anything that will blow you away. That being said, the performances are fine, despite a lack of direction. Clooney is the leader of the bunch and has some pretty solid scenes, including one with German officer toward the end of the film. Matt Damon plays his character pretty straight forward, as does John Goodman and Bill Murray. Goodman and Murray do have some comedic scenes but they don't work very well within the context of the story. The performances are never distracting though and they do a fine job, just needed better direction.
Grade: B+
SCORE
This is also very tough to breakdown and again, it comes down to a lack of focus and direction. Alexandre Desplat is a fantastic composer and the music itself was very good. If you listen to it without seeing the movie, you'll like the tone and themes Desplat bring to the table. It has that 1940's, World War II kind of feel that you'd expect from a period piece like this one. However, much of the music doesn't really work within the movie because it enhances the unfocusness of Clooney's direction and only supports the messiness of the film.
Grade: B- (Music itself is an A though)
FINAL THOUGHTS
The Monuments Men is incredibly disappointing, not just because it involves great actors, but because this story is actually really great and deserves a better adaptation than what we see here. That being said, you still get a good idea of what happened and the heroism these guys had to save modern art and what they went through to save that culture.
Overall Grade: C-