Movie Review: 'The Assistant' is an unconventional, but potent horror film on abuse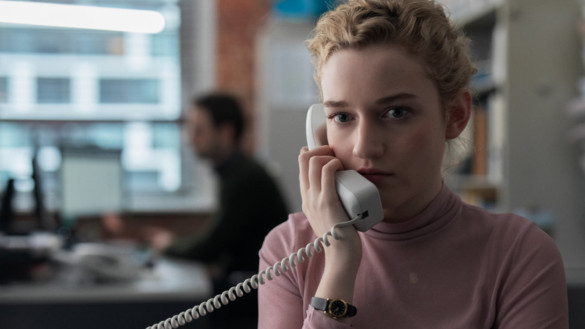 Director: Kitty Green
Writer: Kitty Green
Stars: Julia Garner, Matthew Macfadyen, Makenzie Leigh
Synopsis: As Jane follows her daily routine, she grows increasingly aware of the insidious abuse that threatens every aspect of her position.
Kitty Green's The Assistant may not be your traditional horror film, but watching it will give you the same overwhelming sense of dread and anxiety that one experiences watching a horror film such as The Invisible Man. Like The Invisible Man our main character Jane (played by the exceptional Julia Garner), is tormented by an unseen threat and like Elisabeth Moss' Cecilia, she is also subjected to gaslighting. The monster of Green's The Assistant may not be exactly 'invisible' but we never truly see him in full, he is simply a fleeting image that brushes pass the desk, or a deep voice that barks insults down the phone. However, this isn't to say that the 'monster' in The Assistant isn't less of a threat, because if anything, He (the boss) is just as monstrous as Adrian Griffin.
It's interesting to have both these films emerge at the same time, both films capture the daily horrors that women have to encounter and also capture the imbalance of power between men and women. The Assistant is just as effective as The Invisible Man as Green manages to fully immerse you into this bleak, cold world and as the narrative develops your heartbeat begins to quicken and your palms begin to sweat. There's no other way to describe the experience of watching The Assistant without liking it to a horror film, and when we realize that the world in which the film takes place in is a reflection of our own then the film becomes even more haunting.
The film follows Jane, a recent college graduate and aspiring film producer, who has just landed her dream job as a junior assistant to a powerful entertainment mogul. Everyone around her including her own parents remind her how lucky she is for landing such a role. It's a tough, brutal world where hundreds of graduates are fighting for one job. Jane is one of the fortunate one, or is she? Her day is much like any other assistant, she's the first one in and the last to leave. We watch her making coffee, ordering lunch, arranging travel accommodations and taking phone messages. Everyone seems to take advantage of Jane in some shape or form, in one scene we watch her quietly wash up another woman's plate and be criticized for getting a turkey sandwich instead of chicken.
As we follow Jane throughout her daily routine, we watch as she grows increasingly aware of the abuse and toxicity that runs rampant throughout her workplace. The arrival of another assistant played by Mackenzie Leigh (a pretty female waitress with no experience) sets off alarm bells, especially when the boss disappears to pay the new assistant a visit at the hotel where she's staying. Disgusted, frustrated and angry, Jane pays a visit to Wilcock (Matthew Macfadyen) in Human Resources, in order to express her concerns. However, it quickly becomes evident that Jane is completely alone.
There's so much to unpack with this film, even though Jane works in the film industry, the office where the story takes place could be any workplace in any town. The story feels so eerily relatable to anyone (regardless of gender) who has found themselves working in a toxic environment. When we see Jane smoking in the snow (one of the very few shots that take place outside), it isn't hard to recall a time and place where we've tried to cope with the stress that we've endured. The character of Jane is so brilliantly written because she feels like an empty shell that we can project our own experiences onto, and Garner's performance is so subtle, and she contains such raw emotion that if she isn't nominated for an Oscar then it would be a crying shame.
Tension is built by having the camera slowly close in on Garner's face, and she manages to convey so much with the simple action of biting her lip or closing her eyes. This isn't a film with a big showy off performance, because this doesn't represent the character of Jane who is this silent, thoughtful individual who will always be the outsider in this toxic world. Her interactions with her colleagues, two other (male) assistants are interesting, because even though they seem thoughtful (assisting her with writing not one but two apology emails to their boss), the other two assistants seem to exclude her from their world (although this may not be intentionally).
The office where the film takes place is modeled on Miramax and the boss is clearly Harvey Weinstein, although these comparisons are never mentioned throughout the entire course of the film. Green spent a year interviewing employees about the structure of the office and the complexities of who did what and what their job role entailed. It's clear that a great level of detail has been paid in recreating this workplace. Green's previous films have been documentaries so the film has a documentary, 'fly-on-the-wall' appearance and approach to storytelling. It looks and feels so real because it *was* real.
Although, the character of Jane is never the subject of sexual abuse, she is still a victim of gaslighting, as well as verbal and mental abuse. And there are many more Jane's out there who are experiencing the same trauma. Hopefully, The Assistant will help continue the conversation, because even though Weinstein may be facing time behind bars, he isn't the only predator out there.
Overall Grade: A