Movie Review(SXSW): 'Here Before' Proves a Slow Burn is Worth the Wait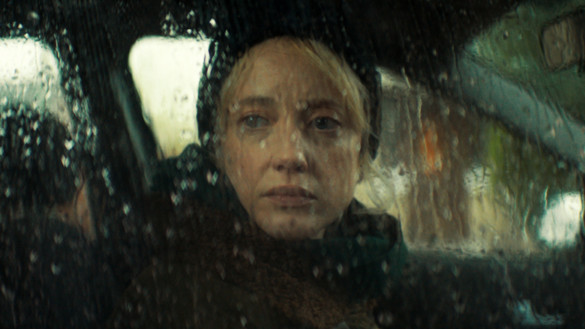 Director: Stacey Gregg
Writers: Stacey Gregg
Stars: Andrew Riseborough, Martin McCann, Jonjo O'Neill, Eileen O'Higgins, Lewis McAskie
Synopsis: After new neighbors move in next door, a bereaved mother begins to question her reality in this unsettling psychological thriller.

We have all had that certain, distinct feeling. The one where you meet someone and you feel like you know them or you have met them before. Sometimes it can be startling and unsettling when the feeling cannot be placed or make the connection for why you feel this way. This is the premise of Here Before, a slow burn psychological thriller centered around two Irish families that live next door to each other. When Laura (Andrea Riseborough) meets the new neighbors, she is noticeably taken by the daughter of this new family, Megan. The two immediately form a unique connection. It seems as though the two gravitate toward each other, unintentionally finding reasons to speak, like Megan approaching Laura on their move-in day, or, Laura noticing Megan has yet to be picked up from school, so she drives her home and then the next time she sees her Laura invites her over for dinner.
Things grow complicated and tensions rise when Laura notices quirks about Megan. Laura and her husband Brendan (Jonjo O'Neill) have an older son, Tadhg (Lewis McAskie), who is vocal that he does not want Megan to come around because Laura continues to initiate Megan's presence in their life, as a stand-in for her dead daughter, Josie. As she begins to piece together things Megan has said or done, she grows crazy imagining Megan is a reincarnation of Josie. Megan is around the same age as Josie, and reminds Laura of her and how she misses and craves the lost connection and relationship with a daughter. She is unable to shake these memories and feelings. When Laura confesses to Marie, Megan's mom, that Megan has said things about going to school here before, or being at the cemetery they drive by on their way home. Marie brushes It off that Megan has made it up, she is lying and messing around.
Laura's attempts to distance herself from Megan are unsuccessful, so when she needs a ride home again, Megan is able to convince her to stop at the park along the way. Megan pushes a button with Laura, referring to a previous time she has been to this park with her. Laura becomes quite bothered enraged by this, causing a confrontation with Marie. The camera catches shared moments between Marie and Brendan, a quick look or unexplained brief comment, that will all make sense in the third act when the mystery is revealed.
The writing, editing, and score accomplish the build of suspense, the story sets up all the complications, and then it explodes with an explanation when it reaches the peak. All of the elements work together perfectly to keep the audience intrigued and engaged while trying to understand how Megan knows so much about this previous life of Josie. The dark and creepy backdrop of Northern Ireland provides a cold landscape for this unnerving drama. Smart, anxiety-inducing, and shocking Here Before will leave you with the realization that everything you think you know should be questioned.
Grade: B+