Movie Review: 'Shang-Chi and the Legend of the Ten Rings' is One of Marvel's Best and the First Great Entry of Phase 4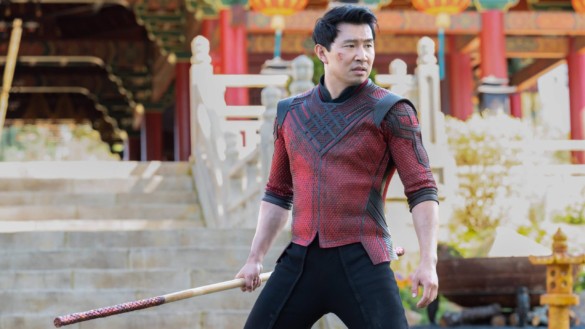 Director: Destin Daniel Cretton
Writers: Dave Callaham, Destin Daniel Cretton, Andrew Lanham
Stars: Simu Liu, Awkwafina, Tony Chiu-Wai Leung, Michelle Yeoh
Synopsis: Shang-Chi, the master of unarmed weaponry-based Kung Fu, is forced to confront his past after being drawn into the Ten Rings organization.
After almost a year-long break due to the pandemic, Marvel fans have been hungry for new content. Taking pop culture by storm, Marvel movies have become a staple at least once every year for movie theaters, bringing in fans dedicated to the series, and casual viewers who are just curious to see the newest superhero movie. Shang-Chi and the Legend of the Ten Rings is the first Marvel movie since the pandemic to be released exclusively to theaters, and it does not disappoint those who are eager to get back and see the newest addition to the MCU. While Shang-Chi might fall victim to a typical Marvel formula, it has some of the franchise's best action sequences and excels in performances from every member of its ensemble cast.
I'll admit I'm not the biggest fan of many action movies, namely because I feel like the fights are just trying to impress me without really doing anything for the story, instead only trying to barely keep the attention of the audience to compensate for a weak plot. Shang-Chi couldn't be more opposite. Every action sequence that takes place is an opportunity for further character development or to help the story grow. From the bus fight that's seen in the trailers, to the final fight that takes place at the climax of the films, and every other action sequence scattered throughout, each one is incredibly entertaining to watch, and each has an intention to further develop either the characters or the narrative. The film fully revels in the action whenever it can, squeezing out every ounce of tension in the best ways possible for as long as it can. Even the longest fight sequence in the film kept impressing me with its choreography and presenting new twists that kept me at the edge of my seat. They never feel repetitive either, as every new fight has varying amounts of stakes and importance to the film. Whether it's just a simple story, or a life or death, typical marvel "we-saved-the-world" fight.
The action doesn't take the entirety of the runtime either, and thankfully it knows when to breathe and when to let the audience laugh. However, it does fall victim to some of the marvel cliches. Like many Marvel movies, the characters often feel like they only have to travel from point A to point B because that's what the plot dictates, rather than any kind of strong motivation from a character's journey or importance of the journey. I felt this a lot recently with Black Widow, and while I wouldn't say Shang-Chi is quite as noticeable, it's still hard to overlook. Shang-Chi and his friend Katy (played by Awkwafina) often feel as if they're just being strung from location to location in order to move the plot further along or to present a new conflict. Of course, there's also the major battle at the end that HAS to be life threatening and huge, and normally feels a little out of place and sudden. It didn't detract from the movie entirely, but it did hit every beat that you would expect from a Marvel movie. If this is something you're comfortable with and one of the reasons you love Marvel, it'll easily satisfy. However, if you're looking for a fresh take on the superhero genre, Shang-Chi won't provide much in this area.
The familiar emotional and plot beats are compensated and given life of course by the brilliant ensemble cast. Michelle Yeoh and Tony Chiu-Wai Leung are featured in supporting roles, both feeling perfectly cast after their careers in martial arts films such as the award-winning Crouching Tiger, Hidden Dragon, and Hero. Both continue to impress, but Leung excels as Shang-Chi's father, the bearer of the titular Ten Rings. He may appear as a one-note villain from the trailers, but he's so intricately played by Leung, and he totally delivers on the complicated role that he's given. Simu Liu is a strong lead for the role of Shang-Chi, fully supporting the cast around him, and Awkwafina surprises with some of the best acting I've seen from her outside of The Farewell. Awkwafina has oftentimes been criticized for portraying the same character over and over again, and for her comedy becoming a bit stale in the roles she takes. I was nervous I would see a similar performance from her in this movie, but she has delivered what we haven't seen from her before. Awkwafina is able to balance a new dramatic character and comedy that feels fresh and natural from her performance.
Thrilling and entertaining from start to finish Shang-Chi cements itself as easily one of the best films in the MCU franchise, up there along with Black Panther and Avengers: Endgame. Like any film trying to stand out from the other 25 in the franchise, it can feel a bit familiar and repetitive, but it'll never lose your interest and curiosity for what more there is to come from the Ten Rings.
Grade: A-