Movie Review: Ridley Scott brings solid horror and thrill to Alien: Covenant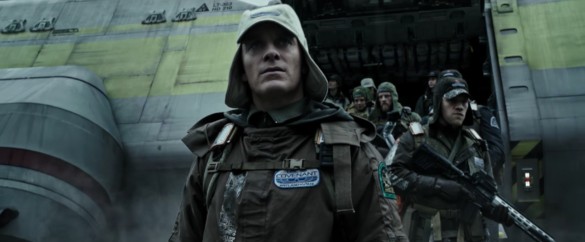 Director: Ridley Scott
Writers: Jack Paglen (story by), Michael Green (story by), John Logan (screenplay), Dante Harper (screenplay)
Stars: Michael Fassbender, Katherine Waterston, Danny McBride, Billy Crudup
Synopsis: When her boyfriend dumps her before their exotic vacation, a young woman persuades her ultra-cautious mother to travel with her to paradise, with unexpected results.
Alien (1979) is considered by many to be one of the best films ever made, and for a good reason. Alien was a huge success that spawned several other movies and the franchise has become a staple of mainstream culture. In the time of reboots and remakes, it's no surprise that Alien would get the prequel treatment. Ridley Scott jumped back into the world of Xenomorph's – sort of – with 2012's Prometheus, rebirthing a beloved franchise that he kicked off some 30 years earlier. Not everyone loved Prometheus, although I enjoyed it for the most part, and if you did as well, you will more than likely enjoy Alien: Covenant.
Set in 2104, a decade after Prometheus, the Covenant is carrying 2,000 souls on a route toward the distant planet of Origae-6, where they hope to settle and propagate the race. If you are familiar with this franchise, then you already know that bad things are around the corner, and once that starts becoming true, our team finds itself heading to a closer planet with the intent to expedite the colonization process.
The new female heroine in this movie is Daniels, played by Katherine Waterson, and she does a great job selling the bad-ass heroine. The character of Ellen Ripley is still to this day one of the most iconic roles in all of the cinema, so it will be hard for any character to reach that same level, but Daniels has empowering qualities. Despite the pressures, Noomi Rapace (in Prometheus) and now Waterson continue the strong female characters that made this franchise a game-changer regarding gender roles. Synthetic characters also define the Alien franchise, and Michael Fassbender plays not one but two androids in Alien: Covenant. The more Fassbender we get, the better we all are. However, the performance I enjoyed the most was surprisingly from Danny McBride, who plays the chief pilot Tennessee. There are several other characters we see throughout the film, but most of them come off as dry and forgettable, another attribute we've seen before in this series. That said, the performances overall are good and add to the experience.
This being an Alien film, and it being Ridley Scott, there are elements of horror here. People need to die, so characters decide to venture off by themselves, as you do after getting attacked by unknown creatures. It's a trope we've seen countless times before in this franchise – and the genre at large – and it's pretty tiresome. There isn't anything new in terms of commentary or aesthetic execution to make those actions feel earned.
On another note, baby aliens are the thing of 2017. Groot was first, and now we have the Neomorph. Although not as cute as Groot, it will steal your heart, but not in the same way. In fact, it will probably eat it. Those that were unhappy with the lack of aliens in Prometheus will be happy to know that the aliens show up here, and in a big way. Only Ridley Scott can blend the score and point the camera in the right position to get that necessary jolt, amplifying the aliens' presence.
I am withholding most of the details of the story because watching the twist unfold is a great experience, and I would not want to ruin that for you. The first hour of this movie is fantastic in setting up this film narratively, and what its main goals are in regards to its prequel nature. That said, the second and third acts feel uneven tonally, which does become a little distracting in parts. Alien: Covenant at the very least is a popcorn movie that does its job well, and is one of the best-looking films in the past few years. The horror and gore is enough to get people in the theater and for them to have fun.
Overall Grade: B
Hear our podcast review on Episode 222, coming soon.