Movie Review: No high score for 'Rampage' if George isn't furious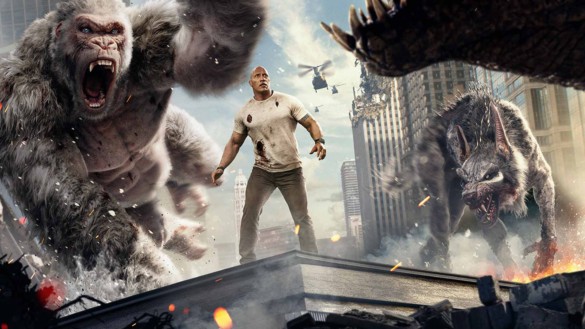 Director: Brad Peyton
Writers: Ryan Engle (also story by), Carlton Cuse, Ryan J. Condal and Adam Sztykiel
Stars: Dwayne Johnson, Naomie Harris, Jeffrey Dean Morgan, Jason Liles (motion capture)
Synopsis: When three different animals become infected with a dangerous pathogen, a primatologist and a geneticist team up to stop them from destroying Chicago.
On tonight's episode of "So You Think You Can Out-rock The Rock?"…
Where others in the field see as the peak of their careers, namely being a demigod for Disney, Dwayne Johnson reaches farther. In the omni-charming actor's latest, he plays a primatologist who, other than the usual and perpetual buffness, is a master of ASL, driver of Ford's new Bronco, semi-frequent flier of helicopters and single.
Still, that Goodall-hearted-in-Salmoni squared-physique appeal isn't enough for Rampage to be a competent exercise in mindless fun, let alone a model for subsequent game-to-film adaptations to follow. The film tries to be more than what it is, which is valiant, but forgotten steps and clear bias for destruction renders the campaign an unsuccessful one.
And it's odd, considering Ryan Engle (of February's The Commuter), Carlton Cuse, Ryan J. Condal and Adam Sztykiel seem adamant on making that happen. Evident is the writing quartet spending considerable time to rationalize and fuse story into plot-free material — the 1986 eponymous game from Midway has players embody 8-bit monsters of destruction that were once humans (!) — but did no one remember to perform the step that can assemble their efforts into a united whole? Right now, the story progresses like a group PowerPoint in freshman year where each beat — and there are three, "BeastMania," "Mighty Joe Young redux," "'90s cinema" — has its own voice and it's obvious when the transitions happen. From the look of it, "Mighty Joe Young 2" is on after a segment of "BeastMania 12."
The lack of cohesion also reflects in the performances as certain players bring clashing auras into the frame; some know they're in a sci-fi actioner, some swear they're in an actioner throwback and one (Naomie Harris) arrives in emotional-drama form only to be brazenly regarded as an afterthought by the film's end. All that Rampage has to say about poaching and shady corporations? Consider them as traces of shoehorning rather than commentary.
Another interesting find about the cast: Provided that they don't meet each other, or their worlds don't encroach one another, all is well. In other words, we won't confuse or cringe until we pass out. Take Jeffrey Dean Morgan for example, here in the film as government agent Harvey Russell. In every step of his quest to clean up the mess of sibling mad-and-bureaucratic scientists Claire (Malin Akerman, looking like True Lies' Tia Carrere's twin) and Brett Wyden (Jake Lacy, whose over-the-top doofus act is better in a Farrelly Brothers' film) — the chemical agent that causes a crocodile, a wolf and Johnson's character's albino gorilla friend (Jason Liles) to upsize uncontrollably is a creation of theirs — Morgan's Russell behaves as if he's from a time when cheesy one-liners rule and to be 'Murican is to be Texan. And ever the cool sport, the actor pours every ounce of his being into the character; his grin after saying "whirlybird" is downright pure.
Frankly speaking, neither characters nor narrative is the most pressing matter on Rampage's mind. Coming off of the set-piece sizzle reel called San Andreas, director Brad Peyton makes it clear that the scenery-squashing will be the better-to-best part of the film, to the extent that it will do its damnedest to erase whatever character beat that came before. Admittedly, it's hard to not gleefully squeal when these sequences arrive; despite the familiar setting (downtown Chicago is on schedule for demolition again) they're made inviting through intense detailing, Jaron Presant's aptly large-scale photography and Andrew Lockington's trapped-at-crescendo score. A word of caution: The camera won't cut away when a beast's action will lead a biped to its demise. The PG-13 ensures no gore, but an "oof" or two is a guarantee.
And as you can guess it, it's George the gorilla, Ralph the flying wolf and Lizzie the titanic crocodile that will get all the attention.
Sorry, Johnson — but the beasts made a more impactful first impression than you.
Overall Grade: C-