Movie Review: "Promising Young Woman" is a Brilliant Yet Unsatisfying Story of Revenge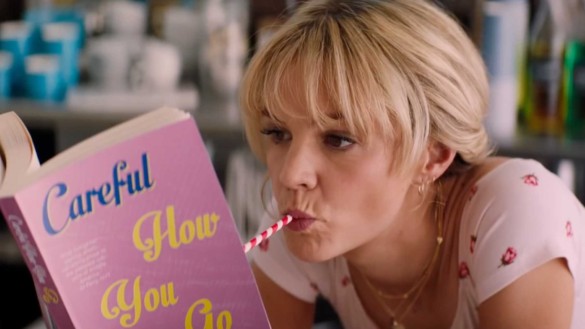 Director: Emerald Fennell
Writer: Emerald Fennell
Stars: Carey Mulligan, Bo Burnham, Cristopher Mintz-Plasse, Alison Brie, Adam Brody, Max Greenfield, Chris Lowell, Jennifer Coolidge, Connie Britton, Laverne Cox, Alfred Molina, Molly Shannon, Clancy Brown.
Synopsis: Cassie was a promising young woman until a mysterious event abruptly derailed her future. Now, an unexpected encounter will give Cassie a chance to right the wrongs of the past.
It has been a long time since I have waited for a movie that really captures what it is to be a woman in the Western society of the 21st century. It is possible that Promising Young Woman is the answer to this often-frustrating request, even though the conclusions to which it arrives are not necessarily satisfactory.
The movie, written and directed by Emerald Fennell, presents the daily aggressions to women; the dismissive attitudes against our thoughts, well-being, and desires; and the usual violence – whether physical, emotional, or mental – that we have to deal with every day.
This exhibition is presented in so many layers and ways that it would be comprehensible if many viewings were necessary to appreciate all the violence that is denounced. It could be, for example, the silent compliance from taxi drivers, the rushed conclusions about women from public servants, or more evident sexist actions; including catcalling in the streets, misogynistic comments about our appearance, or the infringement of our personal space without permission. All of this is perfectly captured in the directorial debut of the British filmmaker.
The story follows Cassandra Thomas (Carey Mulligan), a woman that spends her nights tricking men into thinking she is too drunk to do anything and waiting to see what they do to her. All of them take her to their apartment where they start taking advantage of her. And every single time she exposes them as the creeps they are, undoing their façade of "nice guys".
The likes of Adam Brody, Cristopher Mintz-Plasse, Max Greenfield, and Sam Richardson perfectly portray the well-known profile of a "nice guy": the mature man that is tired of sexist comments against women, the concerned savior of a woman that clearly needs help, the exhausted patronizer that has to give up his plans to take care of her, the astute and innocent man that has the revolutionary idea of going to his place instead of making sure she arrives safely at hers, or the conveyor of false compliments that celebrate her inebriated state and subtly attacks her ("why do you wear so much makeup?"). Cassandra knows how to hunt and how to humiliate men in a way that hopefully will teach them a lesson and will make them stay far away from women.
Other than these discreet and micro-actions of vengeance, Cassandra does not have too much going on in her life. She lives at home to the annoyance of her worried parents (Jennifer Coolidge and Clancy Crown), and she works in a café with the most nefarious attitude, but with a loving boss (Laverne Cox). Most importantly, however, Cassandra is stuck with feelings of anger and revenge. She quit med school seven years prior to take care of Nina, her best friend, who was emotionally shattered after a rape that went unpunished. Now that Nina is gone, Cassandra goes through life with a vendetta against every predatory man that crosses her path, with no interest in creating a prosperous and socially acceptable life.
Things change a little once Cassandra bumps into Ryan (Bo Burnham), a former classmate that actually seems like a genuinely nice guy. At this moment, the movie shifts and gives us a romantic comedy within the revenge story, filled with a cringeworthy – yet appealing – first interaction, uncomfortable attempts of flirting, and maybe the most iconic scene ever set in a drugstore, accompanied by Paris Hilton's Stars are Blind. This happy encounter comes with bad news: Al Monroe (Chris Lowell) – Nina's rapist – is back in town. Consequently, Cassie creates a plan against a select group of those that were involved in Nina's destruction, including the dean of the university (Connie Britton) who chose to give Al "the benefit of the doubt", a former friend that was complicit with her dismissive silence (Alison Brie), the lawyer (Alfred Molina) that harassed Nina, and of course, Monroe himself.   
Fennell, who also wrote the script, presents a recognizable story through a friendly and radical storytelling. She exposes clearly, and sometimes in a comedic way, the patriarchal thoughts and sexist attitudes that exist in every moment of our lives in an excruciatingly identifiable way: the victim-blaming, the protection of men's reputations, the double standards, the harassment inflicted on those that suffer, or the expectation that discretion and time will be enough to get over injustices.
Too many women can see themselves in the role of Cassandra, whether she is exposing the misogynistic environment in which she lives or suffering its consequences. I even recognize myself in the anger that has conquered her existence, the burden of revenge that flows through her actions, and the utter disappointment she feels when she realizes that people haven't changed and continue condoning a culture of violence against women. She has decided to right some wrongs and teach some lessons, sometimes in cruel but deserving ways. However, the burden she carries is too heavy and, considering the world we live in, destined to eternal frustration.
Cassandra is brought perfectly to life by an extraordinary Carey Mulligan. Ms. Mulligan has captivated us before with movies such as Wildlife – maybe her most comparable performance –, Far from the Madding Crowd, Mudbound, and An Education. Although all of these are fantastic performances, what she does in Promising Young Woman is revolutionary and astounding. She is a master of disguise and offers multiple layers of acting that make it difficult to distinguish the real Cassie. She can be cruel with matter-of-fact comments and snark mockeries with words that are never wrong, and denunciations that are transparently right. She is never doubtful or timid, but calculating and accurate in her plans. Mulligan embodies with mastery Cassie's determination, disappointment, an overwhelming feeling of loss and abandonment, as well as anger towards those that denied justice to her loved one.
The rest of the cast is great in their brief but pivotal roles. Bo Burnham, in his most relevant role to date, is fantastic as Cassie's love interest. Awkward, funny, and sensitive, it is understandable that she develops feelings for him. Nevertheless, it is important to remember that men tend to disappoint, and Promising Young Woman succeeds in presenting this reality. Connie Britton as the dean of the university shines with the most damning lines of the movie, while Alfred Molina and Laverne Cox provide windows of redemption and pure love, respectively.
The movie's style is vibrant and fun, comparable to Birds of Prey (another title under the production house of Margot Robbie) and Hustlers. The soundtrack, specifically, gives life to the film, with titles under the name of the aforementioned Hilton, the now famous version of Britney Spears' Toxic, and original pieces by Donna Missal (Nothing's Gonna Hurt You) and DeathbyRomy (Come and Play With Me).
However, for all its accomplishments, Promising Young Woman is not a resounding victory. Many of Cassie's decisions are dependent on her relationship with Ryan. It seems that her plans to carry on with her vengeance are shaped and propelled by him and the fate of their love affair. Not an inspiring thing to do in an empowering story.
More importantly, though, is the ending, which is destined to create controversy and divided opinions. Although daring and unapologetic, it is harrowing, disconcerting, and mainly undeserving. It could be said that it is a perfect reflection of what happens in real life; however, this makes it even more depressing. Cassie's character and this story of female experience should have been treated with more care in its final stretch.
Should the last 20 minutes wreck an hour and a half of brilliance? I do not think so, although it does leave a terrible and long-lasting impression that hopefully inspires conversations and efforts of internal reckoning.
For all its triumphs and faults, Promising Young Woman is a distinguished effort by Emerald Fennell commanded by an unbeatable Carey Mulligan. It is destined to create discomfort and reflection in a scenario that accurately reflects the reality of women with all its chaos, heartbreak, misogyny, and impunity.
Grade: B+