Movie Review: Paterson Provides Provocative Poetry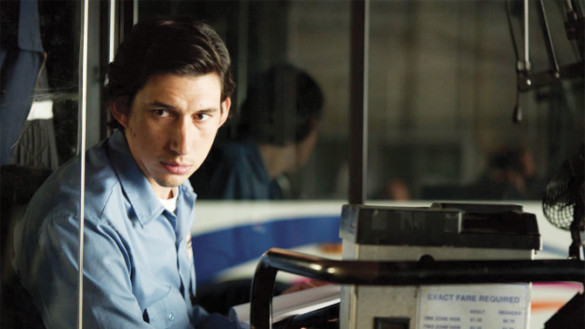 Director: Jim Jarmusch
Writers: Jim Jarmusch
Stars: Adam Driver, Golshifteh Farahani, Nellie
Synopsis: A quiet observation of the triumphs and defeats of daily life, along with the poetry evident in its smallest details.
Jim Jarmusch isn't a director for everyone. Only Lovers Left Alive, Ghost Dog, Broken Flowers and other Jarmusch films are a unique breed that make him a special filmmaker. His quirky sensibilities and artistic ambition will cause some division, but if you follow his rhythm, his films are quite lovely. Paterson is no different and could be his best work to date. Unlike some of Jarmusch's previous work, Paterson does borderline naturalism in a way that couples with very well with its other worldly qualities. As a result, the film is poetic and episodic in terms of structure, but it's equally grounded in its notions of love, relationships and the small ironies of life, and how everyday that is for most of us.
Paterson (Adam Driver) (ironically named after the New Jersey city he resides in) thrives in the same routine every day. He wakes up at the same time, goes to work, writes his poetry, comes home, walks the dog and stops at the bar for a beer before calling it a night. His life is built on repetition, which allows him to observe the world around him that he uses as inspiration for his poetry, which he keeps in a secret notebook. Additionally, his zany wife Laura (Goldshifteh Farahani) supports his work and is equally as energizing to him. Throughout Paterson, we get a glimpse into the lives of both of these characters and how they see the world together.
At its core, Paterson is rooted in this idea of finding beauty in the mundane. Paterson and Laura live modest lives, yet they seem so content with their routines and every day conflict-less activities. For Paterson specifically, poetry provides an outlet for him to see more into how his world revolves. Again, it's nothing elegant or outlandish. However, Jarmusch is still able to capture Paterson's contentment by making his life feel richer than what it actually is on the surface. His camera isn't just used as a typical POV, but instead Jarmusch spends time pointing the camera at the environment around Paterson, emulating to the audience how he see's the world. And how that shapes him and his poetry.
Adam Driver gives one of the best performances of his career. The way he quietly reacts to other people is remarkable and adds a striking quality to the Paterson character. The stoic and observant fervor he displays on top of those reactions flourishes in this film. Furthermore, the way he reads his poems is awe-inspiring and very soothing.
Golshifteh Farahani is also remarkable in Paterson. The sometimes frustrating quirks that we see in Laura is quite pivotal in reflecting how her impulses impact Paterson. Laura in many ways is a black and white character. Her artwork is all done in black and white, the guitar she buys is black and white and the movies she prefers are also in black and white. One could argue that the way she see's the world, the distinction between her dreams and her capabilities to achieve them, is very black and white. However, we also see how her unique creativity and unfailing devotion draws Paterson closer to her, despite her surprises and idiosyncrasies. You may not feel it on the surface, but Laura embodies the principle of unbridled support and spontaneous disorder in a way that is not only poetic, but it allows for a fully balanced and emotional look at how life – in all its mundane moments – can sharpen how we view our circumstances. Jarmusch's script needs credit for having such a rich character, but Farahani's spirit brings all those qualities to life.
Paterson's characters are endlessly fascinating, but what makes the film captivating, is how Jarmusch interweaves them throughout this world. They feel lived in and part of something more attainable, despite the film's symbolism and poetic nature. And it's not just the beauty you can find in simplicity, but also how joyous that life can be too. This film is very funny on occasion. The script and performances do bring laughes, but Jarmusch's astute editing is also key in providing chuckles throughout the film. For example, the scenes involving Marvin (the dog) or the scene at the laundry mat are edited in such a way that will bring solid laughs.
Simply, go see this film. It's pretty great.
Overall Grade: A
Hear our podcast review on Episode 207: