Movie Review: 'Paddington 2' is a near-perfect family film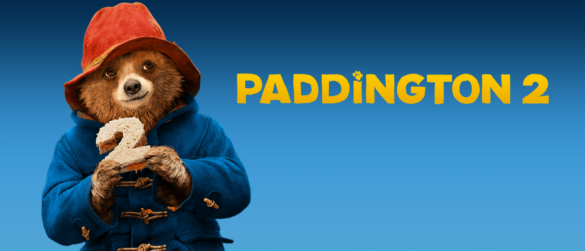 Director: Paul King
Writers: Paul King, Simon Farnaby
Stars: Ben Whishaw, Hugh Grant, Hugh Bonneville
Synopsis: Paddington, now happily settled with the Brown family and a popular member of the local community, picks up a series of odd jobs to buy the perfect present for his Aunt Lucy's 100th birthday, only for the gift to be stolen.
Paddington, the furry illegal immigrant with a disturbing marmalade habit, returns with a joyous, life-affirming bear hug of a sequel that is perfect family viewing and an immediate classic.
Paddington 2 sees us return to the whimsical fantasy London of the first film and finds Paddington firmly part of the Brown family,  and the wider community, and looking for a birthday present for his Aunt Lucy, who is currently residing in the home for Retired Bears in Peru. Our ursine hero decides upon an expensive old book for his aunt, without realizing that nefarious fallen actor Phoenix Buchanan is also interested in the book for essay innocent reasons.
Cue a burglary, a bicycle chase and  case of mistaken identity that sees our furry innocent sent to prison where he is put in charge of the laundry and immediately falls foul of the prison's resident hard man, Nuckles McGinty.  Naturally the Brown family refuse to believe Paddington's guilt and start a furious campaign to uncover the thief, who is busy solving his own puzzle and following clues from his stolen book in order to uncover a fabulous hidden treasure.
This is all very silly, but delivered with such verve and such skill that it is nothing other than utterly charming. It is helped by another terrific script from director Paul King and his collaborators and that is packed with sight gags and brief character moments that seem throwaway, but all come into play later on. From Mr. Brown's midlife crisis, to Mrs Brown's swimming challenge, to Phoenix Buchanan's conversations with costumed dummies signifying his greatest roles, every thread is neatly tied up at the end.
At its heart though is Paddington himself. A CGI character so well realized that he utterly blends into the film,  at no point do you think that's a special effect. Helped by a winning voice work from Ben Whishaw and peerless,  flawless animation, Paddington is brought to vivid,  wonderful life. In this reviewer's opinion, Paddington could be the most accomplished CGI character yet seen on screen, easily the equal of other celebrated characters such as Cesar or Gollum. He blends into every scene, interacts with the live cast perfectly, and seamlessly delivers the various slapstick gags.
Of the rest of the ensemble cast, Hugh Grant just about steals the show, deploying his natural charm and charisma in the service of a rather unlikable villain. It is a role requiring some complex acting and Grant is more than up to the challenge. His is a humble performance of a huge narcissist and played with an admirable lack of vanity – for example all the glamour shots dotted around Phoenix's house are actual Grant headshots from back in the day.  Rumpled, frustrated, smug and convinced of his own ability, it is a great character and lovingly brought to life. Also a hilarious, and utterly ridiculous, post-credits sequence is a Grant highlight and should not be missed.
Hugh Bonneville does a great Hugh Bonneville impression as Mr. Brown, but it is of the actor's usually high standard. Julie Walters brings a lot of character to Mrs. Bird, even though the character has very little to do in this film. Brendan Gleason excels as the terrifying Nuckles McGinty, growling out lines and barking orders, but unable to withstand Paddington's primary weapon: the hard stare. The rest of the cast, a veritable who's who of British comedy actors, are all superb in their small roles, underlining the sense of community, warmth, and love surrounding a small bear in a big city.
If there is a small gripe it is the fact that the film's plot necessitates the sidelining of the Brown family and reducing many of the local community faces to mere cameos which is a bit of a shame, but this is a minor gripe. Grant's character is less boo-hiss than Nicole Kidman's in the first film, but this is ultimately to the film's benefit.
Paddington 2 is a life-affirming slice of cinematic joy. This is not a kids film with a few jokes thrown in to keep the adults interested, but sweet, thrilling, funny film for everyone. This author (childless, watching with two friends, also childless) was in a matinee show full of kids of all ages but by the end, where there is a moment of high peril that should raise a sob from the hardest of hearts, the cinema was utterly silent. Everyone, from grandparents to the tiniest tots, was completely absorbed in the drama on screen. King, his cast and his crew make it look so effortless to pull off this kind of film, but it really isn't.
The original Paddington was a genuine five star family classic, instantly taking its place alongside giants such as Mary Poppins and the Jungle Book. Paddington 2, while slightly weaker in some areas, yet stronger in others, can sit proudly alongside the original. It is also, fantastically, not an exact re-tread of the first film, but instead tells a different story with the same characters and just as well. It also cleverly, and carefully, tells the story as a child may imagine it – from the bringing to life of a pop-up picture book,  to the innocent vision of how a prison works – it is an entrancing, beguiling and absurdly colorful view of the world,  ntainted by adult cynicism. It is a visual return to innocence. This alone should be applauded, but the rate of jokes, the standard of writing, the flawless animation and the sheer heart of the film raise this head and shoulders above most other children's films.
Not just the best family film I've seen this year, it could be one of the best films I've seen this year. Perfect family entertainment.
Overall Grade: A+
Hear our podcast review on an upcoming episode.