Movie Review: 'No Time To Die' is a Fitting Send-off For The Daniel Craig Era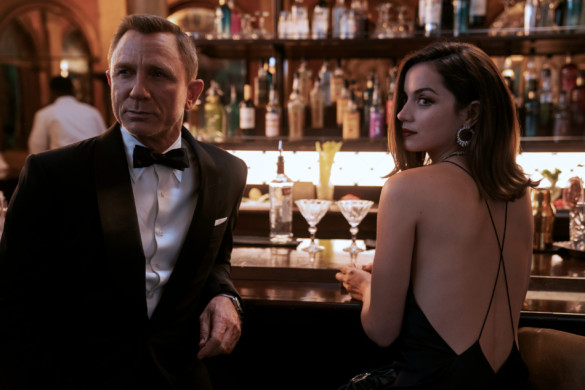 Director: Cary Joji Fukunaga
Writers: Neil Purvis, Robert Wade, Phoebe Waller-Bridge
Stars: Daniel Craig, Lashana Lynch, Rami Malek, Léa Seydoux, Ralph Fiennes, Ben Wishaw, Naomie Harris.
Synopsis: After the events of Spectre, James Bond is in retirement in Italy with his girlfriend Madeline. A fiendish plot to control the world using bioweapons pulls him back into the action, however, as he makes one last effort to save the world.
It was always going to end this way. When Daniel Craig's gritty take on Bond first debuted back in 2006, it was a welcome change from the tired, campy antics of Pierce Brosnan's superspy. An audience recently introduced to Jason Bourne hungered for something different – a Bond who was altogether more human, more relatable. Barbara Brocolli's decision to hire Craig – who, at the time, couldn't have looked more wrong for the part with his granite-faced stoicism feeling particularly un-Bondlike – was a masterstroke, as was the decision to strip the series back to its roots with Casino Royale. Then came Quantum of Solace and the revelation that the Craig era of Bond would be a long-form style of storytelling. This was also a welcome change: in the Golden Age of television where long-form storytelling is at its apex, it felt right to have a Bond whose journey would not be contained to one cinematic outing.
And so the audience went along on a near twenty-year journey with Daniel Craig's Bond, a vulnerable man struggling to hold his life together. We have gotten closer to Bond than ever before, with Craig giving undoubtedly the most layered, textured performance of anyone who has played the spy before him. It was inevitable that his swansong would be this poignant, emotional, and full of pathos. As a bookend to a truly unique James Bond series, No Time To Die delivers just about everything you'd hope for and then some. There are some issues remaining – lazy tropes, stereotypes, an undercooked plot – but this was always about saying goodbye, and for that reason, it is hard to fault.
No Time To Die is a movie full of firsts for the franchise. This is readily apparent at the outset, with a pre-credits sequence that does not feature Bond himself, for the first time in its history. We see a young Madeline (Léa Seydoux reprising her role from Spectre and proving she still can't build chemistry with Craig) encountering the villainous Lyutsifer Safin (Rami Malek, admirably restrained in a character that begs to chew the scenery) who has nefarious plans with a bio-weapon that only half makes sense.
After the prologue and a typically gorgeous title sequence featuring the vocals of Billie Eilish, we find Bond and Madeline vacationing in a quiet Italian hillside town. Bond has since retired from service and is intent on making the most of it. Unfortunately, their retreat meets an explosive end and Bond finds himself back in the thick of it alongside old friend Felix Leiter (Jeffrey Wright), once more trundling across the globe in search of answers. Jamaica, where he encounters Nomi, the new 007 who replaced him (Lashana Lynch); Cuba, where he meets an enthusiastic new spy named Paloma (Ana de Armas, whose chemistry with Craig is tenfold what he has with Seydoux and who really should've featured more); and a snowy Scandinavia, where a shocking surprise awaits, all feature. It's a typically Bondian affair and pays tribute to the classics of the franchise while also looking forward to the new era which awaits us.
Directed by Cary Fukunaga, No Time To Die bears little of the hallmarks of that director's career thus far. His True Detective series as well as his Netflix project Beasts of No Nation show him to be a thoughtful, slow-paced director. However, No Time To Die is perhaps one of the most muscular, action-oriented of the Craig era. There are scenes – including a particularly impressive tracking shot – which feel more like John Wick than James Bond. Similarly, some of the set-pieces feel as though they could've been directed by Paul Greengrass, utilizing the gritty, hand-held Altman-style of filmmaking he so successfully applied to Jason Bourne.
It also has little time to slow down for pondering over Bond's career, nor does it seem particularly interested with investing in either the plot or Malek's antagonist. Both seem wafer thin and neither hold up to much scrutiny. Safin's plan is ludicrously convoluted and his motivations seem scant, while the plot itself – the race to obtain a bioweapon made of nanobots which only attacks specific targets using their DNA – calls to mind the cartoony machinations of the Brosnan era.
Ultimately none of this matters, though. If you're a Bond fan then this is what you pay admission for. Die-hard Bond fans know and expect certain tropes and so these can be chalked up to a kind of fan service; a nostalgia for the by-gone days of Connery, Moore et al. Instead, No Time To Die feels like a protracted goodbye. At a languid runtime of nearly three hours, it feels a little too drawn out. But this is mostly because Fukunaga and regular Bond writers Neil Purvis, Robert Wade, as well as newcomer Phoebe Waller-Bridge, devote more time to develop characters who might ostensibly ensure the future of the franchise. Lashana Lynch's 007 is a spiky, tenacious young replacement who is never awed by her predecessor and could – if the stars align – easily star in her own outing as a 00 agent. Ben Wishaw's Q and Naomie Harris's Moneypenny also feature heavily, making this particular adventure feel more teamwork oriented than it has previously.
Towards the final third is where everything dove-tails. The plot – such as it is – unwinds as Bond's ultimate motivation comes to the fore. Spycraft and world-domination gives way to familial sacrifice and a deep, unbreakable love. This is what everything was leading up to. This is how it was always going to end.
It's a shame that the writers relied on all-too-familiar tropes (every single villain of the Craig era has had a facial deformity. Why?), and some of the acting – particularly David Dencik's Obruchev – feels a tad too much of a caricature at times. The plot is typically undercooked and doesn't make much sense, and characters like Christophe Waltz' Blofeld – as well as the entire organization of Spectre – get short shrift, which feels like a slap in the face given the depth of their involvement going all the way back to Casino Royale. For all these short-comings, the ultimate aim was to say goodbye in style and pay tribute to one of the most fascinating characterizations of Bond we've ever seen. Whoever takes on the mantle of Bond will have big shoes to fill, and whatever you think of Daniel Craig or his wrist-slashing attitude to 007, it can't be denied that he has forever changed the franchise and ensured the future for James Bond looks very bright indeed.
Grade: B+