Movie Review: It's Frog vs Frog in Muppets Most Wanted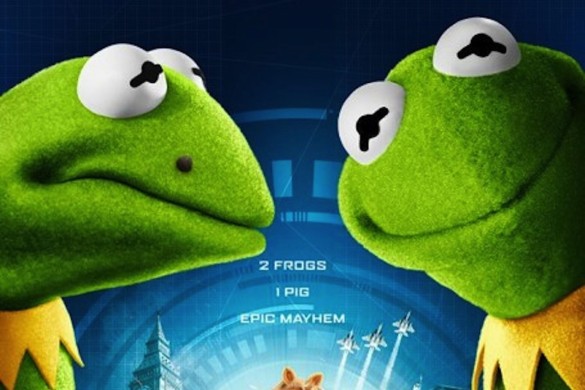 Director: James Bobin
Writers: James Bobin, Nicholas Stoller
Stars: Ricky Gervais, Ty Burrell, Tina Fey
Synopsis: While on a grand world tour, The Muppets find themselves wrapped into an European jewel-heist caper headed by a Kermit the Frog look-alike and his dastardly sidekick.
DIRECTION
James Bobin is back in the director's chair once again for Muppets Most Wanted, his follow-up to The Muppets back in 2011. The first thing you'll notice is that Bobin and his crew pick up right where they left off in 2011, where our beloved muppets are back together and trying to find their feet. Bobin once again reigns in nostalgia and brings us all the goofiness and silliness you'd expect from a Muppets movie. The musical numbers were riveting and well shot, which elevated many of the film's bright spots. Bobin's big win, however, had to have been the addition of Constantine, the world's most dangerous frog and #1 criminal in the world. As a representation of the 80's Russian bad-guy, Constantine was fun and used extremely well. If you peel back the layers, you'll find references to Muppets Lore and the movie industry that creates more intrigue, but this is more of a film where you can shut off for a few hours and just have a little fun.
Grade: A-
SCRIPT
The story picks up right after the events of The Muppets, when a camera is left behind after filming the last movie, thus revealing that there is a sequel to be made. It's at this point, we hear our first song, We're Doing A Sequel, which is quite possibly the most brilliant thing I've ever heard. The song itself is catchy, but the writing is beyond glorious taking jabs at the film industry and even Americans' behavior to watching film. It's not long before we're introduced to Constantine, who escapes from The Gulag, one of Russia's toughest prisons, finds Kermit and frame. The muppets then meet up with Dominic Badguy, posing as a tour manager but is really Constantine's #2 and thus our plot is set in motion. As the muppets tour, Constantine and Dominic have their plans of stealing and finding a bigger treasure. In the middle of all that, Interpol and CIA agents, Jean Pierre Napoleon (Ty Burrell) and Sam Eagle (Eric Jacobson) have teamed up to investigate these acts of thievery, which include some of the most ridiculousness we've seen in a muppets movie. While many of the musical elements shine, the narrative is formulaic, predictable and dry at times. The elements surrounding Kermit in The Gulag are hit or miss, especially the character of Nadya, which is contrived at times. Despite some of these flaws, it's still a very good time and the musical elements more than make up for any narrative issues.
Grade: B+
PERFORMANCES
Ricky Gervais shows stellar comedic timing and helps create an enthralling dynamic with Constantine, voiced by the great Matt Vogel, who was marvelous. Vogel not only voiced Constantine, but several other characters, as did Steve Whitmire, Eric Jacobson, Dave Goelz, Bill Barretta and David Rudman, whom all did a fantastic job with our fun muppet characters. While Tina Fey's character could of been written better, she delivers a fun performance, Russian accent and all. As with all Muppets films, there are many cameos or small roles, which include Sean Combs, Lady Gaga, Zach Galifianakis, Salma Hayek, Josh Groban, Tom Hiddleston, Frank Langella, James McAvoy, Ray Liotta, Chloe Grace Moretz, Usher, Danny Trejo, Celine Dion, Christoph Waltz, Stanley Tucci and the list goes on.
Grade: A
SCORE
While the musical numbers will overshadow the score in a big way here, Christophe Beck's score isn't terrible by any means, although it's nothing special at the same time. In this case, not recognizing the score isn't a terrible thing, given the nature of what this film is and the kind elements it has. Beck's score is more than serviceable but will ultimately won't be the main attraction.
Grade: B
FINAL THOUGHTS
Muppets Most Wanted is a strong piece of work in many ways, especially the musical pieces and the nostolgia it dives into, but suffers from a formulaic plot and gags that are either hit or miss. Kids will most likely have a ball with this film and if you're a parent, that's really all you can ask for. Some of the writing is magnificent, especially towards the beginning, but it fizzles in the 2nd half and doesn't quite live up to Bobin's first take at these beloved muppet characters. Still worth a watch though.
Overall Grade: B+