Movie Review: Miss Peregrine's Home for Peculiar Children is an endearing adventure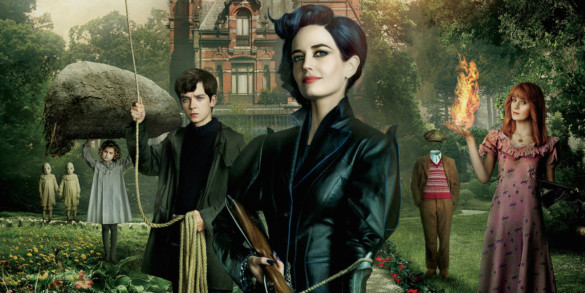 Director: Tim Burton
Writers: Ransom Riggs (based upon the novel written by), Jane Goldman (screenplay)
Stars: Eva Green, Asa Butterfield, Samuel L. Jackson, Ella Purnell
Synopsis: When Jacob discovers clues to a mystery that stretches across time, he finds Miss Peregrine's Home for Peculiar Children. But the danger deepens after he gets to know the residents and learns about their special powers.
Miss Peregrine's Home for Peculiar Children is the latest young adult book to transition to the big screen. There have been many lucrative franchises and films that never should have been greenlit, if you ask me. Miss Peregrine's Home for Peculiar Children, however, is a visionary spectacle in all phases. Tim Burton is the only person that can bring author Ranson Riggs narrative to the big screen. I went into this movie with no knowledge of the source material, but I think regardless of whether you're a fan of the book or Burton himself, there is much to appreciate here. It's perhaps an open question regarding potential sequels to this film, but on it's own, Miss Peregrine does deliver some warmth.
Jacob "Jake" Portman (Asa Butterfield) is misunderstood by his parents but is very close to his grandfather Abraham (Terence Stamp). Grandpa tells countless stories about the time he lived in a house with "the special children" before joining the British army. After tragedy strikes, Jacob travels to Wales, the location of Grandpa's old school, with his father Franklin (Chris O'Dowd ) to see if Grandpa's stories and photos are real or just hocus pocus. The pair finds the house as nothing more than a shell of its former self, as it was hit by German bombs on Sept. 3, 1943. Searching his own, Jacob enters a portal that lands him back to Sept. 3, 1943, and he soon discovers Tim Burton's marvelous set pieces. The school beautifully sits isolated by itself in a sea of trees and a myriad of plants and trees. Every inch on the school is a thing of beauty but nothing as beautiful as Miss Peregrine (Eva Green) herself. Miss Peregrine is dressed in all black and easily stands out among the crowd. Miss Peregrine can on occasion transform into a Peregrine falcon, and when she does it's like watching the Mona Lisa being painted.
Jacob learns about the "recessive" gene of peculiarity and is introduced to the other children. Emma (Ella Purnell) is Jake's low-key love interest who lightness requires her to metal boots so she doesn't get whisked away. Other peculiars include a pyrokinetic teenager, an invisible boy and a teenager who can resurrect those dead for a limited time.
For the first hour, this movie is well on its way to being one of the Tim Burton's best works due to its strong and vivid narrative. The film started to lose its steam though when we learn about the wights (undead human creatures that hunt and kill peculiars). The wights are lead by Mr. Barron (Samuel L. Jackson) and I just didn't feel like they posed a real threat. Maybe the film didn't flush out their characters enough for the film, but either way, they didn't quite work here.
If Burton would have focused more on the relationship between Jake and Emma, instead on opting for an extravagant special effect ending, this really could have been something special. Miss Peregrine's Home for Peculiar Children is no Harry Potter but it has intrigued me enough to see a sequel if it does get greenlit. I would like to see how the relationship between Jake and Emma progresses and would also like to see more of Miss Peregrine.
Overall Grade: B