Movie Review (Sundance): 'Mayday' Successfully Subverts the Damsel in Distress Trope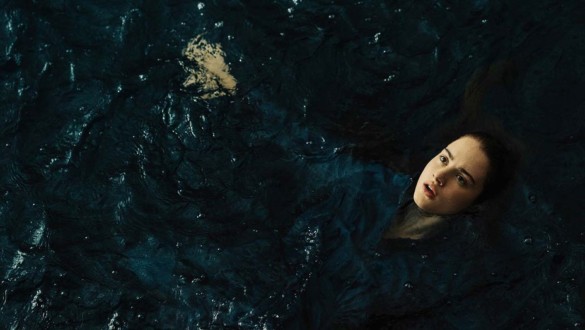 Director: Karen Cinorre
Writers: Karen Cinorre
Stars: Grace Van Patten, Mia Goth, Havana Rose Liu, Soko, Théodore Pellerin, Juliette Lewis
Synopsis: After a short circuit at her workplace mysteriously transports her to an alternate world, Ana meets a crew of female soldiers caught in an endless war. Under the leadership of Marsha, Ana trains as a sharpshooter, but soon senses she may not be the ruthless killer they expect.
In Mayday, writer/director Karen Cinorre creates an original and magical feminist story in which a very masculine topic such as war is subverted in a way that becomes feminine propelled by a feminist agenda. Furthermore, the typical male virtues are exploited and used against the men of the story.
Mary. Alpha. Yankee. Delta. Alpha. Yankee. These are the words that Ana (Grace Van Patten) starts hearing randomly in the middle of a terrible day. After having to spend the night in her car and to deal with an abusive boss, Ana is just trying to survive her shift as a waitress in a party hall. When an electrical storm starts, a short circuit magically transports her to an alternate reality.
Here, she finds herself on an island inhabited by women who are in the middle of a war against an all-male army. It does not matter to which side these men belong because "they are all on the same side, regardless of the uniform."
Ana soon becomes part of the female army and trains to become a sharpshooter. She is constantly motivated by Marsha (Mia Goth), the leader of the group. Bea (Havana Rose Liu), a sweet and sensitive girl is in charge of tracking the weather, and Gert (Soko), a pragmatic and mature woman, rounds up the effective regiment.
On this island, they use the elements as their strength to attract men towards them and towards death. Mary. Alpha. Yankee. Delta. Alpha. Yankee. MAYDAY. They play the roles of women in distress, appealing to the chivalrous complex of the men in uniform to save them. "They like their girls softer. Less authority." Marsha advises Ana as she is learning the game. Gallantry is the weapon for male annihilation.
All of the girls seem to have tragic stories in their past – related to men – although they have almost forgotten their previous lives. Ana, in contrast, has vivid memories and a recurring dream of driving in a long tunnel with no ending on sight. Sometimes a man is there to torment her.
One of the most satisfying aspects of the film is the dialogue, which patiently embraces its awareness of the female experience. More importantly, it presents two different points – that rapidly confront each other – about the feminist struggle. Marsha is ruthless and fierce. She is radical and never hesitates in her mission. Ana, in contrast, although great at her new job, is conflicted about their methods and the extremity of their actions. Soon their relationship evolves into one of suspicion and distrust. While the rest of the women are comfortable in this idyllic feminine paradise, Ana longs for the life she left behind, even with all of its flaws.
Mia Goth's Marsha may be the most interesting character of them all. As interpreted by Goth, this woman is unapologetic in her intensity. Extremely insensible to her enemies, Goth gets to say some of the best lines of the movie that echo in our ears as Ana tries to absorb them too: "Girls are better off dead because now we're free" or "You've been in a war your whole life you just didn't know it" are some of my favorites.
The sharpness of the script would feel shallow in less committed lips than the ones of Goth and Van Patten. With lines that work perfectly to propel the conscious awakening of Ana inside this fantasy world, Marsha is the vital impulse for Ana's radicalization. Nevertheless, Marsha's intensity may be too strong for someone as blank and doubtful as the new recruiter.
Although the story weakens in parts – it does not succeed in maintaining our undivided attention – its style and ideas are refreshing and revolutionary. The cinematography in charge of Sam Levy offers an ethereal tone to the island. The costumes by Ola Staszko are appealing and practical; something that women in a war would actually use, à la Birds of Prey. Many of the ideas feel otherworldly and innovative, leaving us in doubt of if what we are seeing is reality or fantasy.
The reality of what we see on screen is never fully clear. The decisions and doubts that surround Ana are the weakest aspects of the movie. The aggressive feminism that is present throughout its duration feels threatened by Ana's moderation. Nevertheless, the movie offers two prominent points of view, and some clever musings about being a woman in today's world, that make it a fun and inspiring entry in the feminist catalog.
Grade: B