Movie Review: 'Little Women' is an inspired adaption of Louisa May Alcott's classic novel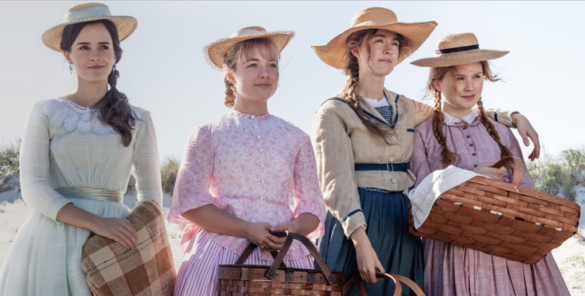 Director: Greta Gerwig
Writer: Greta Gerwig, based on the novel by Louisa May Alcott
Stars: Saoirse Ronan, Emma Watson, Florence Pugh, Eliza Scanlen, Laura Dern, Timothée Chalamet
Synopsis: Jo March reflects back and forth on her life, telling the beloved story of the March sisters – four young women each determined to live life on their own terms.
There have been seven big screen adaptations of Louisa May Acott's Little Women, the first being released over a century ago in 1917, (it's worth adding that this adaptation has sadly been lost to time). Over the years we have seen adaptations starring the likes of Katherine Hepburn in 1933 and Winona Ryder in 1994, there's just something about this story which has a timeless quality to it despite the novel being released in 1868.
However, with the sheer number of adaptations (the last one being in 2018), some were slightly apprehensive when it was announced that Lady Bird's director and writer Greta Gerwig's next film was to be her own adaptation of Little Women. How could Gerwig make this Victorian story appealing for a modern-day audience? And could she also stay faithful to the source material? Well, it's safe to say that Gerwig proves that she is more than capable of adapting this revered piece of literature, and she does a fantastic job of updating the novel for contemporary cinema goers. Little Women is an absolute treat of a film and one that I urge people to seek out.
Little Women starts off in 1868, Jo March (Saoirse Ronan) is a teacher living in New York. She sells stories to an editor called Mr Dashwood (Tracy Letts), stories which she doesn't put her name to and stories which she doesn't particularly enjoy writing but does so as they make money. Jo receives news that she must return home to Massachusetts, due to her sister Beth's (Eliza Scanlen) illness. The film's narrative is interwoven with events that took place seven years before, where we see the sisters Jo, Beth, Meg (Emma Watson) and Amy (Florence Pugh) come of age. We watch them bicker and fight with each other, fall in love and more importantly create a profound bond together as sisters.
Jo's main relationship is with Laurie (Timothée Chalamet) the grandson of their neighbor Mr. Laurence (Chris Cooper). The film explodes with Ronan and Chalamet chemistry, and they bounce off each other's quirkiness in an effortlessly cool fashion. However, Jo has bigger ambitions than marriage unlike her sister Amy who has to soldier the burden of saving her family from financial ruin as her Aunt March (Meryl Streep) continuously reminds her. Jo often seems baffled by Amy's and Meg's decision to pursue marriage, begging Meg at one point to run away together so Meg can become an actress. In this beautiful, heartbreaking scene Meg quietly responds back with "Just because my dreams are different from yours doesn't mean they're not important." A powerful message that we should all consider and take away from this film.
The film's strengths lie with its performances and everyone shines here. Ronan captures the feistiness of Jo, a character who seems larger-than-life but also relatable in so many ways. Pugh manages to capture the inner turmoil of Amy, making her appear more sympathetic rather than simply bratty. The supporting cast are also brilliant with Laura Dern portraying the girls' mother, a woman who is desperately trying to hold her family together while her husband is away fighting. There is such a heartbreaking tenderness to Dern performance, that we feel for her every time we witness her putting on a brave face for her daughters.
Gerwig's direction is flawless, and she reestablishes the fact that she has an ear for dialogue. The best scenes are when the sisters are bickering, or are participating in a fast-paced conversation with each other. Gerwig directs these in the style of a Robert Altman picture, full of energy and liveliness. Gerwig doesn't only have an ear for dialogue, but she has an eye for natural beauty and along with her cinematographer Yorick Le Saux, they manage to recreate an authentic looking New York and Massachuttes. Le Saux's camera manages to capture the cosy intimacy inside the March home in such an effective manner that we feel like we are there curled up in front of the fire. Other highlights include Alexandre Desplat's charming score, and Jacqueline Durran's costume design (yes, each outfit captures the girl's unique personalities wonderfully).
The only slight issue with the film is with Gerwig's and editor Nick Houy's decision to cross-cut between the two timelines, and when it first occurs it can be quite jarring. Some viewers may find this a distraction and struggle slightly to follow the storyline but once you get accustomed to the timelines then you can become swept up in all of the film's beauty and splendor. Gerwig's Little Women has all the hallmarks of becoming a beloved Christmas movie, and one that can be enjoyed by not only for little women, but for little men too.
Overall Grade: A
Hear our podcast review on Episode 356: