Movie Review: 'Let Them All Talk' Shows the Importance of Conversation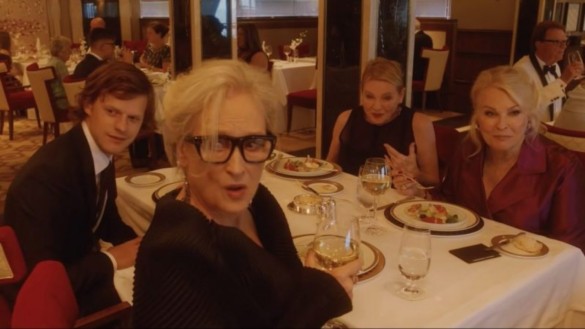 Director: Steven Soderbergh
Writer: Deborah Eisenberg
Stars: Meryl Streep, Candice Bergen, Gemma Chan, Lucas Hedges, Dianne Wiest
Synopsis: An author goes on a trip with her friends and nephew in an effort to find fun and come to terms with her past.
It's easy to look at the cast of Let Them All Talk and believe it's going to be a group of aging women, embarking on a luxurious cruise, while simultaneously stoking the flames of their rapidly vanishing youth. Basically, another Poms, Book Club, or Mamma Mia. Let Them All Talk is, however, a more intimate, however, a character study, if you will, that examines the power of relationships and their impact on our lives.
Alice (Meryl Streep) is a Pulitzer Prize-winning author, who is to be a recipient of a prestigious Footling Prize — an award that isn't given to fiction authors every year. Upon her refusal to fly, Alice is given the option to travel on the Queen Mary 2 from New York to England where the awards are being held. Alice invites her two "friends," Roberta (Candice Bergen) and Susan (Dianne Weist), and her awkward nephew, Tyler (Lucas Hedges). The three women have not seen each other in over 30 years after a falling out between Roberta and Alice. The meeting of the three won't include vast amounts of mad gab or waterfalls of cosmos. Alice's invitations to speak to Roberta are adamantly denied by Roberta's cold shoulder as she alleges that her life fell apart after their split. But a week at sea, with many opportunities to have that sit down talk, anything can happen between these three women.
Let Them All Talk is a silver platter of three female powerhouses — pillars of cinema history — creating an authentic friendship between their characters. It's a magnified view of the relationships we have in our lives, and plays to the cynical sentiment that maybe friendship is a "four-letter word." The talent that the ladies possess is incredibly evident as the script for the film was only an outline with the actresses improvising the majority of the lines — giving the film a more realistic feel. Dianne Wiest is the biggest takeaway of the film, the funniest of the three ladies, who I believe goes underutilized. The abundant use of improv in the scenes makes Wiest the quotable line winner with sassy zingers like "bow down, bitch" or "don't let that motherf**ker near me." Streep, on the other hand, is quiet and more reserved — especially, when compared to her other recent release, The Prom. Though Alice's tone can come off a bit conceded, as she tells the women that she doesn't have the luxury to explore the ship, the off-putting sentiments are nothing like Streep's poisoned tongue, Miranda Priestly, in The Devil Wears Prada. In addition, Bergen delivers some of her best acting as Roberta, which I believe is the icy one in this dynamic. Roberta prowls the galas and evening soirees trying to find a gentleman who can whisk her away and shower her with gifts and money. That personality trait is, in and of itself, nothing to make you awe at Bergen. It's Bergen's final scenes, though quiet, that is the cherry on top.
You'll never pigeon-hole Steven Soderbergh into one genre. It's impossible. This is a man who shot a feature-length movie on an iPhone. However, some may find this to be Soderbergh's weakest film, or a safer option compared to his other projects, but I beg to differ. Let Them All Talk feels like you're sitting down to watch a documentary. His continued eye for detail brings such a layer of humanity to the characters. For better or worse, their lives are open for all to see. The close-up shots of each character leave no emotion unnoticed, which can give you a feeling of being a pair of prying eyes or intruding on these characters' deepest conversations.
The title for Let Them All Talk isn't just there because it looks nice on a poster, but rather because the characters talk — a lot. But don't let the plethora of conversations drive you away, because this film feels incredibly personal from the start. But that's the point of the film: conversations. Everything good or bad that Alice, Susan, and Roberta have experienced on this trip comes down to the words spoken — each one of them being torn apart, or lifted up, by the words that flow between them. That their words, no matter how long ago they were spoken, have shaped a friendship that will impact them for the rest of their lives.
Grade: B+