Movie Review: 'Hunt' is a Bombastically Muddled Spy Thriller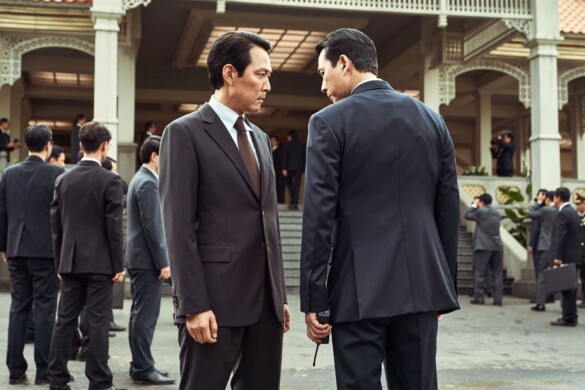 Director: Lee Jung-jae
Writer: Jo Seung–Hee
Stars: Lee Jung-jae, Jung Woo-sung, Heo Sung-tae
Synopsis: A spy movie based in the 1980s National Security Planning.
There are some sparks to Lee Jung-jae's directorial talents, Hunt is bombastically muddled and doesn't know if it wants the audience to take it seriously or indulge in its explosive subplot-covered demeanor. 
Although he has been a South Korean star for almost more than a decade, people started to recognize Lee Jung-jae's name via the mega-hit Netflix series Squid Game, which many binge-watched and held in high regard. He received critical acclaim for his performance in the series, which is receiving another season in due time, and a couple of awards, but Jung-jae is adding another achievement to his repertoire: a filmmaking debut, Hunt – serving as a triple threat in his debut as a writer, director, and lead actor (as well as producer). Doing all of those duties in your debut is quite hard to handle, but he tries his best to hold its espionage thriller genre trappings together with some action sequences and plot-dumping conversations. And in some parts, Hunt does find some footing and entertains slightly. However, the film is exceptionally disorganized and tries too hard to be a serious spy drama (extending its runtime by adding multiple subplots), causing the audience to lose interest quickly.
Hunt is set in 1983 in South Korea, where the 1979 assassination of the president by the KCIA (Korean Central Intelligence Agency, which was renamed the National Intelligence Service) left a weird haze in the atmosphere. There's also a sense of distrust across the various government agencies. Amidst this turmoil, we meet two KCIA agents named Park Pyong-ho (Lee Jung-jae) and Kim Jung-do (Jung Woo-sung), who disagree with each other on multiple occasions due to some circumstances that happened between them. Their rivalry sometimes feels like a self-parody (think The Other Guys or Starsky & Hutch) due to the cliches and the nonsense of their history together. There are the classic stare-offs, quick brawls, and deception – the three basic narrative maneuvers that appear in spy thriller vendettas. Nonetheless, the two might have to work together, even though they want to tear each other apart, to find a mole within the agency and protect their country. 
There are several conflicts, both from their pasts and the events transpiring, but the two need to find a way to settle their differences if they want to safeguard their place of birth. As they start doing some detective work and fighting their way through the various action-thriller sequences, Pyong-ho and Jung-do are going to confront a harsh truth that might ruin plenty of people's lives. Will they ever find the mole within the departments? Probably, but it will be pretty difficult as everybody seems untrustworthy to somebody, causing them to question every decision they make. With lots of running and gunning, torture interrogation scenes, and endless bullet shootouts, Hunt changes its gears every couple of minutes, leaving the audience exhausted. It is too fictitious for its own good with an exaggerated sensation. There's no sense of reality due to its expressions of violence, which tend to feel comical as the narrative, or the lack thereof, develops – including its multiple "plot twists" and backstabs. 
There are times when Lee Jung-jae showcases some brilliance in Hunt via some action sequences properly choreographed by Heo Myeong-haeng, who's known for his work in Train to Busan (2016). These sequences are drenched in pulsating exaggeration, but they are quite effective, even if they muddle the story more. One of the problems with Jung-jae's directorial debut is that it wants to be two different things at the same time, and they have distinct tones: a serious mystery-filled espionage picture and an intense action-thriller. The balance between the two is met with only a handful of movies, which add more creaky and repetitive layers to the narrative; either it adds another action scene or goes into the rabbit hole and includes yet another plot twist. It begins to bother you as it continues because you see the quick sparks of potential in Jung-jae's directorial effort. By the second plot twist and shootout, it lulls you into a trance of uninterest due to its convoluted narrative and repeat of what we saw before. While those are the most bothersome issues, there are also plenty of mistakes in its script. 
The writers don't take time developing the characters, leaving us with superficial details about their lives and past that, in the end, don't make us care for the characters as a whole, especially since there's a high body count. No coherence or substance is holding this picture together, so what is the audience supposed to grasp? It is hard to be engaged with a movie when all it wants to do (at least that's what it seems like) is twist itself into oblivion just to appear intelligent and secretive. Hunt wants to be political and speak about it loudly via its explosive nature, and you can see it in the thin lines of the project's malfunctioning spy-action division. However, since it is all at face value, there's no significance to what it wants to say exactly. On paper, you can see the potential political forte, yet in execution, it blunders heavily. Even if most of Hunt doesn't work entirely, Lee Jung-jae may have a promising career as a filmmaker because there are some interesting and creative decisions from time to time. Still, he needs to restrain himself in some manner and focus more on a singular story rather than plodding plenty of twists into a simple narrative. 
Grade: C-