Movie Review: 'High Flying Bird' is flashy fun with acute perception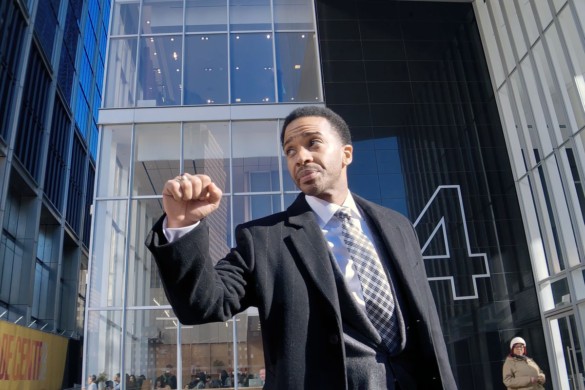 Director: Steven Soderbergh
Writers: Tarell Alvin McCraney
Stars: André Holland, Melvin Gregg, Zazie Beetz, Bill Duke
Synopsis: A sports agent pitches a rookie basketball client on an intriguing and controversial business opportunity during a lockout.
There are few relationships as paradoxical as that between star athletes and the fans that follow them. On the one hand, fans feel that they have an intense connection with these players they adore. On the other, fans have absolutely no idea what the real life of an athlete is like in the slightest.
One of the great triumphs of Steven Soderbergh's Netflix film High Flying Bird is that it connects its story palpably to the real-life drama that is the life of an NBA star. Its perception into the inner workings of NBA contractual dealings unearths some healthy fodder for the investigative eye that is Tarell Alvin McCraney's screenplay. Fresh off his Academy Award for penning Moonlight, McCraney stealthily unveils the darkness that resides in the board rooms of NBA offices.
To bring this story to life, Soderbergh utilizes his unique visual flair and active camerawork in support of the flashy characters that dash across the screen. Foremost among them is Ray Burke (Andre Holland), a star agent to some of the game's best players. Holland also worked with McCraney on Moonlight, and his performance here continues his trend of fine work. As the agent to the most recent #1 draft pick, Erick Scott (Melvin Gregg), his life should be just fine. That is, except for the fact that the NBA is in the midst of a bitter lockout.
The entire cast is fantastic. There's Zazie Beetz as Sam, Ray's assistant and Erick's love interest. Bill Duke brings gravitas to his role as Spence, a coach in a local youth league with his own history of dealings with the NBA. Sonja Sohn is fantastic as the representative for the Player's Association, and Kyle Maclachlan gives a wonderful supporting turn as one of the team owners.
Even that term "owner" brings about some dark connotations. In fact, the film makes multiple references to slavery throughout its runtime, making those dark connotations impossible to miss. This film will force you to consider the validity in uber-talented players signing over their likenesses and skill sets and only having access to a fraction of the profits that come from them. Here again is where I'll revert to that paradoxical relationship between fan and player. Most fans wouldn't shed too many tears for players that are making such large sums of money. But, then again, not all the players are making what the well-known stars make. And, even so, compared to what they could make if the share of revenues were more equitable, it starts to seem much smaller.
Another fantastic choice is to intercut the film's narrative with actual interviews of real-life NBA stars Karl Anthony-Towns, Reggie Jackson, and Donovan Mitchell. This gives weight to what the film is saying and never lets it feel too far removed from reality.
While the film may not be quite as fun as Soderbergh heist classics like Ocean's Eleven, it utilizes similar flair to serve its story. It is flashy, stylish, and perceptive; it may also get you thinking far more than you ever have about the livelihood of budding NBA stars and the Machiavellian businessmen who use them to prop up their sport. Roger Ebert famously called movies "empathy machines" and Soderbergh and McCraney utilize that gift of cinema here to fantastic ends.
Overall Grade: B
Hear our podcast review on Episode 313: