Movie Review 'Guillermo del Toro's Pinocchio is a True Treasure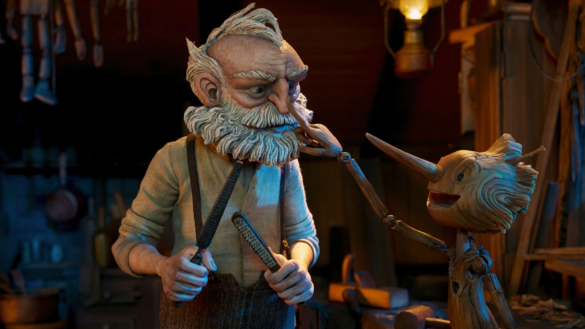 Directors: Guillermo del Toro and Mark Gustafson
Writers: Guillermo del Toro and Patrick McHale
Stars: Ewan McGregor, David Bradley, Gregory Mann
Synopsis: A father's wish magically brings a wooden boy to life in Italy, giving him a chance to care for the child.
One of the greatest stories ever written, Carlo Collodi's wooden puppet has seen countless adaptations. The beloved tale is one of the most essential stories ever told, in its deep commitment to teaching its audience about the difference between right and wrong. This story is ripe for further examination, as the world it exists in has only become more complex, so the prospect of a filmmaker like Guillermo del Toro tackling it rightfully garners excitement. After all, the maestro has shown cinephiles time and time again that even in the most dire and terrifying of situations, he can extract moments of beauty and turn them into some of the most dazzling films ever created. Guillermo del Toro's Pinocchio is no exception, as this stunning stop-motion animated film is full of darkness and despair, with an immense amount of beauty behind every miniature character and set piece.
Set during the rise of Italian fascism in between World War I and World War II, this adaptation reads far less like a fairytale than its predecessors. Of course, there are still an immense amount of fantastical elements that allow del Toro and his crew to express their wildest dreams, or nightmares, however they see fit. But, Monstro the whale and turning into a donkey are no longer the most terrifying elements of this children's story. Instead, the characters within this film inhabit a very real and incredibly chilling period of human history. As banners of Mussolini can be seen all throughout the world of Guillermo del Toro's Pinocchio, there is a constant reminder of what Pinocchio (Gregory Mann), and subsequently all of his peers, neighbors, and even enemies, are up against. Even in the introductory moments of this film, del Toro highlights the wickedness and sheer cruelty of fascism. The reality of the film is set in stone with no sugar coating for its younger audiences, which is crucial, as Guillermo del Toro's Pinocchio thrives by treating audience members of any age with the utmost respect. In similar fashion to his 2006 film, Pan's Labyrinth, being set just after the Spanish Civil War, del Toro depicts a world full of fantastical creatures at risk from a very real, deliberate evil. The stakes are painfully set in stone in both films, with no excuses being made to justify the cruelty that occurs in the face of fascism. To attempt to address the devastating effects of unchecked power and fascist beliefs in any way other than directly would be irresponsible.
As Pinocchio becomes discovered by the town, he is met with fear, disgust, and even outrage. That is not all, however, as the Podestà sees great potential in the wooden boy; he sees an unstoppable soldier, but more importantly, "an independent thinker" who could cause more harm than any true weapon ever could. In a statement regarding the film, del Toro said that he wanted to create "a story about a world, as Mussolini ascends to power in Italy, where everyone behaves like a puppet – except the puppet." In the source material, as well as many subsequent adaptations, audiences have often seen or read how Pinocchio learns to become a real boy. Through the teachings of his father, Geppetto (David Bradley), and his conscience, Sebastian J. Cricket (Ewan McGregor), Pinocchio learns the difference between right and wrong, and in turn becomes a real boy. Guillermo del Toro's Pinocchio instead looks to circumvent these notions, and more often than not, we witness his Pinocchio teaching others in a variety of ways. With charming humor and exuberant style, the young protagonist doubles as a beacon of hope for those he encounters on his journey. And it is Mann's wonderful debut voice performance that makes each encounter with the pure evil of fascism all the more upsetting. What makes Guillermo del Toro's Pinocchio so impactful is that whenever Pinocchio must face off against a villain, it feels like a battle for the very soul of innocence.
A film like Guillermo del Toro's Pinocchio should be treasured and protected. It's a crucial reminder to appreciate what we have, and to recognize just how quickly it can be taken away. There will always be evil in the world that hopes to rise up and crush anything that may oppose it, but there will also be good. In this film, del Toro successfully navigates the space between the two, through the lens of a young puppet learning what it means to be alive.
Grade: A-