Movie Review: Fruitvale Station is amazing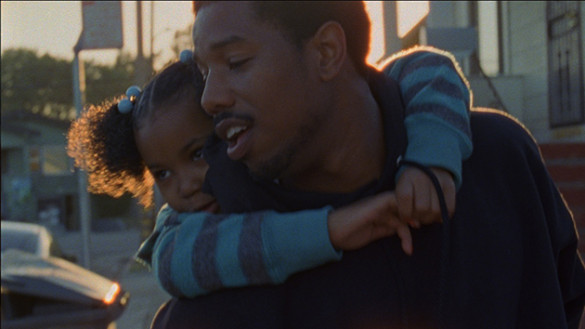 Director: Ryan Coogler
Writers: Ryan Coogler
Stars: Michael B. Jordan, Melonie Diaz, Octavia Spencer
Synopsis: The true story of Oscar, a 22-year-old Bay Area resident, who crosses paths with friends, enemies, family, and strangers on the last day of 2008.
DIRECTION
Ryan Coogler's debut film is a strong one and one that will put you right into the life of Oscar Grant. His camera work is amazing and is used with tons of purpose. Coogler is really intentional about putting you into the Oakland aesthetic showcasing Oscar's home and the lifestyle he was living. The sense of realism is palpable as you fall right into the shoes of Oscar feeling what he felt and thinking what he thought. There is very little score so you feel every little whisper, car honk and firework that goes off in the background. The long tracking shots Coogler uses again puts you right smack dab in the middle of the story. We see several close ups on Michael B. Jordan, who plays Oscar, to give you a sense of what his last day might of been like. Coogler uses a lot of foreshadowing and sets up the big moment at the end of the movie really well. The actual events at Fruitvale Station seem to go pretty fast and is mostly from the perspective of Oscar. We don't really get a full sense of the scale that was crazy and chaotic. However, because it's from Oscars perspective, that's all we need to see. Coogler does an amazing job in his first feature.
Grade: A-
SCRIPT
Ryan Coogler's script is obviously based on real-life events and it's very much from Oscar's point of view. The story begins in the morning of the last day of his life and we meet his girlfriend and young daughter who are beginning their day. Oscar and his girlfriend have had their issues in the past but are trying to work through things as their love is there but just a little bit mangled. We find out that Oscar has had issues with the law in the past but he's trying to redeem his past and move past the issues that got him into trouble in the first place. His love for his girlfriend, daughter, mother and the rest of his family means more to him than the lifestyle of his past. Redemption and grace ore powerful motivators and are the one's that define who we see Oscar to be in the film. However, with a criminal past and a sketchy background, finding honest jobs are difficult, especially with the recession happening. It's important to understand that and his decision to rid of his drugs and look to a bright future was a very difficult decision. The story continues to raise the main character up but it doesn't necessarily praise him at the same time. Coogler realizes that Oscar had issues and explored them to give you the sense of who Oscar was and why he wasn't a saint. Coogler explores the tragedy of the event and shows that Oscar was a person trying to gain redemption because his past wasn't the best and in the end, you really feel for him.
Grade: A
PERFORMANCES
Michael B. Jordan is amazing as Oscar Grant. Jordan really gives you the impression of what his last day was like and really gets you into mindset and feelings of Grant. There are a couple of scenes of foreshadowing where your connection to Jordan's performance and knowing how the story ends raises your heart levels just a little bit. Melonie Diaz as Oscar's girlfriend and Octavia Spencer as his mom bring some great performances here too. Spencer especially has some really great moments that bring to life some of the family dynamics we get here. Specifically, in one scene she realized that she couldn't see him in jail anymore and she just walks out. Coogler places the camera perfectly next to spencer which tracks with her as she walks out and Oscar in the background begging her not to leave. Amazing moment. She has another great scene at the end of the film after the doctors give her the news. The supporting roles that include Oscar's friends are great and believable as well as Ariana Neal, who plays Oscar's cute daughter. The film follows his daily routine for the time of life he's in and the performers give it that realistic aesthetic Coolger was going for. You were a part of the family for a night.
Grade: A
SCORE
Ludwig Göransson's score is tough to grade here because Coogler doesn't use it much and it's incredibly intentional. The score fits in perfectly well it's there and the transitions shots need it and it's the kind of score that this film needs. It's background noise that lifts up realism and sets the tone of the film. It's a sad story that has a tragic ending and the music foreshadows that well, again when it's used.
Grade: B+
Overall Grade: A-