Movie Review: 'Evil Eye' Sees its Core Bruised by Weak Craft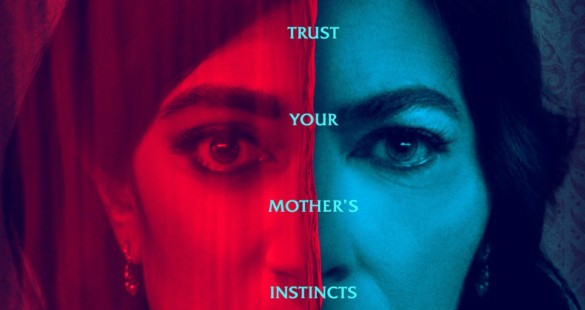 Directors: Elan Dassani, Rajeev Dassani
Writer: Madhuri Shekar (also based on the Audible book by)
Stars: Sunita Mani, Sarita Choudhury, Bernard White, Omar Maskati
Synopsis: A superstitious mother is convinced that her daughter's new boyfriend is the reincarnation of a man who tried to kill her 30 years ago.
When it comes to relationships, Asian mothers tend to have more sway than the ever-evolving algorithms of dating apps, the guys from the Adjustment Team and maybe kismet itself. Pallavi (Sunita Mani) knows this, and not even the miles between her and mom Usha (Sarita Choudhury) — or New Orleans, U.S. and Delhi, India — are too many for romantic advice. From Pallavi's many sighs and blank affirmations, it's safe to assume that she has heard them all. But since she is the lead of Evil Eye, one of four tales of Welcome to the Blumhouse, maybe the time for her to really listen is nigh.
Like the bagua mirror often seen in Chinese and Vietnamese households, the evil eye is a charm that, sinister name aside, brings protection to those who possess it (and with its gaze curses folks intending to harm them). That much mystical context, combined with the plot being Usha fearing that her abusive boyfriend has been reborn into Pallavi's new, dashing match Sandeep (Omar Maskati) to cause greater misery, Evil Eye seems to be eyeing for the title of episode with the most pronounced supernatural element. Turns out, it's not. For better and worse.
The absence of paranormal imagery speaks to the trust directors Elan and Rajeev Dassani have placed in the story, based on an Audible book from Madhuri Shekar (who also writes the script) and co-produced by Priyanka Chopra Jonas, particularly the gray area where older generations' concerns become the younger ones' cages. Even without a reincarnated abusive man, there is plenty of danger and fear lurking beneath the drama when teachings framed as experience go unheeded. When the needs of mine outweigh the needs of more. When there is no way of knowing whether decisions made with more individualism than collectivism, what you've been growing up with, in mind lead to progress or peril. Between the child or children living abroad and the parent or parents back home, one party can't help but think that the other is "casting" an evil eye on every life choice made. Much of this strong subtext shows up in the daughter-mom long-distance calls in Evil Eye, and in all of them Mani and Choudhury — especially Choudhury — always exhibit the right emotional emphases.
But to see that will require the viewer to overlook the diminishing craftsmanship. That aforementioned trust in the story? The Dassanis can't quite translate it into compelling visuals, especially for the phone calls where it's simply a cut to person A speaking and then person B. Only one receives a special, and smart, composition, but the focus by this point will be less on the meaningful things said and more on why plenty of the ones before didn't receive the same stylistic polish. How Jaume Collet-Serra does it in Non-Stop or The Shallows can be showy, though the distance — literal and proverbial — between the speakers is heightened and the film's flow stays uninterrupted. 
Moreover, if the evil eye is as powerful as the characters claim to be, just a pinch of supernatural or supernatural-adjacent imagery will not hurt — especially when more horror films could use aesthetics as colorful as what production designer Ryan Martin Dwyer has provided here. That pinch will also render Sandeep a better threat; as much as Maskati tries to moderate his tone or adjust his gaze, the filmmaking doesn't support his performance, and as a result Sandeep's literally revived villainy is far from a guessing game. It would have added more work to the brain, which is deep into trying to answer the question "As a mother, does Usha really know best?" It would have made Evil Eye's blinking throughout 90 minutes a bit livelier.
Overall Grade: C+