Movie Review: Dawn of the Planet of the Apes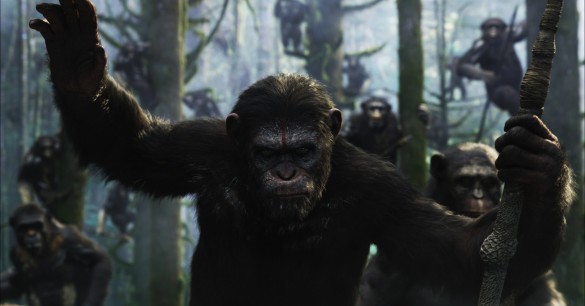 Director: Matt Reeves
Writers: Rick Jaffa, Amanda Silver
Stars: Andy Serkis, Gary Oldman, Jason Clarke
Synopsis: A growing nation of genetically evolved apes led by Caesar is threatened by a band of human survivors of the devastating virus unleashed a decade earlier. They reach a fragile peace, but it proves short-lived, as both sides are brought to the brink of a war that will determine who will emerge as Earth's dominant species.
DIRECTION
Matt Reeves opens Dawn of the Planet of the Apes with a harrowing glimpse at the decline of man as the "Simian Flu" breaks out and spreads all across the world, killing just about everyone on the planet. Reeves immediately sets the tone and quickly brings us back into the world of Caesar. The pacing is brilliant and fluid, while telling the story beautifully with great camera work and amazing visual effects. The CGI is some of the best we've ever seen on film and enhances the characters is some incredible ways. The action scenes are seamless, thrilling and pack a mighty punch, making this one of the most riveting blockbusters of 2014. Reeves took the momentum from Rise of the Planet of the Apes and carried it even further in almost every way possible. There are a few things here or there he could've tweaked, like using Gary Oldman's character better for example, but for the most part, Dawn of the Planet of the Apes is one wild ride.
Grade: A+
SCRIPT
The thing that can almost always make a script work, regardless of the actual story, is compelling characters. This is the case in Dawn because as far as a story goes, there is nothing original here. This film has gotten a lot of praise, but let's be honest, the story isn't anything new or different that what we've seen a thousand times before. However, what makes it work, is that Caesar (Andy Serkis) is captivating on every level as well as his ape brethren. Caesar is now a husband and a father, as well as the leader of the entire group, which has grown significantly since Rise. When a group of humans show up on their turf unexpectedly, tension rises and the apes have to figure out how to deal with this new dilemma. As for the humans, which is led by Malcolm (Jason Clarke), they need to get to a dam to get power for their colony of survivors, however it's in ape territory. As soon as Malcolm and Caesar find a way to work things out, all hell breaks loose when Caesar's military-like confidant, Koba, has a difference of opinion on leadership. Again, as the story plays out, it's not the narrative but rather the ape character struggles, transformations and decisions that makes the story so provocative. The human characters lack depth but do offer some nice interactions throughout that feel genuine, despite the lack of potency it went for at times. All in all though, this is Caesar's movie and he is so engaging and remarkable. That alone makes the story good enough for me.
Grade: B+
RELATED: Transformers: Age of Extinction Movie Review
PERFORMANCES
If Andy Serkis isn't nominated for awards, then he should be recognized on some level. What he does with Caesar absolutely carries the movie to a whole other level and it doesn't pack the punch it does without him. In fact, he's so good, that when he's not on screen you feel it and you want him back immediately. The interactions Caesar has with his son and wife are gorgeous, moving and always believable. Toby Kebbell, who plays Koba, is also fantastic and crucial to the film. While he's not as known as Serkis, he will have more mo-cap roles in his future. Jason Clarke is no James Franco. Don't get me wrong, Clarke is great in the role but his character doesn't have the emotional pull that Franco's did but he's definitely serviceable. Gary Oldman is also fine, but again, the writing of his character was muddled and could've been utilized better. However, when Oldman is on screen, he's a veteran presence that works well. The rest of the human cast is fine as well but it's really the ape family that stands out and what's important here.
Grade: A
SCORE
Michael Giacchino's score isn't going to have an iconic theme or anything that's rememberable, however it's one of the more gorgeous scores of 2014. Because a lot of the film is slowed down for emotional beats and character moments, the score lingers on those beats and let's the strings carry the weight of those scenes. The action scenes are tense and thrilling, which is reflected in the score as well. For those who like to listen to scores outside of the film, this is a gorgeous listen to, but you may have to be in the right mood for it.
Grade: A-
FINAL THOUGHTS
While Dawn of the Planet of the Apes can certainly stand on it's own two legs, the character building and set-up from Rise, makes Dawn a little bit more potent. And while everything with Caesar and his family is just magnetic, I can't help but feel underwhelmed by the human characters. The script tries to pull a lot of emotional punches that didn't hit as hard as it could have, however, the punches pulled with Caesar and his family were very strong. And not because I love apes more than people, but because we spend a lot more time with them and we're given more depth. Don't get me wrong, like Godzilla, that's a minor quibble in the grand scheme of things. This film is amazing. Andy Serkis is incredible and the action is a lot of fun. Seeing this world is just one heck of a ride and it's easily one of the best films of the year.
Overall Grade: A