Movie Review: 'Creed III' Unleashes Massive Directing Talent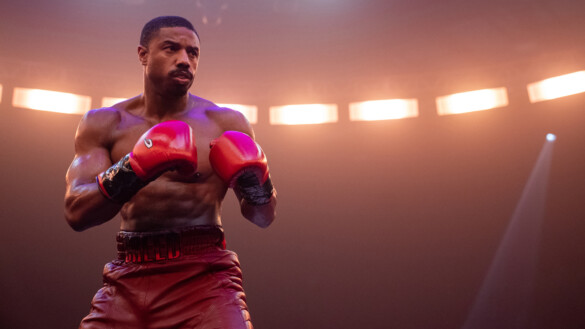 Director: Michael B. Jordan
Writer: Keenan Coogler and Zach Baylin
Stars: Michael B. Jordan, Jonathan Majors, Tessa Thompson
Synopsis: Adonis has been thriving in both his career and family life, but when a childhood friend and former boxing prodigy resurfaces, the face-off is more than just a fight.
The original Rocky film will always be what this franchise, and any boxing movie truthfully, will spend its time chasing. Not only a commercial success but a multi-Oscar winning tale about a fighter doing the one thing he knows more about than anything. When Creed was initially announced, the story of Rocky had regressed astronomically and was only partly saved by the sixth installment of the series, Rocky Balboa. Creed was already fighting an uphill battle and managed to not only provide a compelling "Rocky" movie, but it instantly became one of the best of the franchise. For the first time since the original in 1976, a film in the saga was able to evoke the same emotions and feelings that made Rocky such a classic. Followed up by Creed II, which was another stellar outing, this spin-off series proved it had staying power and was even in a position to overtake the champ.
Now in the third installment, Creed III starts with a young Adonis (Thaddeus J. Mixson) sneaking out and going to watch his best friend Damian Anderson (Spence Moore II) box in an underground ring. After winning the fight, and the bet Damian placed on himself, the two head to a liquor store which leads to Adonis and Damian getting into an altercation that would alter their relationship forever. Flash forward 15 years, and current Adonis (Michael B. Jordan) is finally getting his rematch against "Pretty" Ricky Conlan (Tony Bellew). This isn't a normal fight, however, as this is the last fight of Adonis's career after announcing his plans to retire following the fight, no matter the outcome. Luckily for him, he manages to keep his title belt and leave boxing as a champion.
His life after boxing consists of raising his daughter Amara (Mila Davis-Kent) as well as running the Delphi Gym and promoting the newest champion Felix Chavez (Jose Benavidez). That is until Damian is released from prison and he, as well as the past that Adonis has been running from, resurface. He lets Damian train at the gym and spar with Chavez to get his feet back on the ground, but when Chavez's upcoming opponent Viktor Drago (Florian Munteanu) can't fight, Damian gets the chance to finally become the world champ he thought he would be from a young age. This fight puts Damian on the map as he begins to antagonize Adonis for living the life he felt he always deserved. After three years of retirement, Adonis decides that he can't keep running from his past and needs to meet it head-on in a fight between who he was and who he became.
Shockingly, the story itself was one of the weakest parts of the entire film. Screenwriters Keenan Coogler (the brother of Ryan Coogler) and recent Oscar nominee Zach Baylin (King Richard) manage to evoke some emotional moments throughout whether it be Adonis's aging mother or the relationship he shares with his daughter, but the underdeveloped script gives off a feeling of a behind-the-scenes look rather than a narrative feature. There definitely was some reclamation that had to be done as this was the first film to not feature Sylvester Stallone's Rocky; while some of the charm was lost, it did allow Adonis to stand on his own feet as the focal point of this story.
In this film standing opposite Jonathan Majors was never going to be an easy task. Majors delivers an antagonist whose brutality and tenacity, mixed with his determination and tragedy, provides a good medium for the audience as someone they can root for and against at the same time. The Rocky series in particular always had an issue when it came to the antagonists being one-note villains whose only goal is to inflict pain on the protagonist. That is Majors's goal with Dame, but it comes from a place of pain and resentment not for what Adonis did when they were younger, but for forgetting about him at his lowest. He also conveys Dame with empathy, and in what is easily the most physically demanding role of his career, he still displays the quiet nature that not only helped him breakout in 2019's The Last Black Man in San Francisco but proves himself as one of the most captivating and compelling actors in Hollywood.
Where Creed III shines brightest of all is in the directorial debut of Michael B. Jordan. Jordan taking over as director isn't surprising given that Sylvester Stallone directed quite a bit of this franchise with Rocky II, Rocky III, Rocky IV, and Rocky Balboa, but while Stallone was better on paper than he was behind the camera, in just one film, Jordan has proven himself to be an audacious visual storyteller. How he manages to tell the story through the camera can make up for the lack of story in the script itself, and the fight scenes are truly where he shines. Early on, Jordan talked about how he wanted to incorporate anime fight scenes in a live-action way, and while these sorts of fights could have been gimmicky, he and cinematographer Kramer Morgenthau are able to work the scene beautifully crafting some of the most intense and visually appealing fight scenes in quite some time.
His ambition didn't stop there, however, as he magnificently used the final fight to tell the real story of the film. Fighting in the Rocky/Creed franchise has never been about being the best, there has always been a bigger picture to the battles being shown and how Jordan frames and tells the story of the final fight through the visuals and the choreography, stripping away all of the noise and displaying two people who are fighting for much more than a title. It was a truly risky but worthwhile move that reminds you what these movies have always been about, picking yourself up even after you've been knocked down.
While Creed III might be the lowest of the trilogy due to a thin story, it is a dazzling directorial debut from Michael B. Jordan and another prominent turn from Jonathan Majors that makes this film an entertaining addition to the Creed saga. The original Rocky is and always will be the gold standard for films of this franchise, but now three films in, it is clear that the reins have been passed and this franchise belongs to Adonis Creed.
Grade: B