Movie Review (Berlinale 2023): 'Living Bad' is a Poignant Complimentary Piece of João Canijo's Bad Living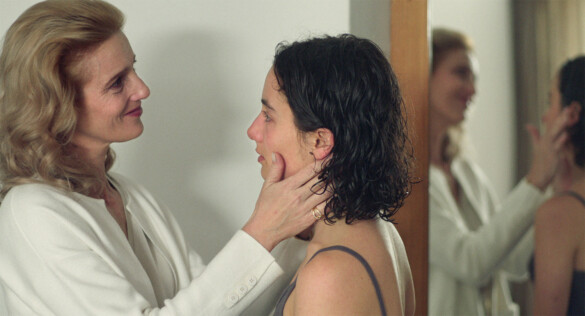 Director: João Canijo
Writer: João Canijo
Stars: Nuno Lopes, Filipa Areosa, Leonor Silveira
Synopsis: The film portrays story of a family of several women from different generations, whose relationships with each other have grown poisoned by bitterness.
The second film in João Canijo's Berlinale-bound dual-project, Living Bad (Viver Mal), plays like a melancholic and melodramatic version of The White Lotus. The hotel guests' lust, lies, and angst intertwine to forge an enticing complimentary piece to Bad Living (Mal Viver) that completes the puzzle of the hotel's mysteries.
Because of the pandemic's containment and isolation, João Canijo finally got the chance to create his ambitious dual-perspective project and premiere both films at this year's Berlin Film Festival in different sections: Bad Living (Mal Viver) and Living Bad (Viver Mal). These two films are set in a decaying Portuguese hotel that's slowly nearing its untimely end due to financial reasons and ruptures in the relationship of its staff, which are coincidentally related to one another. Bad Living, the first (and foremost) half of this narrative, focuses on the women working in the hotel and explores the various dynamics of their up-and-down lives – melancholy slowly drenching their essences. It was a mesmerizing experience, as Canijo used elements from masters at the craft (Bergman and Rivette) to curate the film's procedure. These women's troubled past and broken present can't be mended by staying in the hotel. But, since their entire lives and reason to live are tied to that place, they might as well go down with the ship. That vacation location, meant to represent a place for bliss and enjoyment, turns into pessimistic hell. 
Throughout the entirety of Bad Living, we get glimpses of the guests staying at the hotel, and we also hear some of their conversations through echoes (as if we are trespassing). Yet, we don't actually interact with or know anything about them. That's where Living Bad (Viver Mal) comes into play. The missing pieces of the puzzle are now placed together to create a beautifully tragic exploration of desire, lies, betrayal, and the reluctance of acceptance. The film is set during a weekend, where three groups of guests arrive to eat some fancy food, drink expensive wine, enjoy some time by the pool, and be together in unison. However, as Bad Living demonstrated, things will not go according to plan. The hotel again reprises its role as this "haunted house" where your mental state will not be the same once you have arrived. The past haunts these guests, and they must face how it shapes their present lives whether they like it or not. 
Living Bad is a film about mothers and the space they take in relationships, told in three chapters. There's a man torn between being there for his wife (and her successes) and the space that his mother consumes between them. A mother is urging her daughter to marry a man so that she can continue her own love affair with him. Another mother is preventing her daughter from making her own decisions by scolding her girlfriend and their fervent devotion. These are three stories of unwillingness to accept people for who they are, intertwined by their individual lusts, little white lies, obsessions, and angst. All of them had problems before getting to the hotel, but upon arriving, their issues worsened. Everything goes downhill as they spend more time there. And once they leave, their respective problems have reached a state of no return; the guests have spent a weekend in purgatory. 
João Canijo describes Living Bad as "the reverse shot of Bad Living, " which mirrors the aforementioned film. The family working in the hotel are now fragments in the backside of this film, like spirits walking across the halls. Meanwhile, the guests are now at the forefront. Since we already know everything that has happened with the family (you need to see Bad Living first before indulging in the second perspective), there's an interesting element of trying to connect one situation with the other – a nuisance that the family has with one of the guests' dilemmas. Living Bad (Viver Mal) often plays like a melodramatic and melancholic version of the HBO Max-critically acclaimed series, The White Lotus, in which a group of uber-rich people unleashes their worst, most privileged impulses and with each passing day, a darker complexity emerges in the picture-perfect idyllic locale. However, it doesn't have the comedic tone the series has; instead, it doubles down on the intertwining between desire and betrayal. 
These three groups of guests don't have interconnected storylines, but they are going through the same highs and lows upon arrival. They provide exciting dynamics onto the table, most of which are grounded. At the same time, the rest dwell within the melodramatic sensibility Canijo wants to embrace to give the film a somewhat ghostly tone. Some of the storylines aren't as gripping as the ones previously in Bad Living. And I wish some of them had been explored more, as you can see the potential of a feature-length film with – at least two of them, particularly the last chapter, where Carolina Amaral and Leonor Vasconcelos deliver fascinating performances and have great chemistry together. Nevertheless, Living Bad (Viver Mal) gives us that necessary glimpse to complete the full dreamscape-like vision that João Canijo has wanted to deliver since Blood of My Blood. Having watched both films now, I do think that the way to have tackled this type of story was through a dual-perspective two-piece project because if it were all crammed up into one feature, most facets would lose their gloomy and haunting sensation. 
When divided into two features, Canijo explores, with ease, the complex dynamics each person involved in this narrative has with one another. And it is fascinating to see such ambitious work end up in the filmmaker's favor. I hope this film shines a light on Canijo's filmography and that more people get into his work. 
Grade: A-