Movie Review (Berlinale 2023): 'Silver Haze' Has Too Many Moving Parts to Leave An Impact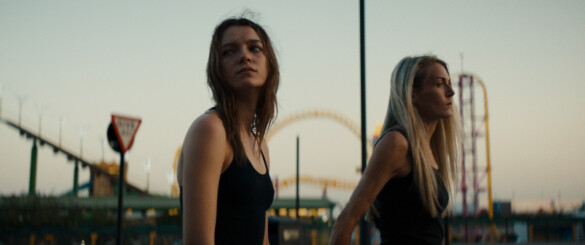 Director: Sacha Polak
Writer: Sacha Polak
Stars: Vicky Knight, Esme Creed-Miles, Charlotte Knight
Synopsis: Fifteen years after she got burnt when the pub where she slept as a child caught fire, Franky (23) seeks revenge because she still hasn't found any answers.
Silver Haze has two intriguing performances in its leading duo of Vicky Knight and Esme Creed-Miles. But, unfortunately, Sacha Polak's kitchen-sink procedure for her melodramatic coming-of-age stories doesn't work entirely this time around because of its unconvincing screenplay and subplot-heavy focus. 
During her years as a filmmaker, Dutch director Sacha Polak has concentrated on coming-of-age stories that center around people wounded by the past as they are "exiled" by society. Their structure throws everything into the mix, with disparate elements from various genres being put together in a melodramatic setting. Yet, through her direction regarding the performances, Polak expresses some grounded emotions in that hodgepodge concoction. Her filmography, particularly the films Hemel (2012) and Dirty God (2019), demonstrate this cinematic approach the most while implementing the directorial style of her contemporaries, like Andrea Arnold (Fish Tank, American Honey) and Clio Barnard (The Arbor, The Selfish Giant). However, unlike the aforementioned filmmakers, there's a self-destructive and cathartic sensation in her films that help lift the melodramatic formula Polak prefers. It doesn't amount to significant pieces of work, but they are intriguing and oddly fascinating. While her latest work, Silver Haze, isn't as interesting as Hemel, which had a provocative undertone, or as thought-provoking as Dirty God, the film is a showcase for its leading duo's talents, Vicky Knight and Esme Creed-Miles.
Silver Haze follows Franky (Knight), a twenty-three-year-old nurse with a troubled past in East London. In her youth, she survived a deadly fire that left literal and figurative scars on her; the circumstances of said fire were very questionable – Franky's suspicions about it still affect her daily living. She thinks the person who did it was the woman who ended up marrying her father, who cut ties with them ultimately to commence a new life. Franky's internal angst is fueled by her father's betrayal when she was a child and the suspicions that his partner initiated this tragic chain of events that ruined her family's life. The only reason Franky is alive is because her brother saved her. He broke through the barricaded doors and pulled her out of the burning pub but tragically died in the incident. Years later, everything seems to be going fine; although there is still suffering from what has happened, Franky and her family still hold their heads high. 
Franky's torment is renewed when she meets a suicidal patient named Florence (Creed-Miles). The two immediately connect, and their fondness grows amidst the displeasure of Franky's family, which threatens their affinity. Their inner demons want to come out and face the pains of their respective pasts. The first half of Sacha Polak's Silver Haze feels like an Andrea Arnold picture without the 4:3 aspect ratio she's accustomed to using. Everything feels like a mystery, as the rural environs and landscapes of East London create a sun-lit blurry fog that immediately hooks us to the screen – the setting is a character of its own. And when we are quickly introduced to Franky's companion for the rest of the story in Florence, Polak begins to display the best of her abilities, which is directing her actors to deliver intriguing performances and blending naturalism with melodramatic sensibilities. As Franky and Florence explore their sexuality, their respective pasts get a hold of them. 
At least now, because they have each other, they have someone to hold when all of the chips are down. Florence's self-destruction is intertwined with Franky's yearning for the truth. And as the two of them suffer from this constant swinging between angst and love, it creates a fascinating dynamic we would want to see more of. Unfortunately, Polak's kitchen-sink approach adds a revenge plot element that doesn't serve the film's sharp first half and ruins the experience by dwelling on excessive melodrama while ditching naturalism. Polak's screenplay is unconvincing, shifting its emphasis at a constant ratio and the improvisations of the actual events that inspired this story. This might have to do with the loose recreation of Knight's own improvisations and remembering what happened to her when she was little. Like the character, Knight survived a deadly fire when little, and Polak recreated some moments from her past to pave the way for Silver Haze's narrative. 
The combination of a coming-of-age romance with some thriller elements to spice things up derails the entire movie from its primary purpose of telling a story about troubled young women healing the wounds of the past and how their angst consumes them. It's disappointing that the trajectory it's taking isn't as gripping or emotionally moving as one would expect. Although the cast delivers excellent work, their performances aren't strong enough to uplift the slightly mediocre lines of Polak's screenplay. That seems to be her drawback throughout her filmography. She manages to capture the beauty and gloom of its setting and atmosphere, yet Polack struggles with finding the right words to connect us with her characters. You feel the eternal rage that both Franky and Florence are going through, but the film doesn't do much with it; the cast elevates those emotions. At the very least, Silver Haze will shine a light on Vicky Knight and Esme Creed-Miles, who deserve more profound roles in independent films. 
Grade: C