Movie Review: 'Charm City Kings' is an Emotional, Timely Coming of Age Story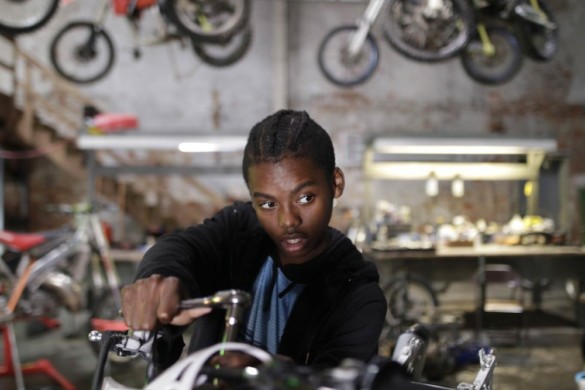 Director: Angel Manuel Soto
Writer: Sherman Payne
Stars: Jahi Di'Allo Winston, Meek Mill, William Catlett, and Teyonah Parris
Synopsis: Fourteen-year-old Mouse desperately wants to join a group of Baltimore dirt-bike riders who rule the summertime streets.
Charm City Kings follows the story of Mouse (Jahi Di'Allo Winston) as he tries to join the gang of bikers his brother was once in, but after him and his two friends get rejected due to their age, they find a new way to get bikes and join the gang by working in the shop of the former gang leader Blax (Meek Mill) and assembling their bikes from old used parts.
The film is loosely based on real events inspired by the documentary (12 O'clock Boys), our story takes place during summer in Baltimore, and right from the start, the film feels like a love letter to the city and the people who live in it. From the long tracking beginning sequence that follows Mouse as he is walking home passing through the streets of Baltimore; to the beautiful landscape and close-up shots that are spread throughout the film. It's clear that director Angel Manuel Soto and his cinematographer Katelin Arizmendi seek to put the audience in the shoes of the characters and witness their everyday lives to fully understand the effect of the choices that these teenagers make on the rest of their lives.
The film has a lot to say about the circumstances that face teenage African Americans in Baltimore and the hard choices they have to make at their young age. In addition to examining the concept of role models and the effect, they have on these teenagers while also setting commentary in the background about the police injustice and economic difficulties that face the African American community. So the question becomes, does it manage to juggle all these big ideas and concepts that it's trying to make? Well, some more than others, the film at its core is a coming-of-age story, and it's a beautiful one. The story of Mouse and his friends, these young boys who are trying to be adults and fit in, never gets boring or old, and it hits an emotional high towards the end of the second act when you see them struggling to take actions that will alter their lives forever.
The film has strong performances across the board especially, from its leads, Jahi Di'Allo Winston, Donielle T. Hansley Jr., and Kezii Curtis. Jahi Di'Allo Winston had a tremendous task as the film spends most of the time with him and the emotional weight of the film lies in his performance, luckily he gives one of the best breakthrough performances in recent memory, while Donielle T. Hansley Jr. and Kezii Curtis give fantastic performances that announce their talent to the world, but, no one gives a better performance than Meek Mill who steals every scene he is in, it is surprising considering that this is his feature debut and you can see glimpses of a great performer in him already. His subtlety catches you off guard, given that his role is such an easy one to go for big moments and old clichés, but none of that is seen here, and it was pleasing to witness.
My issues with the film mainly come from it choosing to bite more than it can chew. With it going for so many big themes and points, it ends up being slightly convoluted with its messaging; meanwhile, the plot didn't help in this regard making decisions that feel forced on the narrative, especially in the third act. Also, the dialogue at moments comes off as generic "Don't let anyone get you down" and "Follow your dreams" stuff, and despite all of that, the film still manages to finish Mouse's story with a satisfying conclusion and go out on a high note.
In the end, Charm City kings is an emotional and timely coming of age story with a lot to say on the current problems that face the African American youth. I just wish it was slightly more focused but nonetheless, you should check it out if not for its beautiful depiction of Baltimore and its people, then for the fantastic performances from Meek Mill and Jahi Di'Allo Winston.
Grade: B+