Movie Review: 'Bodies Bodies Bodies' is a Crafty and Darkly Witty Slasher That Bathes in Social Anxieties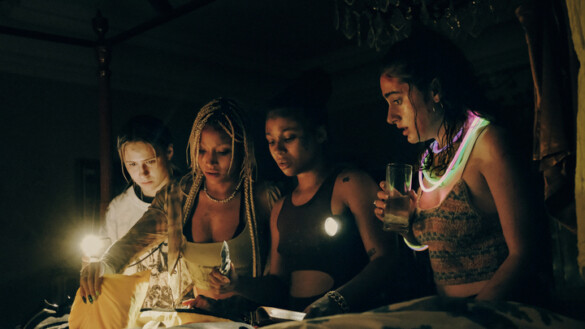 Director: Halina Reijn
Writer: Sarah DeLappe and Kristen Roupenian
Stars: Amandla Stenberg, Maria Bakalova, and Rachel Sennott
Synopsis: When a group of rich 20-somethings plan a hurricane party at a remote family mansion, a party game turns deadly in this fresh and funny look at backstabbing, fake friends, and one party gone very, very wrong.
There's nothing better than an excellent horror comedy, a la The Evil Dead (with its slapstick demeanor and outright ridiculousness), Return of the Living Dead, and Braindead. The feeling these films bring to the viewer while watching is incomparable to regular comedic films because the horror elements add more cinematic heft to the feature. They have been around since forever and changed the horror landscape for the modern generation of filmmakers dwelling on the genre. Films like Cabin in the Woods, Ready or Not, and Freaky have showcased the variations of the different combinations within the horror subgenres (slasher, splatter, found footage, etc), with its main component being comedy. Even Julia Ducournau's features (Titane and Raw), which contain body horror scenes that would make David Cronenberg proud, are extremely funny – more humorous than one might expect from films with bodily transformations or cannibalism. Recently, many directors have taken childhood games and implemented horror-genre trappings and bloody demeanors to entertain the audience via scares and humor. The latest of these concoctions is Halina Rejin's second feature, the A24-hoisted Bodies Bodies Bodies. 
The Dutch actor-turned-director takes the monomania-inducing social dedication games like Werewolf, Mafia, or the hit online game, Among Us, as inspiration to compose the horrors and wit contained in her sophomore feature. Rejin creates a variation of those games and combines it with critiques and expositions toward privilege, class, trust issues, and the toxicity that torments social media to create an assortment of a chamber piece, slasher, and horror comedy – keeping its tension and suspicion high until its last moments. In addition, it includes a slick quintet of young stars (and potential scream queens) in Rachel Sennott, Maria Bakalova, Chase Sui Wonders, Myha'la Herrold, and Amandla Stenberg. Although its comedic panderings can be a bit irksome occasionally, the overall project feels fully suited for today's social-media-obsessed generation, with the potential of being a cult classic in years to come. What started as a sociable party among best friends spirals out of control – ending in a damaging frolicking of backstabbing and panic. Bodies Bodies Bodies begins with a scene of affection by two members of the woman-led quintet, Sophie (Stenberg) and Bee (Bakalova). The two of them are heading up to a hurricane party at Sophie's best friend's remote family mansion up in the hills. 
This quick transition from affection to expensive mansions shows that the film will take the mickey out of these types of people – the high class and privileged. Sophie and Bee arrive just an hour before the hurricane starts taking its toll on the crazed festivities. However, they are treated with side eyes, arrogance, and mixed retorts. Just seconds after arriving, there's plenty of social tension and anxiety between the partygoers. David (Pete Davidson) and Emma (Wonders) are having some boyfriend-girlfriend troubles; Jordan (Herrold) is being selfish and snobbish to Bee. Meanwhile, Alice (played by the wonderful Rachel Sennott, the highlight of the film) and her boyfriend Greg (Lee Pace) are trying to unite the crew together so they can have some fun. As the hurricane crashes their festivities, the guys and gals decide to play a social deduction murder mystery game called Bodies Bodies Bodies, in which they have to find out who's the killer between the bunch. It begins all nice and fun, right until the power goes out; that's when their worst nightmares start to appear. Backstabbing and deceit are now vital party members, and, as a special guest, a bucket of crimson red secretly makes its presence. 
This being a gen-z horror picture, there were a lot of elements not going its way, especially since the recent attempts at dark horror comedies targeting today's age have been quite awful (Tragedy Girls, Assassination Nation). On paper, Bodies Bodies Bodies sounds like an insufferable piece of horror filmmaking, and the trailer made it appear like it would be as such (poor marketing on A24's part). That type of comedy works on a 50/50 basis and sometimes at much lower rates. However, to my surprise,  it is actually pretty humorous. This is thanks to the female quintet's chemistry, performances, and line delivery, more so than the script itself, though it is more potent than expected. Bodies Bodies Bodies has a few writers attached to it, and sometimes it feels like each's ideas or quips topple one on top of the other. The tone between the characters flounders a bit, causing some of its jokes to fall flat. The scenes where it revolves around the friend's past relationships feel entirely natural and precise. Yet, as it continues to dwell on the trendy jokes and quips, it begins to feel forced. 
At least the cast, especially Rachel Sennott (with her wry line delivery and frantic facial expressions and mannerisms), makes some of its more mediocre jokes seem pretty funny. In addition, to make up for that fault, its satirical elements stand sharp, albeit ridiculous enough to engage the audience. Rejin and the group of writers depict the characters involved as self-righteous and deeply flawed – all of them keeping secrets of their own, aside from one of them knowing who the killer is. You don't want to be near them because they are annoying or aggravating. It almost could have reached a point where it could have been too infuriating and annoying to watch because it gets under the audience's skin (a la Tragedy Girls). Then again, it needs to make some space to leave clues to who the killer is during the film transgression in order to develop its whodunnit distinction. Rejin does so without overreaching and making the culprit seem very obvious. It is challenging to try to balance all these elements from the various subgenres it wants to showcase (slasher, "detective" story, satire, horror comedy). 
Bodies Bodies Bodies not only does have effective comedic panderings, but it is also brutal and bloody. It doesn't reach a total morbid state of horror nastiness. It isn't sinister or bloodstained without purpose; it restrains itself in that manner. Yet, when it decides to get messy, it does so in a way that doesn't feel excessive or forced onto the narrative. It all contains itself in a crafty way. However, in the sense of genre filmmaking, that's where I think it loses a bit of commitment, as it focuses more on the millennial comedy rather than the horrors of it all. Interestingly enough, Bodies Bodies Bodies' tension and suspense in both the atmosphere and mansion don't come predominantly from the social dilemmas between the characters as they try to figure out their sticky situation and who betrayed whom. Halina Rejin's sophomore feature is darkly satirical and cheeky rather than frightening or anxiety-inducing. Although some of the jokes attached to the script might not hit in full force as much as the writers tended to, the rest uplifts it, making it a worthwhile bloody good time. 
Grade: B