Movie Review: Pride, style, and character fuel majestic 'Black Panther'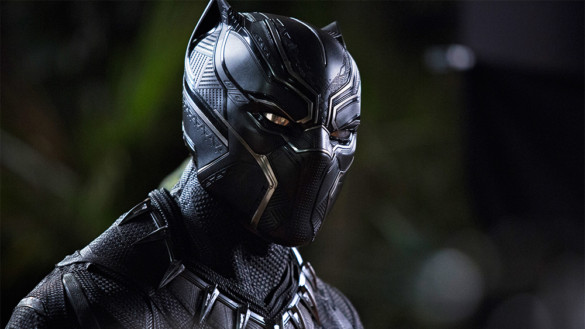 Director: Ryan Coogler
Writers: Ryan Coogler, Joe Robert Cole, Stan Lee and Jack Kirby (based on the comics by)
Stars: Chadwick Boseman, Michael B. Jordan, Danai Gurira, Lupita Nyong'o, Letitia Wright, Angela Bassett
Synopsis: T'Challa, after the death of his father, the King of Wakanda, returns home to the isolated, technologically advanced African nation to succeed to the throne and take his rightful place as king.
Holy Bast.
All RTJ asks of T'Challa (Chadwick Boseman) is to "step into the spotlight." He abides, and afterward adds four more moves into the act: weave spectacle for the masses, pave a future for his cinematic peers, give representation a mighty chance, and set a formidable seat at the superheroes' table.
Holy Bast, right?
Contrary to popular belief, Wakanda is real; it's just hidden behind a force field and the guise of an impoverished, aid-averse, and agrarian nation. Sitting above a deposit of a powerful and readily weaponizable ore called vibranium calls for that kind of security, though. Black Panther takes place post-Civil War, after T' Chaka (John Kani) has died and T'Challa is ready to sit on the throne. Expectedly, his fitness to be the people's ruler, as well as their panther-esque guardian, will be tested; the villainous forces being Afrikaner gun monger Ulysses Klaue (Andy Serkis) and former black-ops soldier Erik "Killmonger" Stevens (Michael B. Jordan), an animal that profits from chaos and a warrior who believes the world's oppressed must be armed to win, respectively.
While Black Panther's journey will surprise no one in these superhuman-crowded times as this is an origin story, it's the only thing director Ryan Coogler and company let unfold traditionally. As for the sights, the sounds, the interactions, the personality, and most crucially how a particular emotion is sought—all listen to what the "MCU bible" preaches but interpret the lines in a way like no other. Giving colors to the aesthetics and apparels isn't novel—see the Guardians of the Galaxy series—yet d.o.p. Rachel Morrison and costume designer Ruth E. Carter, both Oscar nominees, have the hues spell regality rather than funky, character before style. The hero's complete understanding of responsibilities will no doubt happen, but Coogler and co-writer Joe Robert Cole attach to the process a weight made up of familial dynamics and the sight of the marginalized. One swashbuckling score? Got it, though how about we switch the horn-string duo by melding the sounds the jungle with canopy with that in the jungle built from concrete? The result from composer Ludwig Göransson is outstanding; a marriage of tribal and trap that's guaranteed to thrill. In all, Black Panther demonstrates the result of letting the oft-overlooked give the formula a whirl—marvelous, pun heck-to-the-yes intended. Statement-making, even.
Then there's the cast, pouncing onto the scene bursting with impression. The lads are solid—Serkis relishes in being rabid; Boseman summons charisma without breaking a sweat; leave it to Forest Whitaker (as the king's advisor Zuri) and Daniel Kaluuya (as tribe chief W'Kabi) to nail "quiet grace"—but Jordan goes above and beyond to give the world, ours and MCU's, its second Loki: compelling, attitude-aplenty, layered, and perpetually on-point delivery. Remember to save your heart from the deep when Killmonger says that haunting line.
That being said, it's the ladies of Black Panther who ultimately triumph; no one in their crew is someone like Everett Ross (Martin Freeman), or filler. Gorgeously fierce, scalpel-sharp, and—particularly true for the principal trio of security head Okoye (Danai Gurira), spy Nakia (Lupita Nyong'o), and quartermaster/sister Shuri (Letitia Wright)—wholly capable of turning armors into a trend, the actresses make every bit of their screen time matter, flaunting either the sinews that assemble them or the Wakandan spirit that empowers them. And Coogler knows where to best prove the point: a dynamite casino shootout-then-car chase sequence set in the neon-streaked Korean city of Busan. Hooting is almost a must when Okoye scoffs at our "primitive" reliance on guns as bullets fly around her, and later on proves how much of a car-killer her metallic spear can be.
Like every performance, certain things could have been better in retrospect. For Black Panther, must the editing be that hectic when Coogler, as seen in Creed, understands that jumpiness doesn't necessarily correlate to ramping up the excitement? And at times, in the service of clarity, CGI replaces Boseman's performance without shame, turning what is envisioned as rugged into rubbery. Thankfully, we can, and will, let them slide, for the panther seldom loses momentum and there's a pattern of a peak provided after a dip. By the end, we shall stand, perhaps cheer as if the Astros just win again, as a testament to how enthralling and precedent-setting the past 134 minutes have been.
Yes, you better hail. This royally blooded cat does not play.
Overall Grade: A
Hear our podcast review on Episode 261.