Movie Review: About Time is charming and hilarious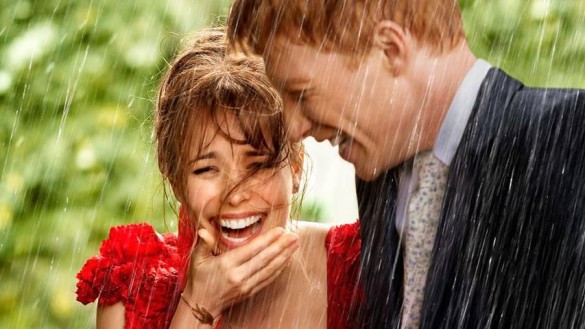 Director: Richard Curtis
Writers: Richard Curtis
Stars: Domhnall Gleeson, Rachel McAdams, Bill Nighy
Synopsis: At the age of 21, Tim discovers he can travel in time and change what happens and has happened in his own life. His decision to make his world a better place by getting a girlfriend turns out not to be as easy as you might think.
DIRECTION
There's not many times that I ridiculously disagree with critics (as a whole) because 60% on Rotten Tomatoes doesn't even come close to how awesome Richard Curtis' About Time really is. About Time is absolutely charming, very funny and explores the entire emotional spectrum really well. Curtis is very straight forward with his story but it's massively engaging and entertaining. One scene involves a band playing at a train station, playing a lovely romantic song as the main characters come back and forth as time keep passes by. Curtis' creative scenes like that stand out, create a fun environment and set the tone well. The actual time travel is uniquely done too and is used for great humor in many cases. Curtis' use of music is done extremely well too and is really appropriate for the different emotional tones we get. This is easily the best Rom-Com of 2013 and is one to see.
Grade: A+
SCRIPT
The story is pretty straight forward for the most part but does have some complexity to it later on in the story. The story centers around Tim (Domhnall Gleeson) who discovers the men in his family can travel back in time. And as a youthful man, love is the big thing on his mind. He moves from the countryside of England to the city of London where he meets Mary (Rachel McAdams) and everything changes. Tim realizes that he can uses his time travel to re-do things without many negative consequences, which is really convenient. But throughout the story, we do find that there are some negative consequences if he's not careful with what he chooses as it does affect his future on some level. What makes this story brilliant, is that it's not very Hollywood. This is where many critics miss the point. It's too predictable that Tim would use time travel to do dumb things, mess up his life, bring in drama, but then fix everything at the end. That's what we need again, right? Wrong. In fact, Curtis sets up those moments really well but instead we get a guy who learns to have fun with his time travel but he's smart and knows exactly what he wants. It's the straight forwardness you wouldn't expect. Instead of it being filled with Hollywood drama, we get a story that's fun, extremely hilarious, and emotional all at the same time. And it's not just a love story. The love aspects blend so well with the father/son relationship story that is just riveting. This story is uniquely told by Curtis and ultimately it's not about the time travel but how one can miss the important details that life can wonderfully make.
Grade: A
PERFORMANCES
Easily one of the funnies performances of the year and wonderfully made for the actors to just have a lot of fun with what they are dong. Domhnall Gleeson is amazing as Tim. He's the shy, awkward young man who doesn't know exactly how to talk to women but knows that love is what he wants. He's really believable as the character and he shines. He especially shines in scenes with Bill Nighy who plays Tim's father. Gleeson and Nighy have some great chemistry and both bring some refreshing humor to the movie. Rachel McAdams is beautiful and while she doesn't have as much to do, she's great for the role she plays. There's one specific scene where she tries on about 20 different dresses that's just brilliant. Lydia Wilson who plays Kit Kat, Tim's younger sister, and she's really funny as the crazy sibling who brings life to the screen. All the rest of the supporting cast is great as well and only brings more humor and life to what this movie is trying to do. If you don't have fun with this cast and story (critics I'm talking to you), then you're really missing the point. Amazing.
Grade: A+
SCORE
Nick Laird-Clowes doesn't have a ton on his resume but here Laird-Clowes has some really great melodies that play throughout the film. His main theme is absolutely gorgeous and we hear it many times that just elevates this movie even further. Add to that, an amazing soundtrack list that is full of some really great songs that accompany the film tremendously. The music is crucial in many parts of the film that either bring fun or an emotional element that is really great. Go seek out the music, it's really good.
Grade: A+
FINAL THOUGHTS
About Time isn't a movie about time travel. While it's the main premise of the film, it's really a film about relationships. Yes, perhaps time travel let's them play out the way you want, but who wouldn't want that? And who wouldn't want to spend some more time with their father or people they love if they could? It's the type of story that is just a lot of fun, filled with laughter and is what we all hope for. If you want a drama-filled heart attack, go watch The Walking Dead. About Time is perfect for what it's trying to do.
Overall Grade: A+