Movie Review: 'A First Farewell' Is An Authentic Look into Chinese Uyghurs' Everyday Life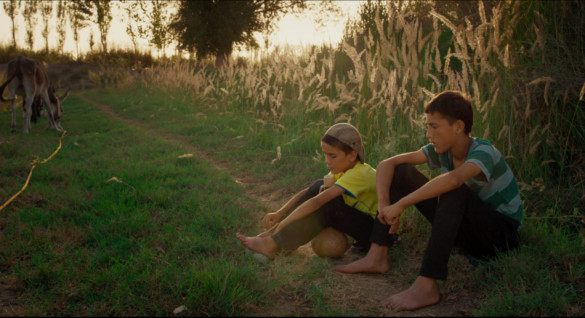 Director: Wang Lina
Writer: Wang Lina
Stars: Isa Yasan, Kalbinar Rahmati
Synopsis: Two Chinese Uyghur children and their families' joys, struggles, predicaments and separations as they make tough decisions to better their life.
Echoing the global society's growing humanitarian concerns towards Chinese Uyghurs' living conditions, Chinese director Wang Lina's Uyghur language film A First Farewell is a realistic and respectful representation of the Muslim ethnic minority in China's westernmost province Xinjiang. Dedicated to her own hometown county Shaya, where the film's narratives take place, Wang applies a verité docudrama approach of recording and retelling regional Chinese Uyghurs' authentic personal stories.
A First Farewell constructs a linear timeline of two Chinese Uyghur children Isa (Isa Yasan) and Kalbinar (Kalbinar Rahmati)'s friendship and separation – throughout one year of seasonal changes that sweep through Shaya's vast, varying landscapes of poplar woods, gritty deserts and reed beds. Wang and the film's cinematographer Li Yong rhythmically pace themselves in switching back and forth between wide shots where the children are dotted amidst the lands and horizons – and panning shots and close-ups that foreground their layered emotions of happiness, grievances, and helplessness.
While Isa takes on strenuous family responsibilities at too young an age, as his deaf mother's primary caretaker and his overworked father's sole farmhand, Kalbinar is able to preserve the integrity of her childish naivete and vivacious personality. Their complementary bonding supports them to navigate around their family struggles and stringent schoolworks, but their sense of immobility towards an uncertain future keeps looming over them and their rural community.
Wang experiments with her genre-subverting concept of "hometown realism" by using non-professional child actors such as Isa and Kalbinar to play themselves, whose visceral, naturalistic performances bring out their real-life coming-of-age stories – mirroring the director's own childhood at the film's auteuristic and autobiographical core. Wang's deep love for the land and people of Shaya resides within her location shootings – which personify the natural sceneries by rendering an intimate, nurturing dynamic between the children and their motherland.
But what constantly compels the children's parents to leave their beloved motherland is Xinjiang's unstoppable urbanization progress: they believe that they will be guaranteed a better material life if they move to the province's Mandarin-dominated cities, while their children will have a brighter future if they can speak Mandarin fluently – which eventually leads to Isa and Kalbinar's separation. Wang builds up two contrasting settings: the native lands where the children are carefree, enjoying their unfiltered adolescence; and their Mandarin-mandatory school that suppresses and humiliates them whenever they have trouble learning China's official national language.
Although Wang opts for a de-politicized stance in this film via a humane and anthropological lens of direct cinema, her conscious narrative and audiovisual juxtaposition – of the children's freedom in nature and their constraint at school – manifests the nation state's topdown economic and educational policy in homogenizing regional Uyghur cultures.
Within the static, monotonous setting of Kalbinar's classroom full of Uyghur schoolchildren, they are together loudly reciting a traditional Chinese poem in Mandarin – without understanding its actual meaning. Then the film immediately cuts to the open, breezy cotton field where Kalbinar and her family are singing a Uyghur love song together – which is the real poetry that celebrates the beauty of Uyghur people's everyday life. This juxtaposition solidifies the intrinsic connection between the Uyghur people and their mother tongue while lamenting this native language in peril under China's institutional Mandarin homogenization.
From the children's innocent perspectives of their separation from a dear friend, this film is an essential and emotional viewing experience of looking into Chinese Uyghurs' daily struggles of economic predicaments and identity crises. In the film's end, Isa and Kalbinar bid farewell to each other. But it leaves us ponder on the more profound "farewells" between the Uyghur people and their hometowns, languages, and cultures.
Streaming on Vimeo on Demand: https://vimeo.com/ondemand/affcinecina
Grade: A