Podcast: The World Is Not Enough / Swallow – Extra Film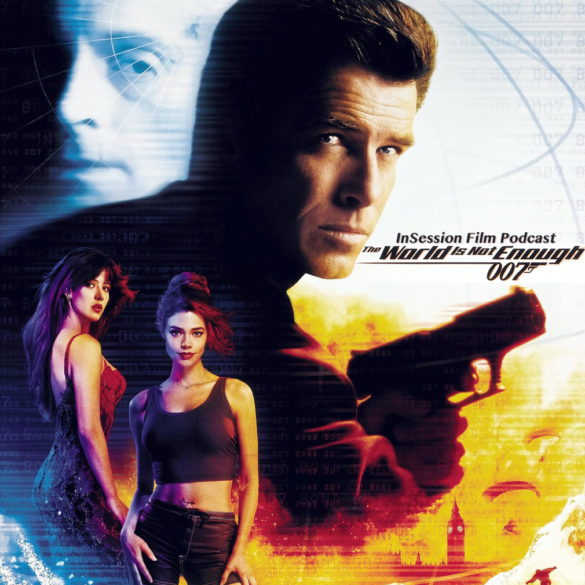 This week on the InSession Film Podcast: Extra Film segment, Ryan and Jay continue their James Bond series and review a recent indie VOD release, Swallow, making for a unique pair on Extra Film.
The guys continue the exploration of the Brosnan era with The World Is Not Enough, a fairly maligned entry in the series. There are good things about… and there are bad things about it, to say the least. Ryan comes to the film's defense and Jay goes on a Denise Richards rant. It makes for a great listen!
Then, the discussion moves to a very different type of movie, the indie body-horror/domestic drama film, Swallow. It is disturbing, to be sure, but offers an important message on gender roles and features some very impressive film making, especially from a first-time director. Haley Bennett shines and, in a year with far fewer releases than usual, she might end up being on some best-of-the-year list when 2020 comes to a close.
Thanks for listening!
– Movie Review: The World Is Not Enough (3:15)
Director: Michael Apted
Screenplay: Neal Purvis, Robert Wade, Bruce Feirstein
Stars: Pierce Brosnan, Sophie Marceau, Robert Carlyle, Denise Richards
– Movie Review: Swallow (43:30)
Directors: Carlo Mirabella-Davis
Screenplay: Carlo Mirabella-Davis
Stars: Haley Bennett, Austin Stowell, Elizabeth Marvel
– Music
The World Is Not Enough – Garbage
September Ford – Frazey Fields
The Return of the Eagle – Atli Örvarsson
We try to make this the best movie podcast we possibly can and we hope you enjoy them. Subscribe today on iTunes, Spotify or Stitcher, and please leave us a review on iTunes. You can also find us on Soundcloud, PlayerFM and TuneIn Radio as well. We really appreciate all your support of the InSession Film Podcast.
Subscribe to our Podcasts RSS
Subscribe to our Podcasts on iTunes
Listen on Spotify
Listen on Stitcher
The World Is Not Enough / Swallow – Extra Film
Mobile App
To hear this Extra Film episode and everything else we do, download our apps on the Amazon Market for Android and the Podcast Box app on IOS devices. The mobile app covers all of our main shows, bonus podcast's and everything else relating to the InSession Film Podcast. Thanks for your wonderful support and for listening to our show. It means the world to us!