Podcast: Sicario: Day of the Soldado / Top 5 Movies of 2018 (so far) – Episode 280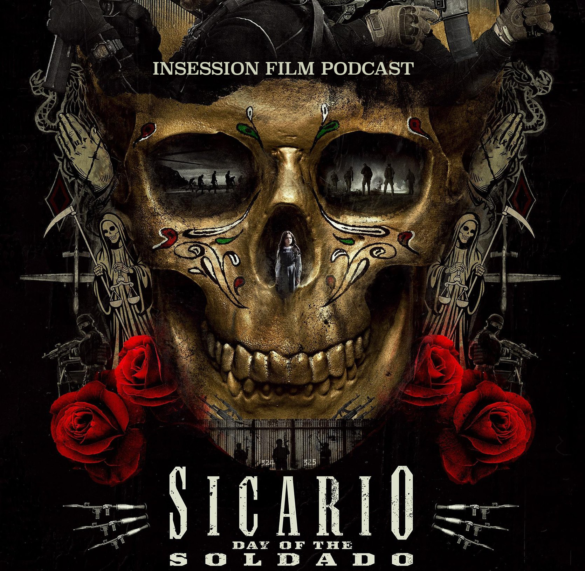 This week's episode is brought to you by Patreon.com and our awesome listener's like you. Sign up today and get some cool gifts in the process!
This week on the InSession Film Podcast, we discuss the-not-so-great sequel Sicario: Day of the Soldado, starring Josh Brolin and Benicio del Toro. But we make up for that by revealing our Top 5 movies of the year so far!
We were supposed to be joined by the great Walter Vinci from the First Time Watchers podcast this week, but due to some scheduling issues, he was name able to make it. However, we will remedy that because he is long overdue to being a guest on our show. We still had a lot of fun on this week's show, despite Soldado offering up a bit of frustration, it didn't diminish the love we poured over our the films in our Top 5.
Let us know what you think in the comment section and thanks for listening to the InSession Film Podcast!
– Movie Review: Sicario: Day of the Soldado (3:23)
Director: Stefano Sollima
Writer: Taylor Sheridan
Stars: Benicio del Toro, Josh Brolin, Isabela Moner
– Notes (38:47)
We do a little housekeeping per usual and also welcome a few new members to our team who will be writing for us, and occasionally joining us on the show.
RELATED: Listen to Episode 277 of the InSession Film Podcast where we discussed Hereditary
– Top 5 Movies of 2018 (so far) – Part 1 (49:28)
2018 – for us anyway -has been a pretty rich year so far. Sure, it's had a few blemishes, but overall it's had a great mix of both mainstream and indie films – perhaps even some of the best we'll see all year. This exercise, while somewhat stressful, is always fun and we had a blast discussing the five films that have stood out to us so far this year. For Part 1, we discuss our #5, #4 and #3 picks.
– Top 5 Movies of 2018 (so far) – Part 2 (1:31:14)
For Part 2, we continue discussing our favorite films of the year with our #2 and #1 picks. What films would make up your top 5 at this point in 2018?
– Music
Survivors – Hildur Guðnadóttir
Hearts Beat Loud – Keegan DeWitt
Won't You Be My Neighbor? – Fred Rogers
The Return of the Eagle – Atli Örvarsson
Subscribe to our Podcasts RSS
Subscribe to our Podcasts on iTunes
Listen on Spotify
Listen on Stitcher
InSession Film Podcast – Episode 280
Next week on the show:
Review: Ant-Man and the Wasp
Top 3: TBD
Help Support The InSession Film Podcast
If you want to help support us, there are several ways you can help us and we'd absolutely appreciate it. Every penny goes directly back into supporting the show and we are truly honored and grateful. Thanks for your support and for listening to the InSession Film Podcast!
VISIT OUR DONATE PAGE HERE