Podcast: David Byrne's American Utopia / True Stories – Extra Film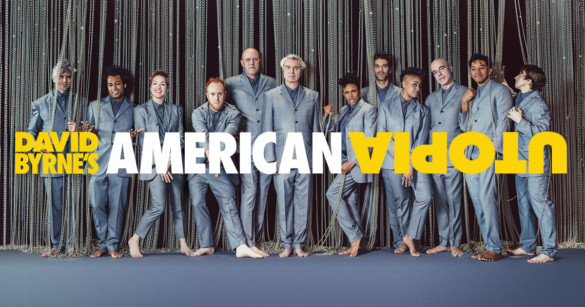 On this week's Extra Film, Ryan and Jay have a David Bryne-apoolza as they discuss the Spike Lee documentary David Byrne's American Utopia and Byrne's only directed film True Stories.
Before the Extra Film duo begins another movie series, they take a look at one of the greatest living artists of our time in David Byrne. The former frontman for the Talking Heads has made a career out of blending music and the world around us. In his latest venture, we get the spiritual successor to Stop Making Sense with David Byrne's American Utopia, a staged concert made to get the audience on their feet as well as make them think. It's a highly provocative feature from Byrne and Lee, who use Byrne's music to tackle race, immigration, voting, and various other current issues facing this country. David Byrne's American Utopia is relevant and personal and one of the best films of the year.
In the back half of the episode, the boys linger to True Stories, Byrnes only directorial effort. In making a deal with the record company to make his next album, he leveraged them to finance a passion project of his and create a cult classic. Based on his own issues about small-town America, True Stories is a slice of heaven you should see ASAP.
Thanks for listening!
– Movie Review: David Byrne's American Utopia (4:01)
Director: Spike Lee
Stars: David Byrne
– Movie Review: True Stories (50:53)
Directors: David Byrne
Screenplay: Stephen Tobolowsky, Beth Henley, David Byrne
Stars: David Byrne, John Goodman, Annie McEnroe, Swoosie Kurtz, Spalding Gray
– Music
David Bryne – Once in a Lifetime
Talking Heads – Wild Wild Life
The Return of the Eagle – Atli Örvarsson
We try to make this the best movie podcast we possibly can and we hope you enjoy them. Subscribe today on iTunes, Spotify or Stitcher, and please leave us a review on iTunes. You can also find us on Soundcloud, PlayerFM, and TuneIn Radio as well. We really appreciate all your support of the InSession Film Podcast.
Subscribe to our Podcasts RSS
Subscribe to our Podcasts on iTunes
Listen on Spotify
Listen on Stitcher
David Byrne's American Utopia / True Stories – Extra Film
To hear this Extra Film episode and everything else we do, download our apps on the Amazon Market for Android and the Podcast Source app on IOS devices. The mobile app covers all of our main shows, bonus podcast's and everything else relating to the InSession Film Podcast. Thanks for your wonderful support and for listening to our show. It means the world to us!