Podcast: Bridge of Spies, Top 3 Spielbergian Moments, Crimson Peak – Episode 139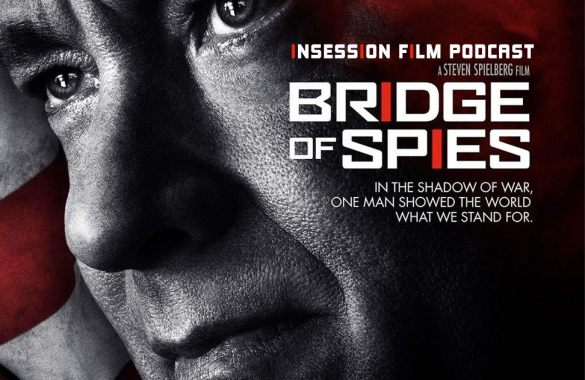 This podcast is brought to you Paypal and our awesome listener's like you! Thanks for your support!
This week on the InSession Film Podcast, DJ Valentine sits in for JD who is out on paternity leave and also Mike Denniston from War Machine vs War Horse joins us to discuss Steven Spielberg's latest, Bridge of Spies. Going off of that, we also discuss our Top 3 "Spielbergian" moments, because, well, there's only one Steven Spielberg. And to finish out the show this week, we forgo our discussion segment for a review of Guillermo del Toro's Crimson Peak.
Big thanks to DJ and Mike for filling in this week and offering some great insights as usual. As an outsider, I (JD) really enjoyed the Top 3 discussion, it was really fun and pretty diverse. I hope I haven't lost my job.
Anyway, check out this week's show and let us know what you think in the comment section. Thanks for listening and thanks for supporting of the InSession Film Podcast!
– Bridge of Spies Movie Review (8:24)
Grades
Brendan: B+
DJ: B-
Mike: B-
– Top 3 Spielbergian Moments (38:00)
Spielberg has certainly been known for his unique fingerprint that you can certainly see in all of his films, making him one of the best filmmakers of all time. And depending on how you look at it, "Spielbergian" could mean several different things. Perhaps his sentimentality that he's known for? Or his amazing action set pieces? Or perhaps it's his world building that you love? Either way, there's a lot to choose from and the conversation was quite interesting. That being said, what would be your Top 3?
Top 3 Sponsor: First Time Watchers Podcast
RELATED: Listen to Episode 138 of the InSession Film Podcast where we discussed Pan!
– Crimson Peak Movie Review (1:17:53)
Grades
Brendan: B-
DJ: C+
Mike: A
– Music
Homecoming – Thomas Newman
E.T. Main Theme – John Williams
Red Right Hand – PJ Harvey
The Return of the Eagle – Atli Örvarsson
Subscribe to our Podcasts RSS
Subscribe to our Podcasts on iTunes
Listen on Stitcher
InSession Film Podcast – Episode 138
Next week on the show:
Main Review – Steve Jobs
Top 3 – TBD
Help Support The InSession Film Podcast
If you want to help support us, there are several ways you can help us and we'd absolutely appreciate it. Every penny goes directly back into supporting the show and we are truly honored and grateful. Thanks for your support and for listening to the InSession Film Podcast!
VISIT OUR DONATE PAGE HERE