Podcast: InSession Film Awards, Top 10 Movies of 2013 – Episode 46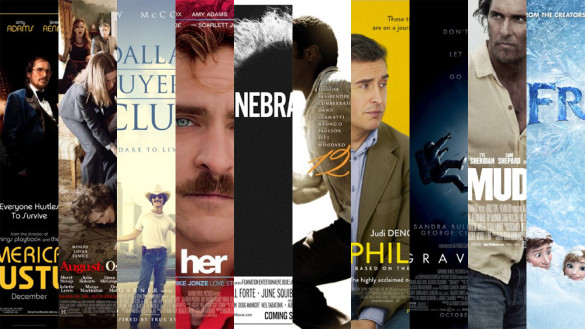 Fair Warning: This podcast is a little lengtheir than our normal shows, but this was a special podcast and we had a ton to discuss when recapping film in 2013. It was a lot of fun but just as an FYI.
This week on the InSession Film Podcast it's a very different show as Jon Asher (Second Rate Report) drops by to help us discuss the best and worst of movies in 2013 in our first ever InSession Film Awards. Some of our awards are the familiar one's you'll know but a few of them are a little different and unique. We also have some individual awards that we gave away that was really fun and if you know us well, you may not be too surprised. During this segment you'll also hear from other podcasters and friends give their favorite films of the year which was really exciting. And to top off the show, we give our Top 10 Movies of 2013, which is one of the best segments we've ever done on our podcast. This was an amazing show as we covered a wide spectrum of film in 2013. How would your awards compare to ours?
If you'd like to skip ahead to our Top 10 Movies of 2013, jump to 1:43:20.
Jon was a really great guest this week and his video reviews are one's you want to be checking out. He knows film really well and is great supporter of our show. It was a complete honor having him on our Awards show. Also note, there is BIG announcement at the end end of the show that is extremely bittersweet for us but it's worth hearing. We hope you have fun listening to this week's show since we had a blast on this episode. And it's always fun this time of year to have these kind of discussions. Check out the show and let us know what you think in the comment section below. Hope you enjoy and thanks for listening!
– InSession Film Awards (4:41)
Best Movie Under The Radar
Biggest Disappointment
Worst Movie
Best Movie Trailer
Best Opening/Closing Credits Sequence or Scene
Best Surprise Actor/Actress
Best Surprise Movie
Best Use of Soundtrack Music (Doesn't have to be original. Closing and Opening credits count)
Best Score
Best Animated Movie
Best Screenplay (original or adapted)
Best Director
Best Actress Supporting Role
Best Actor Supporting Role
Best Actress
Best Actor
Individual Special Awards
JD's Awards:
Worst Special Effects
Best Short
Best Score Track
Scott's Awards:
Best Horror Movie
Strangest Connection
Best Scene
Jon's Awards:
Most Relatable
Most Watched Film
Best Quote
Special thanks to all of our friends who called in and gave us their top movies of 2013!
Arcturus – MGCTv
Dan – MWire Weekly
Michael – QFilmcast
Max – QFilmcast
Dr. Movie91
Chris – Geekscholars
Fox – Geekscholars
Ben – JT Movie Podcast
Brandi – InSession Film
Matt / Ry – CinemaJaw
Jonathan Berry – Awesome Movie Guy
Brent Allen – BrentAllenLive.com
Beast – MGCTv (His voicemail is really well said!)
Matt Oakes – Silver Screen Riot
Tim – First Time Watchers
Will – Papa Kenn Media
– InSession Film Top 10 Movies of 2013 (1:43:20)
See JD's full list here
See Scott's full list here
See Jon's full list here
2013 was an outstanding year for movies and even though it had a slow start, the latter half of the year picked up in huge ways that makes this year stand out. The summer may not have been as epic as others in the past, but it still had it's gems, and the fall was out of this world (literally). The films in our Top 10's are some of the best films we saw and had fun with this year, featuring outstanding performances, beautiful directions and even a 3-D experience that may be the best ever. Especially since this was our first year for InSession Film, this was a lot fun seeing what movies really made this a special year for us.
Do you agree or disagree with our list? Let us know in the comment section below.
– Music
Lost But Won – Hans Zimmer
Let it Go – Idina Menzel
The Return of the Eagle – Atli Örvarsson
Subscribe to our Podcasts RSS
Subscribe to our Podcasts on iTunes
Listen on Stitcher
InSession Film Podcast – Episode 46