Podcast: August: Osage County – Extra Film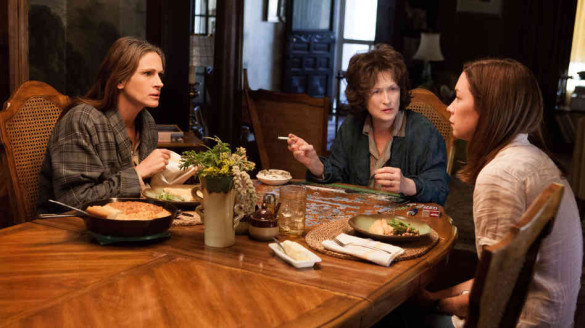 This week on the InSession Film Podcast: Extra Film review, we have our very first special guest (outside our wonderful funder Brandi Woodrum) as Rythemovieguy from the CinemaJaw Podcast drops by to help defend August: Osage County and explain why it's a great film. There's no doubt the movie is filled with outstanding performances, but does the narrative seem to work and fit with all the outsanding actors? That's the debate that JD and Ryan have on this special Extra Film review.
While this film is bleak and arduous to watch at times, it explores family in an incredibly engaging way that is sure to push you in one way or another. It hits you over the head and will take you down paths that aren't necessarily fun, but it raises interesting questions worth asking. And of course, the dinner scene alone is worth seeing the movie.
Anyway, we hope you have fun listening to this week's Extra Film segment and Rythemovieguy was a fantastic guest. Check out the show and let us know what you think in the comment section below. Hope you enjoy and thanks for listening!
– August: Osage County Review
Grades
Ryan: A
JD: A-
– Music
Last Mile Home (Acoustic Version) – Kings of Leon
The Return of the Eagle – Atli Örvarsson
We try to make this the best movie podcast we possibly can and we hope you enjoy them. Be sure to subscribe on iTunes and Stitcher and please leave us a review on iTunes. You can also find us on Soundcloud and Spreaker as well. We really appreciate all your support.
Subscribe to our Podcasts RSS
Subscribe to our Podcasts on iTunes
Listen on Stitcher
August: Osage County – Extra Film
To hear this Extra Fim episode and everything else we do, download our apps on the Amazon Market for Android and the Podcast Box app on IOS devices. You can also buy any of our Premium Podcasts for just a small donation of $0.99. This helps support the weekly show and everything we do. We greatly appreciate the support.