List: Top 3 Dinosaur Scenes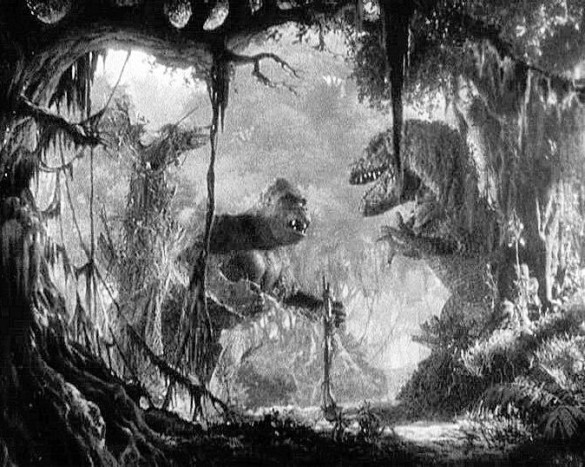 This week on Episode 279 of the InSession Film Podcast, inspired by Jurassic World: Fallen Kingdom, we discussed our favorite scenes in film featuring dinosaurs. As is the case with most of us, the best dinosaur scenes in film derive from Steven Spielberg's epic 1993 film, Jurassic Park. So, of course, we made this exercise more difficult by excluding the Jurassic Park franchise as a whole. Despite our lists lacking the infamous T-Rex or velociraptors from Jurassic Park, we found some other great dinos that were effective on-screen. That said, what scenes would make your Top 3? Here are the one's that made ours:
(Note: Please keep in mind that we each had different criteria for our selections)
JD
1) The Rite of Spring – Fantasia
2) Death of Littlefoot's Mother – The Land Before Time
3) Kong vs T-Rex – King Kong (1933 / 2005)
Brendan
1) Kong vs T-Rex – King Kong (1933)
2) Rex Meets Other Dinosaur Toys – Toy Story 3
3) Act of Dinosaur Compassion – The Tree of Life
Justin
1) Death of 'Slim' Friar – Carnosaur
2) Bicycle Dream – Pee Wee's Big Adventure
3) T-Rex Invades School Gym – My Science Project
Honorable Mentions (Combined)
Other scenes from these films: The Good Dinosaur, The Lost World, The Flintstones, Edward Scissorhands and of course the Jurassic Park franchise has many great moments.
Hopefully you guys enjoyed our lists and if you agree or disagree with us, let us know in the comment section below. As mentioned above, excluding Jurassic Park made this very difficult, but we probably missed out on some great scenes from films we haven't seen. That being said, what would be your Top 3? Leave a comment in the comment section or email us at [email protected].
For the entire podcast, click here or listen below.
For more lists done by the InSession Film crew and other guests, be sure see our Top 3 Movie Lists page.