List: Top 3 Dance Scenes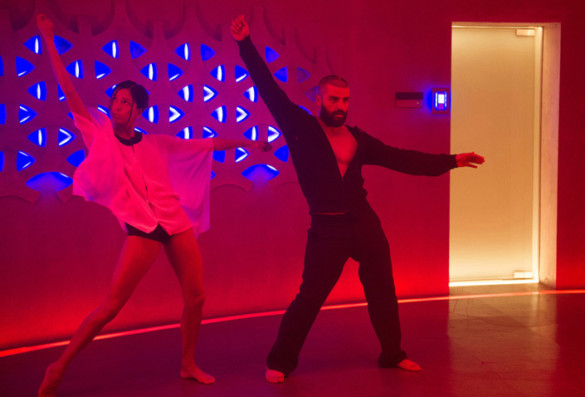 This week on Episode 298 of the InSession Film Podcast, inspired by Suspiria, we thought it would be fun to talk about the best dance scenes in film. Many dance scenes have earned classic status over the years, even ones from non-musicals, so there were some great moments to choose from for this topic. At first, we thought we may have exhausted our efforts by limiting this topic to non-musicals only, that was until we posted this topic on Twitter and got LOADS of responses from a variety of great dance sequences from many different films; thus, we had plenty to work with. And with us at InSession Film having sung the praises of musicals many times before, it was refreshing to dance a slightly different tune this time. That said, here are our lists:
(Note: Please keep in mind that we each had different criteria for our selections)
JD:
1) Space Dance – Wall-E
2) Chaplin Skating on 4th Floor – Modern Times
3) Nathan and Robot – Ex Machina
Brendan:
1) Ballet – The Red Shoes
2) Kids Dance for Parents – Dogtooth
3) Pee-wee's Bar Dance – Pee-wee's Big Adventure
Honorable Mentions (Combined)
Vincent & Mia's Dance Competition – Pulp Fiction
Harry & Hermione Dance in Tent – The Deathly Hallows Part 1
Setsuko's Dance – Grave of the Fireflies
Convenient Store – Magic Mike XXL
Ending Dance – Magic Mike XXL
Ending – Black Swan
Ballroom Dance – City Lights
"We are the titans, the mighty mighty Titans" – Remember the Titans
You Know the One – (500) Days of Summer
Hip to Be Square – American Psycho
Stuck in the Middle With You – Reservoir Dogs
Opening Titles – Do the Right Thing
Singin' In the Rain – A Clockwork Orange
Famous Dance – Saturday Night Fever
Ending Competition – Little Miss Sunshine
Napoleon's Famous Dance – Napoleon Dynamite
Twist and Shout – Ferris Beuller's Day Off
Dance Montage – The Breakfast Club
Gutterballs Dance – The Big Lebowski
Ending – This is the End
Oliver & Elio at Party – Call Me By Your Name
Famous Tom Cruise – Risky Business
Should Be As Famous Tom Cruise (End Credits) – Tropic Thunder
Dancing in Street – Frances Ha
Opening Titles – Guardians of the Galaxy
Dance Off, Bro – Guardians of the Galaxy
Sailors – Hail, Caesar
Jack & Rose at Party – Titanic
Private Pilot Abilene's Dance – Southland Tales
Gay Night Club – American Wedding
Opening Act 2 – Foxtrot
The Lift – Dirty Dancing
Hopefully you guys enjoyed our lists and if you agree or disagree with us, let us know in the comment section below. This is a topic dense with many great options and there's a likelihood we missed out on some of your favorites. That being said, what would be your Top 3? Leave a comment in the comment section or email us at [email protected].
For the entire podcast, click here or listen below.
For more lists done by the InSession Film crew and other guests, be sure see our Top 3 Movie Lists page.