List: Alan French's Top 10 Films of 2021
10. Cyrano
Love stories might be old hat, but Joe Wright and Peter Dinklage make for a winning combination. My adoration of Cyrano begins with its lead performance. Dinklage's brilliant performance works on many levels, even as it alters Cyrano's source text. Dropping the giant nose for his achondroplasia creates subtextual critiques of those who fail to embrace the emotion he brings to the stage and screen. Simultaneously, Dinklage's skill to deliver complex dialogue with rapier-sharp wit never ceases to amaze. One would be hard-pressed to find a better fit of role and actor in 2021. Wright builds the world around Dinklage's brilliance, bringing to life unique visuals in the costumes and makeup. With a terrific cast that's perfectly in tune with the music from Aaron & Bryce Dessner, Cyrano charmed its way into my heart.
9. Luca
Much has been said about the low-key nature of Luca, yet that is why it resonates with the studio's more impressive feats of late. The rich text provides many avenues for interpretation, including LGBTQ+ subtext or living life as an undocumented individual. The film never points to a single reading, which opens its messages to anyone who sees themselves within the story. The animation will not turn heads, but its simple cartoonish depictions of the Italian Riviera also lends a timeless nature to the visuals. Featuring the best ending of the year, Luca will make your heart soar while reminding us to keep searching for your place in the world. 
8. The Worst Person in the World
No film in 2021 embodied the idea of arrested development like The Worst Person in the World, and even fewer feel emotionally fulfilling. Joachim Trier rarely creates work that aligns with my view on the world, yet The Worst Person in the World had me in its clutches from its opening narration. Most of the film falls on the shoulders of Renate Reinsve. She delivers my favorite performance of the year in her stunning breakthrough. Yet it's the emotionally charged sequences with Anders Danielsen Lie that make it impossible for me to shake The Worst Person in the World. Trier's handle on the mistakes we make, and our willingness to take life one decision at a time, makes for a breathtaking experience.
7. The Tragedy of Macbeth
The Tragedy of Macbeth announces its dark and brooding visuals from its opening sequence. The crackling voice of Kathryn Hunter creates a feeling of uneasiness that hangs over the film. Director Joel Coen puts his cards on the table from the opening draw. This telling is about monsters, and Coen captures a modern-day aesthetic of Universal's Bride of Frankenstein and Dracula with outstanding visual compositions. Denzel's continued brilliance remains historical. Few humans have ever dominated a field so thoroughly that we begin to underestimate their achievements, even as they occur. Hunter and Alex Hassell shake up your traditional readings of the Shakespearean classic, breathing new life into roles often pushed to the side. Joel, sans Ethan, delivers one of the most haunting texts of the year.
6. Licorice Pizza
The New Hollywood era of Los Angeles sank its hooks into many of our greatest filmmakers. Yet few would approach the hypnotic world with eyes clear enough to depict its grimy underbelly. Licorice Pizza may play like a crowd pleaser and a romance, but that's only because of Alana Haim and Cooper Hoffman's magnetic chemistry. Anderson depicts his characters without varnish or cover-up, and as a result, they are a messy pair. How we read into that messiness, or what we believe the film means, is an entirely different matter. Licorice Pizza follows two people trying to find stability in their lives. Thanks to Anderson's impeccable filmmaking that feels like the most important story in the world. 
5. Flee
The fight for survival creates powerful stories. For a young man living in Denmark, his survival is now dependent on those who know his true identity. While Flee follows an Afghan refugee named Amin Nawabi, his status as an illegal immigrant leaves him exposed to deportation. Given his cultural upbringing and sexuality, returning to Afghanistan could be a death sentence. Using animation to subvert his identity, Amin can tell the harrowing story of his fight for survival. Using hand-drawn animation and archival footage, Flee delivers heartwarming moments of love and sacrifice. However, its existence in this medium reminds the world that we still have a long way to go to guarantee everyone's right to find safety in their lives.
4. The Green Knight
The weight of expectation can be crushing. For David Lowery, his foray into the fantastical places is that statement at its heart. Placing Dev Patel at the center of The Green Knight helps the film explore that concept. As a teen star and Indian Hindu, Patel stands apart from the white men who populate the industry, and the film, around him. Yet expectations of greatness are a heavy crown to bear, and in worlds governed by strict rules and customs, the path to greatness becomes a tightrope. Lowery navigates these questions with his vibrant film and allows his lead to make mistakes on the way. As a fantasy narrative and an otherworldly experience, Lowery and Patel's partnership stands out in its oddity. The obscurity and ambiguity within this world make The Green Knight all the more fulfilling along the way.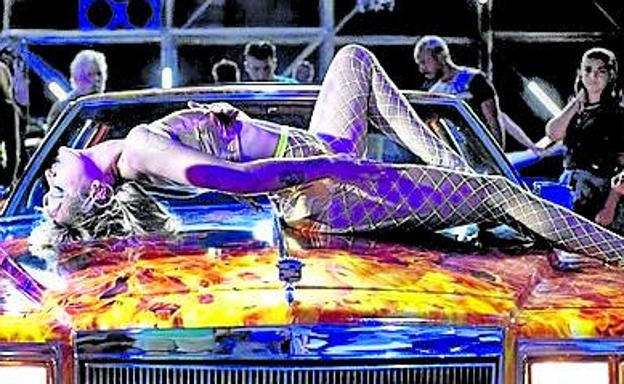 3. Titane
Julia Ducournau's bold and brash depiction of found family lands like a lightning bolt. Titane earns its roses as 2021's most unique vision. Imagining anyone other than the director's take on such a concept is unfathomable. Ducournau's evolution from Raw to Titane signals the rise of one of our most controversial filmmakers. Tied into Titane's messages are questions of sexuality, gender, violence, and exploitation. It also features two of the most eclectic performances of 2021 in Agathe Rousselle and Vincent Lindon. As American film drifts toward sludgy gray CGI, Ducournau's explosion of color, sound, and style was a life raft. There will be decades to detangle Titane, and the world is a better place because we'll never reach a consensus. 
2. Drive My Car
Ryusuke Hamaguchi became one of cinema's breakout stars in 2021. Any artist responsible for Wheel of Fortune & Fantasy, Drive My Car, and Wife of a Spy should be lifted onto the high altar of our greatest filmmakers. My favorite of the three, Drive My Car, creates an emotional tapestry of the things we leave unsaid. The reserved emotion underlying Hidetoshi Nishijima's performance is a masterclass in subtlety. Tōko Miura & Masaki Okada should not be underestimated either, each playing pivotal roles in developing Nishijima's growth. Perhaps the most brilliant aspect of Drive My Car is the way it lingers with you; the sights, the brilliance of its script, and its powerful performances. All of Hamaguchi's skill as a filmmaker is on display, making the three-hour runtime a feast for any cinephile. 
1. Pig
There are few words to describe what Pig meant to me in 2021. I first saw the film on the 6th anniversary of my father's passing. He had been a chef his entire life. In October, I lost my dog Bella in a sudden and traumatic series of events. I cannot say that my love for this film is not swayed by my personal connections. However, I can tell you with certainty that no movie ever helped me process grief in such a positive light. While embracing grief, Michael Sarnoski's tale of living with pain reminded me there is no shame in feeling despair. Nicolas Cage's graceful performance keyed into the importance of the connections we make in life and never taking any of these interactions for granted. Watching Cage and his pig traverse the fog-filled forests of the Pacific Northwest remains one of my favorite images of the year. Wearing your heart on your sleeve can be difficult, and Pig's empathy was what I needed in 2021.