Larger than Life Elizabeth Taylor and Richard Burton Pictures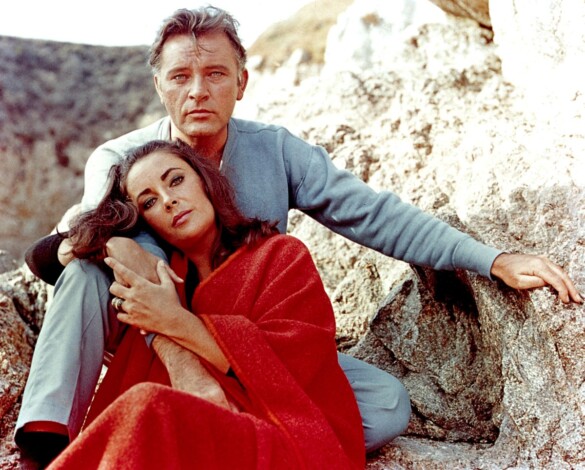 Together or separate, tumultuous thespians Elizabeth Taylor and Richard Burton left their mark on classic film. Here's a chronological sample of costume dramas, medieval splendor, and larger than life epics featuring the two time couple.
Little Women
A blonde Elizabeth Taylor joins June Allyson (The Glenn Miller Story), Janet Leigh (Touch of Evil), Margaret O'Brien (Meet Me in St. Louis), Peter Lawford (Easter Parade), and Mary Astor (The Maltese Falcon) in this 1949 Louisa May Alcott color extravaganza. Though changes were made – Taylor's Amy is now the third March sister rather than the youngest – the same script from the 1933 version is used, making for an interesting back-to-back study. Fortunately, the Technicolor Christmas is humble homemade but splendidly Victorian with dollar presents (and how much they could get for their dollars!), delightful caroling, and snowy escapades. The bundles of petticoats and heartwarming good deeds help forgive how obviously too old spunky Allyson is as Jo March. She's spontaneous, fun, and feisty to counter Taylor's charming prim, and although uneven and overlong, the sentimental joy captures Alcott's sisterly coming of age and family friendly character drama.
The Robe
B.C. splendor, crescendos, and colorful details anchor this 1953 biblical drama based upon the Lloyd C. Douglas novel. Distant matte backdrops are occasionally apparent, and the dungeon sword fights and chariot pursuits are shoehorned in action in an otherwise quiet, introspective tale. However, there's a touch of behind the scenes Blacklist turmoil paralleling the tolerance on screen, and the crucifixion montage is fittingly powerful with harrowing echoes. New vogue Cinemascope captures the foreground and background movement within the frame, visually accenting the internal angst and reverent ensemble featuring soft spoken Jean Simmons (Guys and Dolls) and convert catalyst Victor Mature (later of the sequel Demetrius and the Gladiators). Yes, Richard Burton is at times stiff and often overwrought, but Tribune Marcellus won Christ's blood stained garment in a bet beneath the cross. Its haunting, hysterical power is understandable, yet Burton is also surprisingly somber and subtle in tender, reflective moments. Rather than relying on something abstract or mystical, this transformative story handles spiritual change with honesty and redemption.
Cleopatra
This should be a straightforward story with a familiar finale – crossword clue: three letter word for "Cleo's snake." However, director Joseph L. Mankiewicz's (All About Eve) restored four hour 1963 spectacle lags in the second half with windblown scripting, pompous characterizations, messy battles, and empty cat and mouse games falling prey to the Richard Burton School of Overacting. History becomes tawdry hyperbole thanks to the scandalous off-screen steamy, an emergency tracheotomy, production shutdowns, and a then most expensive ever bankrupting budget. Nonsensical dialogue and distant Todd-AO widescreen lack emotional taut to match the lovely score. Fortunately, Rex Harrison (My Fair Lady) grounds the superior first leg as a respectable, surprisingly kind Julius Caesar. His chemistry with Taylor is a much more palatable, pleasing battle of wills mirroring the empirical politics. Oscar worthy costumes, risque fabrics, vivid outdoor cinematography, and lavish temple dressings surround Dame Elizabeth as she lays pretty amid the mid-century melodrama. Her indeed epic entrance encapsulates the head to head egos past and present, remaining an entertaining, cinematic megalith.
Becket
Contemporary viewers may find this two and a half hour 1964 Best Adapted Screenplay winner too dry. Subtitles are essential for the moody old speaketh soliloquies and one on one debates between Peter O'Toole and Richard Burton as their epic bromance waxes over women, religion, and a hint of gay subtext. Excellent medieval photography, colorful costumes, beautiful horses, sweeping architecture, and scenic landscapes all look scrumptious on the restored blu-ray without losing the made to look old atmosphere. Be it clashing Normans and Saxons sword fights or swashbuckling humor and saucy affairs, the stage presence and grandiose film scope match the Latin chorales, wonderful orchestrations, and rousing crescendos. King Peter is perfectly snotty and tormented, and despite the dramatic liberties over accuracy, history buffs can also continue with O'Toole's reprisal in The Lion in Winter. Burton, however, is surprisingly subdued as the chancellor who knows how to rein in his prince – until he finds a higher power amid exile, betrayals, whips, love, and penance.
The Taming of the Shrew
Burton and Taylor produced this 1967 Shakespeare comedy directed by Franco Zeffirelli (Romeo and Juliet) complete with sing song carnivals, country rainbows, big plumes, jumbo sleeves, and a sixties meets medieval jovial to match their off-screen je ne sais quoi. Wide camera angles capture both the stage style and the rambunctious action alongside creative up close winks. Framing elements and side characters, however, are excised to emphasize the wooing and our Kate and Petruchio are a bit too old. Misogynist men also plot without considering the women, but the battle of the sexes ruses and boys will be boys disguises aren't meant to be taken seriously. Strong, charming women are having none of the brash male showmanship and rough and tumble chases, and we're easily smitten by the wild and beautiful, not exactly a shrew Taylor. Her iambic Bard isn't super effortless, but Taylor's acrimonious delivery contrasts Burton's gruff cheeky. They balk at courtship yet celebrate love. He likes her not giving in spirit keeping him on his toes. Why must the woman who can take ownership of herself cower so the man can claim her? Taylor's Kate becomes a refined woman that makes her rowdy husband look good, but whether the woman is tamed or pretending, he may never know.
Anne of A Thousand Days
What's more "debauchery in Tudor" than an over the top Richard Burton as Henry VIII? Desperate for a male heir, Henry sets his sights on Genevieve Bujold (Coma) as Anne Boleyn in Director Charles Jarrott's (Mary Queen of Scots) 1969 frock-filled drama with sly court intrigue, corrupt cardinals, raunchy asides, and scandalous subjects. The old speaketh flows naturally amid the opulent design, castle stoneworks, wooden accents, festive hats, feathers, and crowns. Sixties guitars and onscreen flutes make for a straight out of the sixteenth century score. Everyone has such courtly zeal – including the brief Elizabeth Taylor and her La Peregrina medieval pearls. Bujold holds her own as Anne's disdain progresses to love and lust for power in excellent, tragic confrontations. Burton, of course, is a larger than life presence thanks to his booming voice, husky beard, big style, and ridiculous mannerisms. His pacing, dramatic tears, and clenched fists show his yearning, but we know Henry has the power to get his way. Such heavy historical material requires the right aplomb, and Burton gives one of his finest performances. Some viewers may tire of the uneven voices and loud shouts over the long two and half hours, but this remains an over the top delight.