Interview: Making 'The Wind' with director Emma Tammi [Fantastic Fest]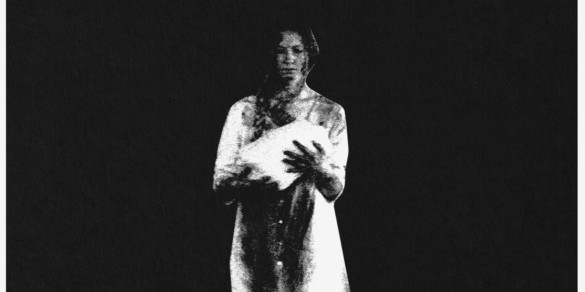 Blowing in from Toronto (International Film Festival) for its U.S. premiere is a psychological and elemental chiller set in the frontier featuring Insidious: The Last Key's Caitlin Gerard. And five more cast members. And a demon.
After The Wind, our writer Nguyen Le howled about it as a "detailed, absorbingly acted portrayal of loneliness as a disease and as a (wicked) cure." (If you haven't already, follow him on Twitter now for the latest at the fest!)
We also got the chance to talk with the director, Emma Tammi, about a variety of topics including the little tug-of-war with the environment during production and the project's inception.
Nguyen Le from InSession Film: First off, I'm always happy to hear whenever a film is at a festival and gets picked up by a distributor, and for your case it was IFC Midnight…
Emma Tammi (director): That's right.
NL: Could you tell our readers more about the moment you knew?
ET: Sure. We premiered The Wind at TIFF, almost two weeks ago now so it's really recent. I believed [Jonathan Sehring, co-president of IFC Films] saw it the day before the premiere — there was a press and industry screening — and responded very positively to it immediately. Our sales team then took over most of the negotiations so I can't really speak to that, but I did have a chance to speak with the IFC team before we finalized the deal. You know, it's really the dream to have a distributor who believes in the film so, so much… and they were incredibly enthusiastic about it, not just as a genre piece but also in terms of its others qualities and elements. They saw full-picture of what the film is and who it might connect with in terms of its audience in the U.S. They are handling the U.S. distribution.
NL: Awesome.
ET: We're really excited to be working with them. IFC has such a great history of supporting really risk-taking voices and stories that maybe aren't always mainstream but are some of the ones that over my life has been the most impactful as a moviegoer. I'm really honored to be a part of that legacy!
NL: Thanks to IFC, I knew about The Autopsy of Jane Doe.
ET: Oh, yeah!
NL: Congratulations again! Now, looking at your IMDb credits, this is the first time you helm a ship without a co-skipper, so to speak?
ET: Right! I have done some documentaries in the past as co-director. Which is so great, especially with documentaries you're really finding the story as you shoot and again in post. Sometimes having more hands on deck in a way is helpful, so in terms of having a directing collaborator for those previous projects, it was wonderful. But in terms of narrative, this was my first, and yes, solo directing endeavor. It was just amazing! Obviously, collaboration is a part of the process as well, regardless whether you're doing documentary or narrative, it's totally integral, so that spirit of things was still in play throughout the whole process for me. But in terms of having the opportunity to work with actors, I think having a one-on-one… a person at the helm of the ship is really powerful. I felt really privileged and excited to be able to do it.
NL: Is it because of your documentarian experience that made you fascinated with the world writer Teresa Sutherland had crafted? You mentioned in the post-screening Q&A that the film is based on true stories.
ET: Yeah! I think that drew me to it because there was a nugget of history there I found fascinating. And I thought the actual people [Teresa] based some of this on, their endurance level was just so incredibly high that I was really drawn to that. But, in general, I am really drawn to narratives that are inspired by or based on truth… That being said, we jumped way off the realm of reality at points in this film and that's equally exciting to me. It's a mix, yeah!
NL: From hearing these stories, what was the one aspect that made you say "I have to convey it in the film — somehow, some way"?
ET: Hmmm.
NL: We can go for many!
ET: Over and over again, the journals and the essays from women of this period and homesteading experience are accounted in such detail — the harshness, the bleakness of mundane things we really take for granted now, like getting water, dealing with a flu, these things that sometimes life-or-death back then are things we cope with fairly easily now. But the terrors of the land that would just blow in on sometimes a daily basis were incredible; it was fascinating to read those accounts because visually it painted a picture of what this landscape was at that time. And it was harsh, inhospitable. This was an area that people should not have been trying to live in! Everything was telling them to "Get out!"
NL: That's right.
ET: And then they were there by themselves so in terms of the emotional accounts the throughline was "This is the loneliest experience on the planet." In a way that was harsher than all the environmental harshness. Those two things, the environment and the emotional loneliness… And how powerful that is. We are as human beings meant to be with other people, even with all of us who enjoy our alone time…
NL: Social creatures!
ET: We are! To draw a very extreme comparison, solitary confinement is one of the quickest and most effective ways for someone to lose [their minds], based on all of these studies done; how long it'd take for people to go to a bad place after they have been placed there and it is so quick! Anyway, those were the elements that felt like, "OK, we're making a fun horror film at the end of the day, but it's also a drama about a woman going through very intense experiences" and we want to make sure those elements in the actual accounts were coming through.
NL: And even though we have a demonic presence in the film, I adored the way you show it in an obscure manner. Was that always the vision?
ET: I think it was the initial instinct. We talked about it at length, obviously, before shooting and again in post when we were taking into the effects side of things. For me, the horror films that have moved me most throughout my life have been the stuff you don't see, you anticipate. [They're] the ones that have scared me the most, especially with films that are so much about the sound, the wind, the mind playing tricks on you — thinking that you've seen something but is it really there, the shadows in the corner of our eyes we can remember seeing/thinking we're seeing as a kid. Or until now. We definitely want to root it in that space, which is subtler rather than showing the "it."
NL: Right.
ET: Also, the demonic presence in this film is such an extension of the emotional state of the character that it's a shape-shifter in a way, a reflection of themselves so it felt like leaning into the subtleties of the environment, which we really like — shadows, smoke, fire and wind — were really authentic to the world of the movie. And again, showing it, obscuring it rather.
NL: That reminds me a lot of The Babadook.
ET: Also distributed by IFC!
NL: There we go! Now that we've mentioned that film, which also has a powerhouse leading-actress performance, I remembered at the Q&A someone asked you about casting Caitlin Gerard for Lizzy already… I want to shift over to the process of casting for the character Emma Harper?
ET: It's an interesting thing. In casting Lizzy, I think we were more open to… I was more open to what that character would be. But in casting Emma I really needed to find someone who was going to be whatever Lizzy wasn't. The chemistry of what that actress was going to bring to the table was really important. When I spoke with Julia Goldani Telles, she moved me on several levels; I think she's a phenomenal actress, her range is insane and has yet to be seen by the world. But her interest in the story, this character — both Emma and Lizzy actually — and again with true stories they were based on, was so insightful… and yet she's a millennial and she has taste to it, you know what I mean?
NL: (remembers birthday) Yes!
ET: It's really an interesting journey to travel to that period of time with her and trying to make that authentic, but in a way also very Julia that brought out all the love, hate and suspicion in Lizzy. Julia and Caitlin just had an amazing dynamic. We really lucked out with that because at the end of the day they weren't in the same room together until we did a very quick reading before we went out to New Mexico, which was like a week before we started shooting. We can predict the chemistry, but can't always nail it. But we nailed it. We lucked out. They were both just incredible to work with.
NL: Could you tell me about the characters' backstory?
ET: Emma's from the city and she's really a city girl at heart, not prepared for life on the prairie. Lizzy has an immigrant background — she was originally from Germany, came over as a young girl, and there' are some moments in the film where she actually starts to kind of speak in tongues and switches over to German. The immigrant backstory was really interesting to me and Teresa, the writer, because…  We added it at the very last minute because Caitlin actually has some German background. She speaks German fluently, so we were able to incorporate that. But in terms of Lizzy's isolation, the distance she experiences with her husband Isaac (Ashley Zukerman), and him trying to shut down some of her suspicions, which he roots in not only religion but maybe the folklore she embodied as this little girl in Germany and brought with her, we just thought it was very interesting to add an additional element of "outsiderness" that Lizzy would have been experiencing, to the isolation she feels overall.
NL: So we have two women who have seen a lot of the outside world suddenly confined on barren, dangerous grounds.
ET: (laughs) Right?!
NL: How was the shoot? Was it grueling? It looked serene!
ET: It was great! There were long days, so grueling in that respect for Caitlin. And she's in every scene of the movie. She's a total champ, like a marathoner throughout the shoot — all the credit to her. What was hard is toward the end it got really cold. We didn't wrap shooting until November and those cabins…
NL: No heat?
ET: They were uninsulated. We were a night shoot, the temperature just dropped so significantly once the sun goes down and we had placed heaters up the wazoo and they just barely made a difference. It was grueling in terms of how cold it got at the end of the day; I came home with frostbite on my toes…
NL: Oh, no!
ET: I know. But actors were, you know, they were at the front of it. But the shoot was really a joy, a special period for everyone involved. We all believed in the project, really into working with each other — that made it less grueling.
NL: In an age where everything is instantaneous, your film is a slow-burner. That's always been the intention?
ET: It is. The dialogue is really sparse in the script. I think we wanted to embrace the more classic Western form — long takes, letting things breathe — and the slow burn of the horror element also would also have bigger payoff if we took our time. We wanted to embrace a pace that felt a little bit more accurate to that time. But you never know if that's gonna land with an audience watching 30 seconds of YouTube videos that have 500 cuts, including myself! What do we have patience for now? But I think it's an interesting time to try to push slowness and quietness and sitting with that. Hopefully we have done that in a compelling way, not the boring way. Yeah, we always felt like this is going to be a slow burn and we're gonna take our time with some of the moments.
NL: Much like A Ghost Story and It Comes at Night! They found their audiences. I'm a big fan of both.
ET: Totally. Honored to be compared to either of those!
NL: What's next on the horizon for you?
ET: I don't know! We finished this so recently, and I'm so excited it's getting out in the world. Starting to reach a bunch of scripts right now. Want to find the next thing really soon and get going.
NL: Something within the genre?
ET: Maybe. Anything! I'm really drawn to magical realism, whether that is in the horror space or not that would be a fun thing to dip into, whether it's the next door or down the line.
NL: Gotcha. Did IFC let you know when they're going to release this?
ET: We have not set a date yet, but it will be sometime in 2019.
NL: Thank you for your time! And thank you for bringing the film to us.
Stay with InSession Film for more about the film as well as other interviews and reviews from Fantastic Fest!