Gabourey Sidibe: Always Proving, More than Good Enough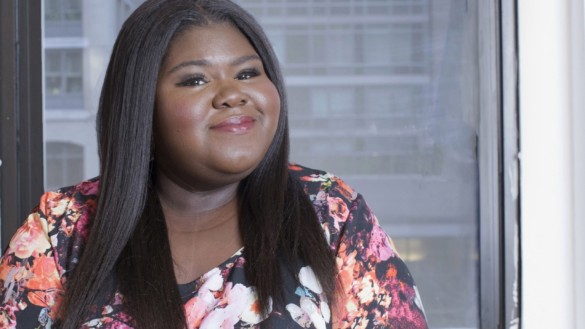 Gabourey Sidibe is an Academy Award-nominated actress. She's also been nominated for a Golden Globe, a SAG award, a BAFTA, a Critics Choice Award, and has won the Independent Spirit Award all for her debut work in Precious back in 2009. Since that debut film instantly put her in the Hollywood awards season narrative of the "Cinderella story," she has stayed as an A-List actress but at what cost and how exactly? Today in my second chapter of spotlighting actress' I love (see my piece on Jennifer Tilly before this), I want to talk about all things Gabby Sidibe and how she has managed to stay at Hollywood's A-list despite not leading a single movie or TV show in over a decade.
From the top- Gabby was a college student that skipped school to go to a cattle call and audition for director Lee Daniels for a film called Precious. She auditioned on a Monday, got a call back on Tuesday, on Wednesday she got the part. Precious is a film about a black girl who is sexually, physically, emotionally, and mentally abused by her parents. She's pregnant again by her father and contracts HIV from him during the AIDS epidemic in 1980's New York. This movie opened at Sundance and became the "talk of the town." A lot of the buzz came from its actors, comedian Mo'Nique and newcomer Sidibe. Precious was one of those movies that became instant awards buzz and earned six Oscar nominations, winning 2 for Best Supporting Actress (Hey Mo'Nique!) and Adapted Screenplay (Geoffrey Fletcher). Sidibe lost the award to Sandra Bullock (The Blind Side), a loss that I cannot fathom today, and that played completely without any merit. The line-up that year for that category also included Helen Mirren (The Last Station), Carey Mulligan (An Education), and Meryl Streep (Julia & Julia). Sidibe easily gives the strongest performance of the five in my opinion, and I will forever be confused by this loss- (if you're really interested in my thoughts on that I suggest you check out my podcast with fellow InSession writer Brandon Stanwyck called "Academy Queens"- The Class of 2009 where we dive headfirst into all 10 of the acting nominees from the ladies).
When Precious opened, Gabby was met with a lot of love and yet a lot of criticism mainly due to her weight. Gabby was the catalyst of the last big batch of body shaming in pop culture, and if Precious had come out a few years later, I'm positive that her critiques wouldn't have been so bad. What really broke my heart was hearing her tell the story of what fellow Academy Award Nominee Joan Cusack told her and that was to "quit show business because it's so image-conscious." Which, as a bigger person most of my life, I get the warning Joan was laying out for her but it's still sad to read for a few reasons. Number one- Joan Cusack was always picked on for her looks so it was a warning and therefore she's trying to shield Gabby from it. And number two- Gabby wasn't in the "room" for more than five minutes when this happened, which means this poor woman was in for a ride.
After Precious, Gabby followed it up with supporting roles in films like Yelling to the Sky, Seven Psychopaths, and Tower Heist, which again, were roles that not only focused on her weight but didn't really use Sidibe's talent to its fullest extent. Her roles that followed were in Showtime's The Big C, White Bird in a Blizzard, Life Partners, The Brothers Grimsby, and the straight to DVD horror film, Gravy. Her roles yet again are supporting roles with really not much for her to do but be the butt of a weight joke or be the sidekick best friend. Now during this period of her career, she had probably the second biggest job thus far in her time in Hollywood with joining the cast of the 3rd season of American Horror Story subtitled COVEN, which not only is the number one fan favorite of the series but in my humble opinion also the best season of the show.
Now I want to comment on something I don't understand here and I wanna go on a #JusticeforSidibe rant here regarding COVEN. She joins the cast that also includes Academy Award Winners Jessica Lange and Kathy Bates, and Academy Award Nominee Angela Bassett as well as Tony Award winner Patti LuPone. She's in every episode, not just one, and yet is never billed in the main cast credits but as a "Special Guest Star"….??? I'm sorry what? Why? Who is her agent that they can't even strike a deal for her billing as a main character of a show? Also, with #JusticeforSidibe is the fact that Ryan Murphy and the writers really focused AGAIN on her character's weight in this show, as well as screwing her out of the title "Supreme". Early on in the season, Queenie resurrected herself but when it came down to resurrecting a bug during the "Seven Wonders" (if you're not following me because you haven't seen this season, go watch it it's amazing) she wasn't able to? McScuse me?!?! Literally a giant plot hole in that episode but was okay for her to do episodes beforehand????!!!! #JusticeforSidibe and Queenie!
While she's been working every year since Precious, and in that aspect has a career every actor wants, you can't just be able to support themselves on acting alone. Now her career is in year 11, and guess how many years it has been since she was the lead a movie? Yup, 11 years, 11 long damn years. Why is this? Now yes she's been working steadily in television with supporting roles in The Big C, and Empire as well as American Horror Story. But is this the type of work that is worthy of her talent? Yes. Is it giving us everything she has to offer with her talent? No. And that is the shame where I really want to highlight here in this piece and why Hollywood hasn't given Gabby her due despite being a recipient of its second-highest honor, the Academy Award nomination.
It should be noted that since Gabby's nomination in lead actress, there have only been two black women who have been nominated in that category since their respective nominations- Quvenzhane Wallis, and Viola Davis who has been the lead in a movie at least once. That leaves Gabby, Ruth Negga, and Cynthia Erivo without a follow-up film thus far being able to score a leading role post nomination. So we know there has been an issue with Hollywood writing leading roles for women of color in general and that is slowly being changed. But now let's add a factor in that Gabby faces that the others don't, plus size women. The roles simply aren't there and I know what you're thinking, "well what can I do specifically to fix this problem," and that's a valid question but like I mentioned in my last actress spotlight piece on Jennifer Tilly, you've gotta vote with your dollars. Rent her movies, buy her movies, tune into a show when she's on it, stream her movies and shows. Every time you swipe your credit card on one of her movies, you are voting and the suits will be able to see the connection of the common denominator, which then makes her "bankable" in their eyes, which means she can get more offers worthy of her talents including leading roles. The other question you might have is "What about Melissa McCarthy?" Also a valid question but that's almost too on the head to answer, simply- she's white. So because of the color of her skin she has more opportunities already to act in leading roles despite being a plus-sized woman, it's the unsettling truth.
Gabby should be thanked as well. The amount of mental abuse that woman had to go through and the personal turmoil this industry probably put on her with people's comments and unsolicited advice made her a martyr to the eventual body acceptance movement. She went through all that and did so for future plus-sized women entering the industry. By doing this, she might have it a little easier for the next person coming into the business that looks like her. It's also good to mention that her weight doesn't have to be the focus of all her roles either, and it shouldn't be. I'm talking about it here today because it's a big factor of where she is today in her career due to the "standards" of where Hollywood has placed her, but from here on out, just love her for her and know that in the end, she is the type of person who doesn't give a damn what you think. She's happy in her personal life now and with where she's at and that's all matters.
Outside of acting, she has become a best selling author, and director as well plus she's hilarious on her Instagram account and needs credit where credit is due when it comes to making people laugh, this woman is funny as all hell. Someone seriously needs to greenlight a comedy with this woman because she's naturally funny and doesn't fake it.
In the end, I hope people discover her, rediscover her, appreciate her more, whatever it takes for people to fall in love with her because not only does she deserves the roles that will bring her to the forefront of the A-list club but she deserves it period.