Featured: TIFF 2018 Daily Dispatch – Day 5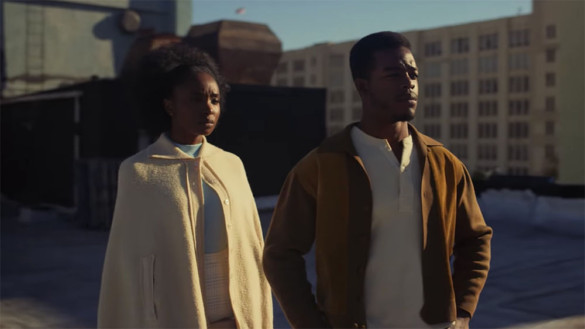 If Beale Street Could Talk
Director: Barry Jenkins
Writer: Barry Jenkins
Stars: Kiki Layne, Stephan James, Regina King
Synopsis: The film follows an African-American woman who sets out to clear the name of her wrongly-convicted husband and prove his innocence before the birth of their child.
Blame unrealistic expectations, but I appear to be the lone contrarian who didn't fall in love with Barry Jenkins' follow-up to Moonlight. To say that I connected emotionally with the Oscar winning film is an understatement, so much so that I confessed to the woman sitting next to me in this morning's If Beale Street Could Talk screening that she should prepare for me to make a spectacle of myself.
But watching his new film I felt…nothing. A few smiles and chuckles, but no emotional gasps and certainly no water works.
There's no denying that Jenkins' adaptation of James Baldwin's 1974 novel about a pair of young lovers whose lives are derailed by a false arrest is exceptionally well-made and, sadly, extremely topical for modern times. Childhood sweethearts Tish (Kiki Layne) and Fonny (Stephan James) have got their whole lives ahead of them – they're about the move into their first real home together and Tish is secretly pregnant – when Fonny is falsely accused of rape and incarcerated. The details of the case are explained by Tish in voice over with accompanying pictures and maps, and it's immediately evident that Fonny could not have been involved and he's been unfairly targeted by a racist criminal justice system. The rest of the film details Tish and her family's attempts to free him from jail, while in flashbacks we see how Tish and Fonny's relationship developed prior to the inciting incident.
Jenkins' script is smart, funny and frank and his directorial work is even better. If Beale Street Could Talk has a lived-in period-realistic feeling that isn't overdone (set design and costumes, particularly Tish's, are immaculate) and Jenkins knows exactly how to shoot his actors to imbue the film with a sense of intimacy. The first time that Tish and Fonny make love in his Bank St basement apartment during a rain storm is among the most romantic scenes of the year – perfectly paced, sensuous and ably capturing the awkwardness and anticipation of pre- and post-coital encounters.
And yet…
Both of the young leads are good, but they're not on par with the performances in Moonlight. There's no Mahershala Ali in this film; no Janelle Monae, Ashton Saunders, Trevante Rhodes or Andre Holland. None of the performances bowled me over, or made me tear up. As much as I care for Tish and Fonny, I wasn't incredibly invested in their success as a couple and that's a huge issue. Beale Street fails to envelop the audience in their romance or their plight; as a result the film is more of a social issues film, drawing conflict from the troubling social and racial implications. Whereas Moonlight embedded its social conscience around homophobia, internalized hatred and coming out into its narrative, Beale Street keeps them divorced.
As the film progresses the focus in both timelines turns primarily to Fonny's arrest and incarceration. This makes sense narratively, but foregrounds the social injustice elements of the film and not the characters. There's a need for more quiet moments, like when Tish's father Joseph (Colman Domingo) holds his daughter's head to his chest to soothe her morning sickness, and fewer sojourns with Regina King to Puerto Rico to track down a key witness for the defense. And I say this as someone who might as well be the President of the Regina King fan club!
Virtually every other critic has praised Beale Street for its technical and emotional mastery, so I am well aware that I am in the minority. And don't get me wrong: it is a good film. It's just not a great film. Perhaps it's simply best to go into the new film without expectations, rather than continually wait for it to reach the same apex as its predecessor because unfortunately If Beale Street Could Talk is no Moonlight.
Grade: B