Featured: TIFF 2018 Daily Dispatch – Day 11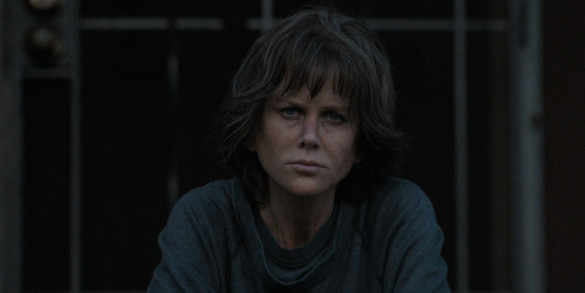 We're now on the cusp of the last weekend of the Toronto International Film Festival and the films are beginning to run out (or is that my patience with people who simply won't turn off their phones during screenings?) Regardless, we've got more movies to discuss!
As the Toronto International Film Festival heads into its second week, the vast majority of critics have begun heading home, but there's still plenty of films left to review!
Destroyer
Director: Karyn Kusama
Writers:  Phil Hay & Matt Manfredi
Stars:  Nicole Kidman, Scoot McNairy, Toby Kebbell, Tatiana Maslany, Sebastian Stan
Synopsis: A police detective reconnects with people from an undercover assignment in her distant past in order to make peace.
In the last few years, Karyn Kusama has become one of my favourite American directors. Jennifer's Body is an underrated piece of genre filmmaking that has only recently been reclaimed by the horror community and The Invitation is one of the best slow-burn thrillers of the last decade. Needless to say, there's a certain amount of expectation going into her latest, a neo-noir crime film with a prestigious cast, including lead actress Nicole Kidman.
Destroyer has received mixed reviews from other critics at the festival, so I guess that I am an outlier because I really enjoyed it. Kidman's turn as Erin Bell is rightfully being praised, but there's more to the film than just its notable lead performance.
Like a lot of noirs, Destroyer uses an open murder as its opening salvo. Here Detective Bell wakes up in her car following a bender and stumbles onto an active crime scene involving a dead man, a very distinct neck tattoo and a handful of ink-dyed hundred dollar bills. Erin immediately connects the murder to a traumatic event 16 years earlier when she went undercover with a partner (Sebastian Stan) to shut down a violent crime ring.
The flashbacks are scattered liberally throughout the film and generate a surprising amount of tension despite our awareness of the outcome, which is explicitly declared up front. One noteworthy component of the flashbacks is the makeup effects, which are so effective that the change in Erin's appearance (young and vibrant in the past; old and hard-bitten in the present) are alarming. Kusama regularly films Kidman's face in close-up to emphasize the wear and tear the years have taken.
As Erin, Kidman delivers one of her best performances ever. The Oscar-winning Australian actress completely disappears into the role of a hard-bitten police detective suffering from trauma and alcoholism. Regardless of the fact that this is a well worn character type, Kidman finds nuance and depth in a woman whose personal life and career have been completely derailed. Interestingly Erin isn't remotely sympathetic; she's self-destructive and entirely focused on catching lead villain Silas (Toby Kebbell) – using any and all means to advance her cause, regardless of whose life she fucks up en route including her ex husband (Scoot McNairy) and rebellious teenage daughter.
Destroyer features two significant action sequences – both of them bank heists. The first, set in the present, is the more spectacular of the two and features a great supporting turn by Orphan Black standout Tatiana Maslany as Petra, Silas' girlfriend. The way that Kusama shoots the robbery and subsequent chase is masterful and exciting. The second, set in the past, utilizes security camera footage and the audience's knowledge, which reinforces the tragedy and inevitability of events to come. It's not as exciting, but by the time this fateful heist unfurls in the film, that's no longer the point.
One detractor to the film, and the most oft-cited opinion from critics who didn't care for it, is the long run time. At a certain point it seems as though Destroyer should be ramping up towards its dramatic climax, but the pacing lags. There are too many one-on-one character discussions to sustain the momentum, which saps the ending of a great deal of its energy. All in all this didn't bother me as much as it did others, however, if only because the film is so engrossing.
Grade: B+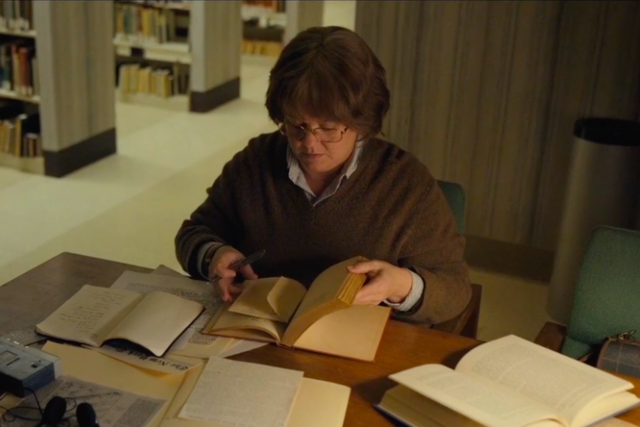 Can You Ever Forgive Me?
Director: Marielle Heller
Writers: Nicole Holofcener & Jeff Whitty
Stars: Melissa McCarthy, Richard E. Grant
Synopsis: Celebrity biographer Lee Israel makes her living profiling the likes of Katharine Hepburn, Tallulah Bankhead, Estee Lauder and journalist Dorothy Kilgallen. When Lee is no longer able to get published because she has fallen out of step with current tastes, she turns her art form to deception, abetted by her loyal friend Jack.
There's a standard formula to biopics, which often center around exceptional people overcoming adversity, challenges and obstacles. The structure of Marielle Heller's new film adheres to this format, but in this case the exceptional person is actually terrible and the challenge involves passing off forgeries without getting caught.
Based on the bestselling memoir of the same name, Can You Ever Forgive Me? is the story of talented writer Lee Israel (Melissa McCarthy) and the desperate lengths she goes to in order to avoid financial ruin. The film opens with a simple but clever scene where she is fired for talking back and drinking at work, which establishes Lee's prickly social skills, her problematic drinking habit and her money problems all at once. In quick order it becomes clear that Lee is in significant trouble: she is months behind on rent, her agent is dodging her calls, and her only companion – a lethargic house cat – has fallen ill.
She needs a lifeboat and fast.
The answer to her problems literally falls into her hands when she's at the library researching a new biopic. Hidden in a book, Lee finds two original letters, one of which she sells to a bookstore for a handsome sum. While negotiating the sale, Lee learns that the more unique, personal or sensational a letter is, the greater the sum collectors will pay. With a few embellishments, she alters her remaining letter and the return is enough to put her back on financial track. From there Lee begins to craft her own letters, becoming increasingly skilled at forgeries through the use of various typewriters, papers and manipulative selling tactics.
Can You Ever Forgive Me? has garnered a fair amount of buzz for McCarthy's performance and the hype proves to be justified. In Lee, McCarthy has a role that allows her a rare opportunity to demonstrate her dramatic chops and the actress knocks it out of the park. Lee is defiantly anti-social, narcissistic and full of disdain for things (and people) she deems unworthy of her time. McCarthy manages to both embody these characteristics without disguising the fact that Lee is wounded and still vulnerable.
The film makes it clear that Israel, who passed away in real life a few years ago, is incredibly talented, but her passions don't align with popular taste so her ideas, her sex and her opinions are rendered invalid. There's a great gag about prolific populist author Tom Clancy (who briefly appears at a party) that cuts to the heart of the issue: he schmoozes, he's "likeable" and he has a recognizable name. Lee, by contrast, has none of these things. This is a subtle inference that this is not a world that is kind to people (female, lesbian, overweight) like Lee.
Thankfully the film isn't a grim, dour slog. In fact, it's just the opposite: it's quite funny. A significant portion of the humour comes from McCarthy's biting one-liners and takedowns, but the comedy is also attributable to Lee's banter with fellow drunk hustler, Jack Hock (Richard E. Grant). As an aging queen with a fondness for theatrics, Grant is simply fabulous – in every sense of the word. The banter between Jack and Lee is hilarious and he helps to soften and give Lee depth. Narratively Jack also becomes her confidant, and eventual partner in crime as the stakes rise and the net begins to tighten around them.
In addition to the strong performances and witty dialogue, Can You Ever Forgive Me? also has a great sense of pacing. The nearly 1hr 50 min run time really zips along thanks to energetic directing and editing and a well-crafted screenplay by Nicole Holofcener and Jeff Whitty. There's a strong chance that if the Academy can overlook its bias towards comedies, the film could be an awards contender.
Grade: A-