Featured: Anticipating the Coen Brothers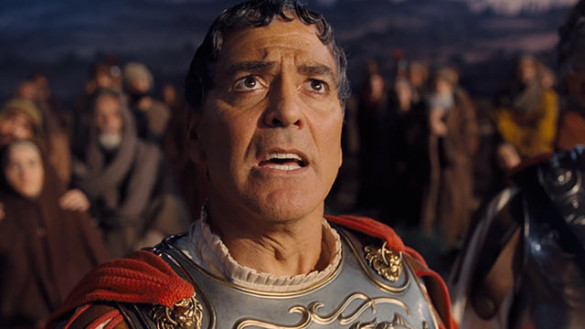 If you listened to Episode 153 or read my Top 10 Most Anticipated Films of 2016, you'll know that Hail, Caesar made my #3 on that list. I'm a big fan of the Coen brothers and Hail, Caesar looks and feels like classic Coen material. It may seem familiar but knowing the Coen's, it'll be a lot more than what the trailer made it out to be.
The Coen's comedies are certainly more divisive than their more "serious" work but it's hard to deny the fun and clever work of The Big Lebowski, Fargo, Barton Fink, O Brother, Where Art Thou? and Raising Arizona. Other Coen brother films like Burn After Reading, Intolerable Cruelty and The Ladykillers certainly have their problems and I can sympathize with people not liking those films very much. I personally love their quirky style and comedic timing but similar to Wes Anderson, I get that not everyone will feel the same way.
That said, I'm HUGELY anticipating Hail, Caesar. The Coen's are known for their comedies harking back to classic Hollywood films, so it just makes sense that they would make a film about the Golden Age of Hollywood. The cast, which includes George Clooney, Josh Brolin, Channing Tatum, Ralph Fiennes, Tilda Swinton, Scarlett Johansson, Jonah Hill, and Alden Ehrenreich looks fantastic. Throw in some kidnapping, chaos and Hollywood satire, and I'm there. The Coen's are also impeccable director's when it comes to aesthetic's and detail. Their films always look vivid and help engulf you in the world they create. There's no doubt that when watching Hail, Caesar, you will feel like you are in Hollywood in the 1940's / 50's. Plus, it just simply looks like a ton of fun.
From what I can tell about the trailer, Hail, Caesar will probably divide fans similar to other Coen comedies, as mentioned above. I have nothing to back that up but a hunch. I hope that I'm wrong and people embrace it, but I'm just not sure yet. And for the record, I'm not expecting or anticipating this to be the best Coen film ever made. I'm just hoping for that sense of fun they bring to their films. The fun of The Big Lebowski. The fun of O Brother, Where Art Thou? The fun of Barton Fink or Inside Llewyn Davis. If the film is more than that, then great, and if not, it still meets my expectations.
But speaking of the best, Brendan and I wanted to leave you with our Top 10 Coen brother films!
Brendan:
1) Fargo
2) Inside Llewyn Davis
3) No Country for Old Men
4) Barton Fink
5) The Man Who Wasn't There
6) A Serious Man
7) Blood Simple
8) O Brother, Where Art Thou?
9) Miller's Crossing
10) True Grit
JD:
1) Inside Llewyn Davis
2) Fargo
3) No Country for Old Men
4) The Big Lebowski
5) O Brother, Where Art Thou?
6) Barton Fink
7) True Grit
8) Raising Arizona
9) Blood Simple
10) A Serious Man
Let us know if you agree or disagree! Stay tuned for Episode 155 of the InSession Film Podcast, where we will be discuss Hail, Caesar and our Top 3 Coen Brother Moments.