Classic Movie Review: 'Harvey' – Because We All Need a Pooka Right Now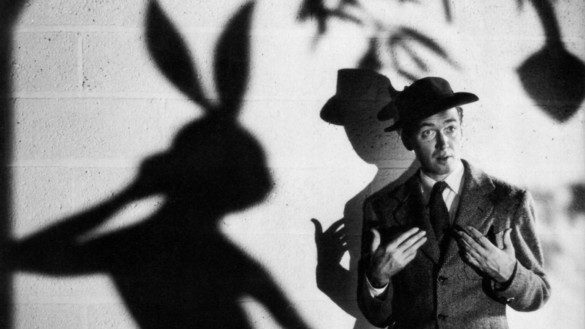 Mild-mannered Elwood P. Dowd (James Stewart) opens doors, buys drinks for everyone, and invites one and all for a chat before introducing them to Harvey, a seven-foot invisible pooka rabbit that only Elwood can see and hear. He carries an extra hat and coat for his friend, too, but his hare-brained introductions ruin the society plans of his flustered older sister Veta Louise Simmons (Josephine Hull). She's determined to commit Elwood thanks to Harvey, but she ends up with more than she bargains for when she and the sanitarium staff have several serious miscommunications about who really sees Harvey and whether or not the mischievous sprite is real…
Birds sing and every day is a beautiful day to open Henry Koster's (The Bishop's Wife) 1950 adaptation of the Mary Chase (Sorority House) award-winning play Harvey, yet fleeing maids, day drinking, and embarrassed family suggests something is afoot. Coming from the stage means the nuanced dialogue happens fast with few sets per act and witty characters carrying the humor. There's no laugh track, editing, crescendos, or special effects as neon signs to hit the audience over the head with what's supposed to be funny. One minute we can chuckle at the girdles, let's do lunch fakes, and proper ladies peeking through the pocket doors or smile with the leisurely stroll for two the next. The distinction between who's worried about appearances and who's stopping traffic to help someone who isn't there across the street is immediate, however, Harvey also requires multiple viewings to catch all the backhanded lines, perfectly timed deadpans, and clever visual asides as smiling faces turn sour upon being introduced to our pooka. Rather than relying on tricks, Harvey's presence is made known thanks to doors that won't close because he's in the way. The camera keeps the invisible rabbit in the scene, panning up to his height and accenting the performances as unique supporting players come and go – a stalling cook deliberately making extra entrances to serve dinner or the wealthy old lady who greets everyone by saying she thought they were dead.
Sense and Sensibility hides the liquor on the shelf and the sibling turnabouts, exaggerated exploits, and charming confusion mount with lovesick nurses, wrangling orderlies, deluded doctors, and pesky cabbies. How does one explain Harvey to a psychiatrist? Exposition is superbly disguised as beleaguered confession while frilly women hit strong men with their pocketbooks and physicians miss the humor in plain sight. Everyone's in a fast-paced rush, leaving laid back Elwood no time to introduce his dearest friend. Viewers, on the other hand, spot the gestures and winks when Harvey's in the foreground but those onscreen do not, yet the audience is left to make up our own minds about who is frazzled and imagining things or not. Bittersweet scenes contemplating elderly wishes versus youth, high spirits, and drunken coincidence add ambiguity. When asked to recount the night's events, Elwood wonders where the time has gone because so much fun was had. Let's warm ourselves in golden moments, enter as strangers, and leave as friends! Harvey lets one talk about their hopes, regrets, accomplishments, and mistakes because nobody ever brings anything small to the bar. A photo shows reality, but a painting shows reality and the dream of it, so why do the doctors want to make Elwood face reality? Is Harvey merely a placeholder for a deeper illness? Is it all a hallucination some serum can make disappear? Is such treatment worthwhile if it changes charming outlook into bitter normalcy? What if the pooka power is real? One can choose to be oh so smart or just pleasant. If we're all tired of being the former, why not be the latter? Harvey provides both comforting, quirky wonder and thought provoking solace. Is Elwood P. Dowd willfully ignorant in his delusion or innocently unaware no one else understands Harvey? Does it matter?
Compared to acclaim found in Mr. Smith Goes to Washington, The Philadelphia Story, or It's a Wonderful Life, Jimmy Stewart's Best Actor nomination here may seem surprising. In Harvey, however, he's performing for two thanks to the absent titular star. Stewart keeps up the casual dialogue and double mannerisms, providing a real authenticity when interacting with thin air. Elwood tells someone when they are in Harvey's way – he knows people are disturbed about Harvey but not to worry, "he stares that way at everybody." Today, Elwood P. Dowd would either be an internet sensation with fifteen minutes of fame or he'd be a crazed news headline. Dowd, however, treats old kooks and jailbirds with equal grace, inviting anyone home for dinner. A mix up isn't a mistake, just a chance for friendship to begin, and although he always offers his business card, Elwood doesn't do anything but call ahead to the bar for his regular booth, have a drink or two, play the jukebox, and make people smile.
Once he introduces folks to Harvey and they don't come back, well then they're just envious. Others say he's done nothing with his life, but Elwood does good wherever he goes. Isn't that a life well lived? He was devoted to his mother and she left everything to him, and now at forty-two Elwood says he spent thirty-five years facing reality but he won life over when he met Harvey. Elwood wants everyone to have a say so no one gets left out – even if there's a conflict. He doesn't care for an antidote that will make him see reality, but if his family is being hurt by his behavior, Elwood will do the right thing at the expense of himself. Harvey, meanwhile, wants to go to a specific tavern, so that's where they go for their two martinis. If newcomers at the bar claim the empty stool will pay for their drinks, Elwood insists Harvey would be delighted. He never wears the fedora with the earholes cut for him, but Harvey does know Veta is not fond of him and has parties without telling Elwood. Often Elwood repeats what Harvey says, but sometimes not everything he says should be repeated and Harvey apparently makes interjections when Dowd reads aloud. Others have to learn what a pooka is by looking up the old Celtic fairy animal lore – leaving them open to Harvey's mercurial acts – but most importantly, he's Elwood's best friend. They met under a back alley lamp post and Harvey's been with Elwood since his mother died simply because he prefers Elwood's company. Veta faints aghast at his portrait, but Harvey's known to stop clocks and go anywhere with anyone for as long as you want with no time passing when you get back. He overcomes the objections of time and space while we waste time on the technicalities instead of embracing the miracle of having a good time no matter where you are.
Veta Louise Simmons unties her robe to reveal the fancy dress underneath, for she's ready to party with respectable people once her younger brother leaves. He's peculiar, but it isn't his fault. Harvey is really to blame, and the excellent Josephine Hull reprises her role from the stage production here as a Best Supporting Actress winner. Veta is flighty to start, desperate to be in the society column but on edge when guests inquire if Elwood is seeing anyone these days. She a flaky fake, but viewers don't hate Veta because her neurosis stem from Elwood's innocent interference when he introduces his pooka to the room. Her try hard is in hopes of marrying her daughter off well, but when Veta makes plans to commit Elwood, her distraught confession that she too sometimes sees Harvey puts her in the mental ward. She's afraid of the scandal, shocked at the filthy questions asked during her rest home experience, and plans to sue – hysterical, faint, and broken by the ordeal – but Elwood laughs at the whirlwind day she's had because of him.
Ultimately, Veta realizes it's nobody else's business if they live with Harvey so long as her brother remains an aloof generous person. Victoria Horne's (The Ghost and Mrs. Muir) Myrtle Mae also initially wishes her Uncle Elwood would quit cramping her style. Without a normal life, she has no chance for a man or any independence. When their parties go awry, she's ready to explode in more ways than one. Her mother thinks she is sweet and has plenty of wealthy grandson prospects, but Myrtle is cranky and tired of her family ruining her acquaintances. After one too many embarrassments, she's ready to pack, leave, change her name, and go to another city. When she hears her mother's torrid experience with a man dragging her upstairs, taking off her clothes, and dumping her in the tub, Myrtle wants to know how young he was. She's not afraid of Jesse White's (Death of a Salesman) gruff and manhandling Wilson, and the flirtations with the orderly commence despite Veta's protests. Harvey's ensemble is equally flummoxed at the goings-on, from the family lawyer and the sanitarium gatekeeper to not one but two cab drivers and Charles Drake (Winchester '73) as attending psychiatrist Doctor Sanderson. He understandably thinks the hysterical sister is the one who should be committed, but he's totally wrong in his diagnosis as well as his looking the other way at Peggy Dow's (Bright Victory) hopelessly in love Nurse Kelly. She thought Veta was on the up and had Elwood dragged to the baths. The staff ends up tagging along on an adventure with Elwood to avoid being sued, but he ends up playing matchmaker instead – because people are often blind to loveliness when they shouldn't be. Cecil Kellaway's (Guess Who's Coming to Dinner) overseeing Doctor Chumley usually doesn't attend to patients either, but he begins to see Harvey before lying on his own couch to dream of the pooka possibilities.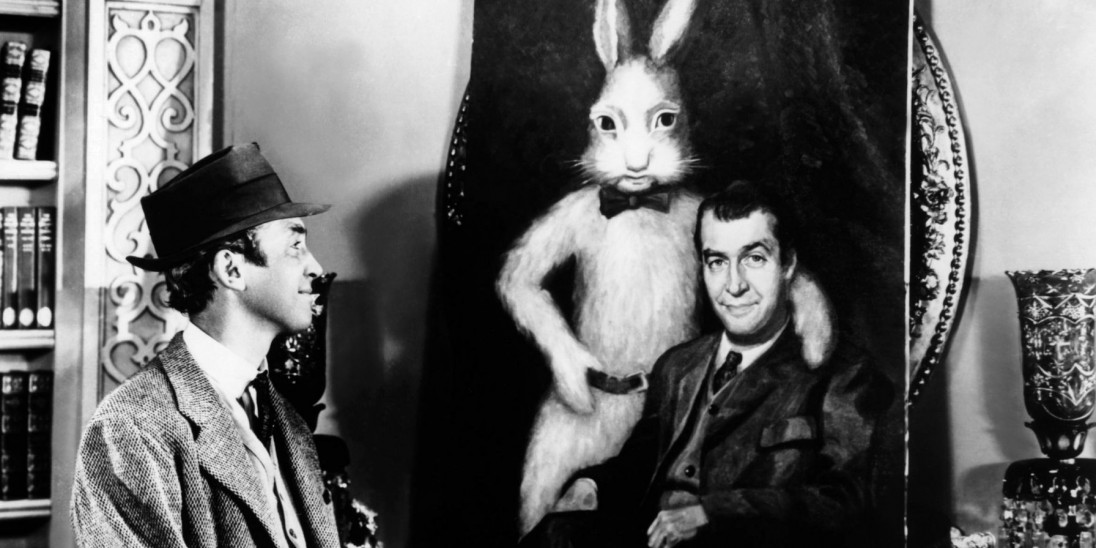 Jovial music sets the tone for Harvey amid classic cars, retro phones, and repeated little things that keep on giving – like when every person stops and picks flowers despite a sign saying not to do so. The wrought iron fence, ornamented lawn, and grand manor home suggest a pleasant, vintage neighborhood, yet the gates and gardens of the polite sanitarium are not that dissimilar. Lace linens, afternoon opera, furs, feathered hats, and the ladies' social club look so sophisticated thanks to Orry-Kelly (Some Like It Hot) gowns while fedoras and trench coats create a firmly forties masculine silhouette. Dames and dolls colloquialisms and polite greetings match the nurse's uniforms and sense of Leave It to Beaver safety and nostalgia while the blu-ray release keeps the black and white crisp. The antique furniture and style provide a very specific time and place, and today we can't replicate this innocent veneer. Of course, not everything then was as simple as it seems, and innuendo-laden quips and winks shrewdly circumvent The Hayes Code even if the number of drinks drunken can't be shown and the couples never kiss. Besides, $2.75 for a cab? Yes, please!
When watching Harvey, I personally enjoy trying to keep track of all the people Elwood invites to dinner tomorrow night. As children, I sent my nieces into Harvey cold. At first, they wondered what was wrong with him and why would it bother his family if he's weird? Thereafter, however, they would repeatedly ask to watch the movie about the man and his invisible rabbit. With our real-world so bleak, this time I choked up at those preferring bliss wherever it may be found. Harvey is a charming comfort, humorous yet inspiring. This is not laugh out loud a minute, and the hysterical ladies will be cliché to some. However, the wondrous what if remains timeless. This is a very adult story filled with miscommunications, mixed romance, underlying bitterness, and social commentary but the golly gee keeps Harvey young. When the bartender is asked if Dowd drinks alone, he says there are two schools of thought on that, and it is up to us to decide which one we believe. Maybe we should all be a little more like Elwood P. Dowd and befriend our own devil may care pooka because we could sure use one right about now.