Classic Film Review: 'Blade 2' Gave Birth to the MCU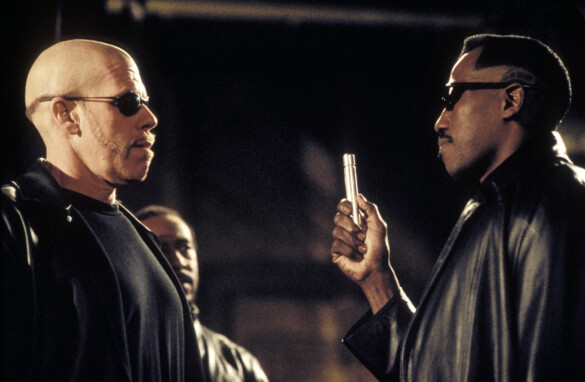 Is this the best non-canon Marvel film of all time? There's certainly an argument to be made. Would there even be an MCU without Blade 2? It could even be debated that before Marvel films were cool; strictly for "nerds" and more fitting as an animated TV show, the 1998 Blade film brought the franchise back into the spotlight and onto the silver screen. So, if the original made it popular again, the 2002 sequel truly cemented the Marvel films (even if there was no brand alliance to it) as vibrant blockbusters, with an edgy swagger, led by a likeable and bad-ass character you would follow into war without a moment's hesitation.
Bringing Guillermo Del Toro on as director was truly a masterstroke, fresh from creating The Devil's Backbone and moving so effortlessly back into a more fantasy-like world, one that we saw in Mimic and Cronos, a world in which he has found most of his success as a director – the man knows how to interpret the weird and the wonderful, that's for sure. It has everything that feels like a Del Toro film; superbly vibrant, slightly over the top (but in an attractive way), the inclusion of those monster-like characters (vampires in this case), and representing them as an army of underworld criminals – which is similar to what we see in Hellboy.
The success of its predecessor and the fact that it was the first representation of this fan-favorite character meant that a sequel was always on the cards – and what an iconic sequel it was. It built on everything that made the first one so enthralling and unique, raising it to a whole new level. The first ten minutes gives us a look at the two sides of the narrative coin: the potential villain in the underworld of parasitic night stalkers, and the anti-hero half-human hybrid, going about his nightly killing spree. Both characters show such efficiency and such skillful ruthlessness – a fight between them (which is inevitable) is only going to be an epic one.
Upon its release, Blade 2 received criticism for its lack of character development, even though this film boldly portrays several aspects of Blade's character that were only lightly teased in the first. Not only are his efficient and ruthless skills there to see (as they should be), but his humor and his caring nature shine through all of that violence. Blade shows moments of care; always concerned for his mentor (his only family), as well as a blossoming love for an enemy turned friend, traits that are sourced from his half-human heart. And it isn't just Blade that possesses these humanistic aspects because the villain of the film, Jared Nomak (Luke Goss) also succumbs to his own broken heart – literally and figuratively.
This is an underappreciated gem with several feathers to its cap, none more so than the exquisite choreography. The fight scenes are so fluid and adventurous, a perfect blend of special effects and genuine skill (I wouldn't expect anything less with Wesley Snipes in the lead role), and not bogged down by endless and needless cuts, which has become the tedious norm these days. But along with those fight scenes is some exceptional cinematography – who would have thought that would be the case in Blade 2? The camera work is incredibly undervalued, and there are specific scenes that accentuate that raw skill; the fighting in front of the god lights at the hideout is superb, or the sequence where we see "The Blood Pack" slowly walking in the rain towards the club, with the camera situated below the gang (portraying them as god-like figures), and Massive Attack and Mos Def's "I Against I" enhancing the scene to iconic like levels – now that is the definition of proper cinema.
The film is effortlessly cool and swaggers around like a peacock in season. It possesses a unique elegance to it that is encapsulated, and more importantly, led by Snipes, who just owns every scene he is in. Snipes was already quite the name in the early 90s, mostly appearing in crime thrillers or action films, oh… and who could forget about White Men Can't Jump. But this was the perfect character for him to take on and make his own, and it's one of the reasons why Blade became so well-revered, and why Snipes's affection for his counterpart became so high.
Now, Snipes is not on his own in aiding this film because Blade 2 also consists of a fantastic cast; a perfect blend of new acting talent, Del Toro mainstays, and a couple of well-established actors from around the globe. The likes of Ron Pearlman (who is perfectly cast as one of Blade's adversaries, Reinhardt), Norman Reedus as the pot-smoking tech expert, and perfectly named "Scud", Kris Kristofferson was back as "Whistler", a character who is as big a fan favorite as his adopted son is. Even the smaller supporting cast members are littered with stars of past and present, with Danny John-Jules taking a break from his comedy work, Thomas Kretschmann appears as Eli, the vampire lord, and Donnie Yen even appears as a ruthless vampire (and he doesn't even need to mutter a word to be iconic). Del Toro is known for his skill at mustering diverse and exciting casts, it's something he's done throughout his career.
The success of Blade 2 also allowed Del Toro to work on more comic book films, going on to direct the Hellboy series before its very abrupt end. Now, the less said about Blade: Trinity, the better, which is why the focus should be on the first two because they are excellent. The need for the Blade character has become evident (especially in this new wave of Marvel films), and the news that Mahershala Ali has already been cast as Blade in future MCU films is a fine choice – he is a marvelous actor after all. But Snipes's version almost feels unfinished because of the questionable climactic film in the series, and there should be no argument to say his portrayal is anything less than memorable. There is a lot of talk about actors being perfect for certain characters; like Hugh Jackman as Wolverine, or Robert Downey Jr. as Iron Man, but Snipes might just be the most felicitous out of the lot, and that is saying a lot about his impact on the Marvel franchise, 20 years on.